The Green Sheet Online Edition
August 26, 2019 • Issue 19:08:02
What's not to like about cloud
By Hervé Sinelle-Botinelly
AEVI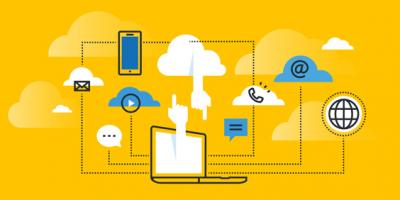 Across every industry, it seems the word "cloud" represents the magical elixir for marketing programs. Cloud, often referred to as "the cloud" is indeed the underpinning of new architectures to deliver new benefits, but a good deal of marketing these days relies on hazy, blanket terms that fail to communicate the actual value being delivered. The payments industry is as guilty as any other, and this risks confusing or alienating merchants.
You can hardly turn a corner in our industry without running into "cloud POS" or "cloud-based POS." The number of available solutions is huge, but few companies selling them do a good job of communicating what it is that cloud brings to the merchant countertop. Just about all they can agree on is that they are better than the legacy countertop terminals and semi-integrated solutions that merchants have traditionally relied on to process card transactions.
Most of the solutions, as described today, seem to conflate payments and value-added applications and services as one solution. This is misleading at best and risks stoking misunderstanding and distrust among merchants.
Oversimplifying the message
Even though the term cloud now thrives in popular culture, it's highly debatable how many small business merchants really have a firm grounding in what it means. In our haste to simplify our messages to merchants, solution providers shouldn't oversimplify what they're delivering while obscuring some clear benefits of payments in the cloud.
For the merchant, the new technology revolution is really about what is happening on their countertop or portable card acceptance device. What traditionally is the point of sale (POS) is being transformed into a dynamic point of interaction (POI) where payment can sit beside value-added applications and services, ranging from loyalty programs, to scheduling, to instant credit applications and approval.
Instead of viewing card acceptance as a cost center, new smart POS systems can turn the POI into a revenue generator that provides an improved consumer experience that keeps buyers coming back to a merchant. The cloud plays a role in that, for sure, by providing a better communications medium than telephone lines, but it's not the magic elixir that it is made out to be.
Selling the real benefits
It is the intelligence on the device, combined with open systems that spur development of third-party applications, along with your market expertise, that create the real magic. That is the story acquirers and solution providers should be selling.
Where cloud really comes into play is by making infrastructure less costly. By shifting transactions from private data centers to cloud-based data centers, processors are able to minimize their costs for hardware, software, networks and support staff. In particular, they can now offset the growing costs of security to cloud services providers. Processors, in turn, are able to shift their focus away from infrastructure maintenance and focus on how they can grow their transactions without having to justify building another data center or expanding an existing one – they can simply rent additional capacity from Amazon Web Services or its competitors, and if the transaction flow falls short of projections, they can easily scale back.
It's far simpler to set up redundant cloud data centers than traditional private data centers, and to connect them to other cloud data centers around the world to enable cross-border transactions and further development of international ecommerce. This makes them more competitive and more amenable to creating new services, or partnering with fintech innovators.
The benefit to merchants is that cloud makes it easier for solution providers to deliver a cost-effective solution at the POI that is more secure and provides more value-added apps and services. And these solutions can be provided in a range of compatible form factors, from smartphones to compact terminals to devices with larger screens, all of which can run the same applications and access a growing range of reports and other business management functions.
An open platform that leverages Android devices and application programming interfaces (APIs) can deliver a multitude of standalone apps that, with the right orchestration and automation, can seamlessly interact in the business process alongside the payment app.
Don't get too wrapped up in cloud
The risk to acquirers and ISOs is that "the cloud" is too vague to convince merchants of the value and security of their payment transactions. What they want is assurance that they will be able to accept card payments when the consumer steps up to the POI, and that any cloud-related service disruption won't leave them unable to conduct business. That's why it's important to sell the merchant on the value of what sits on their countertop or in their hands. They are holding a solution that accomplishes just about everything they need to do. And, yes, it's "cloud-connected" so that their transactions are processed and their value-added apps connect to back-end services without them having to worry about how to make it all work.
Do not wrap yourself too tightly within the cloud mantle. That only lessens the value of the solution you are providing. If the merchant thinks the cloud itself is the solution, it's far easier to justify switching solution providers. So learn how to use the cloud effectively in your marketing, rather than letting it obscure the value you are delivering to the point of interaction.
Side Note: Cloud computing, a definition
According to Wikipedia, cloud computing is the on-demand availability of computer system resources, especially data storage and computing power, without direct active management by the user. The term is generally used to describe data centers available to many users over the Internet. Large clouds often have functions distributed over multiple locations from central servers.

Hervé Sinelle-Botinelly is senior vice president, Product Strategy, with AEVI, a provider of next-generation acquiring services. He heads both the payments and marketplace product Strategy of the AEVI Platform . Hervé is a payments and new technology veteran with years of experience managing teams to design and develop new products for e-commerce, m-commerce and secure payments. Contact him at response@aevi.com.
The Green Sheet Inc. is now a proud affiliate of Bankcard Life, a premier community that provides industry-leading training and resources for payment professionals. Click here for more information.
Notice to readers: These are archived articles. Contact names or information may be out of date. We regret any inconvenience.
Prev
Next