The Green Sheet Online Edition
August 26, 2019 • Issue 19:08:02
Moving toward a more diverse industry
By Patti Murphy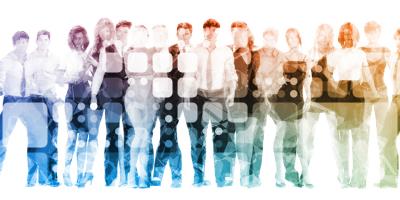 There's been a major push in recent years toward greater diversity in the workforce, and merchant acquiring is no exception. In February, which is celebrated each year as Black History Month, leading acquirer TSYS held weekly celebrations of the history and heritage of African Americans, and offered an in-depth blog post highlighting the achievements of several African American employees.
"Celebrating diversity and various cultures has always been engrained in TSYS' values," said Ashley Thompson, government relations analyst at TSYS. "Ensuring diversity of thoughts and backgrounds will only lead to more innovation and encourage effective team collaboration."
Major acquirer First Data Corp. has been nationally recognized for its work maintaining a diverse, inclusive workplace, and was included in the 2018 Bloomberg Equality Index, which tracks commitments by public companies to advancing women in the workforce. "As a leading global company, we have a responsibility to leverage our resources and energy to make a positive impact on our employees, our clients and our communities," said Vivian Greentree, senior vice president for corporate citizenship at Fiserv, which now owns First Data.
For federally regulated financial services firms, workplace diversity isn't just a good idea; it's become a regulatory imperative. The 2010 Dodd-Frank Act, among other things, required federal financial regulatory agencies to establish individual offices of minority and women inclusion to promote diversity on their staffs.
The agencies also were told to develop standards for assessing diversity and inclusion programs related to U.S. operations of regulated companies, as well as the service providers of those companies. Those standards, published in 2015, are voluntary. However institutions are encouraged to assess their inclusion policies and practices annually to provide those assessments to their primary financial regulators, and also post the assessments to their websites.
KPMG, in a 2016 report, noted that while the standards are recommended practices "failing to adhere to them could increase reputational risk at a time when many firms are under regulatory and public scrutiny with respect to culture and business conduct."
Diversity plays well in changing marketplace
Women and minorities have long been under-represented in merchant acquiring. "When I started in this business there were only two Indian guys, and I was one of them," said Dee Karawadra, founder and CEO of Impact PaySystem, a Cordova, Tenn.-based ISO. And women feet on the street were a rarity, too, said the Tanzanian native. "The industry has changed a lot. I think that's at least in part because it's become more of a customer service play," he said. "It's no longer about who you are, it's about what you know."
Charlene Mitchell, chief analytics officer at Electronic Processing of North America, offered a similar take. "If you show up and deliver on the things you said you would, you're already differentiating yourself," she said.
Karawadra, a 20-year industry veteran, said his decision to bring his daughter into the business demonstrates his belief that merchant acquiring has become more accepting of women and minorities. He also has been recruiting minorities and immigrants as agents. The latest new crop of trainees included three people of color.
As an immigrant, Karawadra noted, he had one advantage over competitors when he first began selling merchant services: a "trust factor" with other immigrant-owned businesses. "Hotels and gas stations became my niche because of that," he said.
Entrepreneurship and generational changes
Charles Bishota, who is also originally from Tanzania, agrees. "As an immigrant you can more easily relate to other immigrants than you can to non-immigrants," he said. Bishota arrived in the United States 23 years ago. "I had $300 in my pocket when I came here," he said. But he had great aspirations, seeing America as a land of opportunity.
After graduating from business school he attended a job fair where he met with a recruiter from Chase Paymentech, which at the time was a partnership between Chase Manhattan Bank (now JPMorgan Chase) and First Data. Bishota knew nothing about merchant acquiring, but he was keen on working with entrepreneurs and soon was infused with a passion for merchant acquiring. "I love this industry," he said. "I don't see myself ever leaving."
When First Data and Chase parted ways in 2008, Bishota remained with First Data for a time before leaving to attend law school. Today he has an ownership interest in an ISO and his Dallas-based firm, Bishota Law, specializes in working with entrepreneurs in payments and financial technology.
Like Karawadra, Bishota has witnessed a growing diversity in merchant acquiring. "It's absolutely more diverse than when I started," he said. "The tapestry of the industry is beginning to look more like the whole of the country." That diversity is most apparent with the feet on the street, not in executive suites, Bishota noted. "But in time that will change, too," he said.
One reason may be that millennials, and the next-in-line Gen Z, have been entering the workforce. "The younger generations don't see things as much black and white as older generations do," Karawadra said.
A recent report by John Zogby Strategies – The Zogby Strategies Comparative Report on Millennials and the Future of Leadership – drives home this point.
"Millennials are highly networked, steeped in technology [and more] diverse than any cohort before them, and generally believe diversity – not merit – is paramount to creating the ideal workplace," the report stated.
Gen Z (which Zogby defines as adults born between 1998 and 2001), while still young and only now entering the workforce, likely will push for even greater changes, Zogby conjectured. "If millennials are a window, then Gen Z is even more diverse and prefers the workplace to be so as well," the report stated.
From emerging economy to emerging market
When Eveline Dang moved to the United States as a teenager, working in a payment processing company wasn't in the cards. Six-years later, while completing a business degree, she chose as her senior thesis topic payment processing in emerging economies. Dang thought she'd return someday to her native Vietnam and contribute to creating a payment processing infrastructure for that emerging economy. In the meantime, she was recruited to help run a payment processing company focused on the emerging cannabis market.
"There are similarities between the cannabis market and emerging economies," said Dang. For example, as is the case in emerging economies cannabis is largely a cash business, since transactions originating from cannabis businesses are banned by the leading card networks due to federal prohibitions on the sale and consumption of cannabis. Dang and Max Miller co-founded Paybotic to address the transaction processing needs of businesses in the cannabis sector, developing a cashless ATM solution. Also known as point of banking solutions, cashless ATMs are POS devices that function similarly to ATMs. Customers initiate payments using PIN-authorized credit and debit cards, which then clear through regional ATM networks. Transactions post either as debits to purchasers' checking accounts or as cash advances from their credit card accounts.
Dang and Miller possess complementary skill sets, she said. He's the ideas man and spearheads the sales process, while she spends much of her time behind the scenes working on the nuts and bolts, she added.
Eight years into a career in payment processing, Dang said she's begun to see a trend toward greater diversity. It's more diverse than the cannabis market, she said. "When Max brings me to meet a [prospect] I can sense that they are surprised that I'm Asian and that I'm a woman," she said. "That introductory meeting is normally the difficult one," she added. "But after that, when they discover what I know and do, their expectations become higher."
For her part, Dang has high expectations for diversity in the payments industry And Paybotic, she stated, is doing its part to see that happen. Most customer service and other support staff at the West Palm Beach, Florida-based ISO are immigrants, and many aspire to grow with the company. "There's nothing that teaches you better in this industry than starting from the bottom," Dang said.
Working your way up the ladder
Audrey Blackmon, senior vice president at Verrency, agrees greater diversity in management positions will flow from greater diversity in entry-level positions. "There's an awareness of the lack of diversity, especially African Americans, in payments," Blackmon said. "But we're seeing a conscious effort to add more people of color." And she added this prediction: "Over the next 10 years I think we'll see more women of color and from different backgrounds in upper management."
A 27-year industry veteran, Blackmon has first-hand experience moving up the corporate ladder as a woman of mixed race. After climbing the ranks at various ISOs and POS equipment companies, a stint consulting startups, and launching an ISO, Blackmon joined Verrency to lead business development for the Americas. The payments startup offers a platform that enables card issuers and merchants to easily add new products and services – products and services that often bleed over into acquiring services, such as loyalty and POS installment loans, she noted.
"Running sales teams, especially early on, almost everyone was white and male," Blackmon said. But as competition in merchant acquiring evolves, from leading on price to emphasizing service and technology, it is attracting more women and immigrants, she suggested, adding that this is especially apparent in places like California, which is home to Silicon Valley. "Whenever technology is introduced and gains importance you typically see more women interested in sales," Blackmon said.
Blackmon also credits Wnet (the Women's Network in Electronic Transactions) with drawing awareness to and helping women climb corporate ladders at industry firms. Founded in 2005, Wnet provides resources like networking, and educational and mentoring programs designed to help women advance their careers in payments.
Networking and minority certifications
Most experts concur that networking plays an important role in attracting a more diverse workforce. As a more diverse group of people enter merchant services, attend industry conferences and engage in other networking opportunities, they will have more opportunities to advance into management positions, which today are dominated by white men, Bishota suggested. "Advancing is more about networking than it is about the color of your skin," he said.
EPNA's Mitchell understands first-hand the role networking plays in diversifying the merchant acquiring industry. She was a litigation attorney when she met merchant services veteran Laura Demke-Calixe, president of EPNA. "We traveled in the same circles," Mitchell said. Yet their professional lives seemed worlds apart. "Five years ago I didn't even know this business existed," she said.
Demke-Calixe recruited Mitchell about two years ago to the EPNA executive suite. "Laura has such a passion for this business she can make analyzing financial statements exciting," Mitchell said.
EPNA lays claim to being the only business in credit card processing and equipment sales to be certified as a Women Only Business Enterprise. The Chicago-based firm has been certified by the city of Chicago, Cook County, the state of Illinois and the Midwest Chapter of the national WBE certification board. "It's a very rigorous certification process," Mitchell said. "We've been thoroughly vetted, which is a nice differentiator."
Companies certified as minority or woman-owned benefit from government and corporate diversity in contracting programs. There also are federal tax breaks available to companies that procure products and services from certified minority- and woman-owned businesses. Some states also provide tax breaks.

Patti Murphy is senior editor at The Green Sheet and president of ProScribes Inc. Follow her on Twitter @GS_PayMaven.
The Green Sheet Inc. is now a proud affiliate of Bankcard Life, a premier community that provides industry-leading training and resources for payment professionals. Click here for more information.
Notice to readers: These are archived articles. Contact names or information may be out of date. We regret any inconvenience.
Prev
Next