The Green Sheet Online Edition
July 25, 2022 • Issue 22:07:02
Precision planning to boost sales and performance
By Dr. Liran Edelist
Jedox Inc.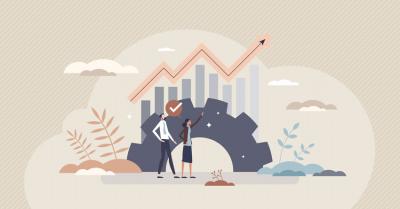 The capacity for precision planning has reached new heights, thanks to technological advances geared toward supporting the evolution of the finance function. The heightened need for strategic decision-making across the enterprise has also risen due to ongoing supply chain disruptions and global geopolitical tensions.
Several years ago, Accent Group, Australia's leading retailer and distributor of performance and lifestyle footwear, faced the dilemma of explosive growth without the solutions to support it. The company's finance team quickly sought to transform its processes, which were solely reliant on Excel, toward a single source of truth that would support its budgeting and sales planning across the entire enterprise.
At the time, it sought to fill the need for an enterprise performance management (EPM) solution, the company had moved from a handful of stores to more than 420 stores across 10 different retail banners and exclusive distribution rights for 10 international brands across Australia and New Zealand, including Skechers, Merrell, CAT, Vans, Dr. Martens, Saucony, Timberland, Sperry Top-Sider, Palladium, and more.
Automation to manage impressive growth
Since adopting a new solution for budgeting and sales planning, Accent Group has grown to over 700 stores, 32 websites under different retail banners, and distribution rights for 19 international brands across Australia and New Zealand.
Given its massive growth, Accent Group understandably needed to increase automation within its processes to keep up with its rapidly growing business demands. While reporting used to take nearly an hour to complete, the company embraced a modern EPM software that allowed them to upload their database in just one minute. Not only is their monthly reporting much faster, but the finance team is able to provide accurate, consolidated P&L balance sheet reports with massively reduced manually input.
As a result, the company's business analysts have freed up enough time to be able to do reforecasting on a monthly and quarterly basis. The team is also able to make faster and easier alterations to budget numbers in response to market changes. With fast and reliable data integration in a single place, the company is now able to enhance its business performance with decisiveness and confidence.
How to engage in strategic planning
In the daily business of operational planning and budgeting in which revenue, costs and other key performance indicators shape the entire enterprise, organizations are often plagued with a lack of alignment with the overarching strategy along with a lack of collaboration between the budgeting and sales strategies. The result is a deficiency in operational excellence that is only achievable with a clear strategic framework for action, in particular when confronted with sudden changes in the market.
At its best, strategic planning acts as a missing piece of the puzzle, seamlessly aligning with a company's goals and providing a clear road map. It also provides decision-makers with the ability to quickly pivot when uncertainty continues to loom.
Further, strategic planning often fails in organizations that do not consider three key aspects: business complexity, human collaboration, and data and tools. Given the growing complexity of the market, most manual methods are truly a thing of the past. Consider the story of the global payment provider PPRO.
With a large team spread across the world, PPRO is a trusted provider of local payments infrastructure for the global payments industry. Involved in over 100 international ecommerce markets, companies at the forefront of payments technology leverage PPRO's unified platform, expert services, and local payment methods to boost sales. In 2020 alone, PPRO processed over $11 billion for its customers, including companies such as Citi, Mollie, PayPal, Worldpay, and many more.
Based on its increasing need to manage inputs, throughputs and outputs, PPRO decided to digitize its planning process into a singular, unified solution. The initiative required increased cross-departmental collaboration across the entire enterprise.
Now dozens of users in 15 departments across 20 locations around the world routinely collaborate using a modern digital solution for their daily planning, reporting and analysis. The solution's architecture translates into truly unified FP&A processes, which allow for better collaboration and transparency across the entire organization.
Collaboration and cross-organizational planning
Given the massive flow of information streaming into spreadsheets, truly collaborative teamwork, precision planning and the resulting boost in performance, can only happen if everyone is drawing from the same pot. In other words, it is only possible when both financial and non-financial data is consolidated into a single stream.
For enterprise-wide planning purposes, the first step is to solidify the enterprise's data foundation. Planning tools should allow for collaboration to provide multiple forecasts and scenarios, whether in personnel planning, sales, marketing or finance.
Technology-supported collaboration paves the way for cross-organizational planning that mirrors the unique contours of your business, empowering you to react in real-time to changes, plan for opportunities, and uncover what you didn't know was possible.

Dr. Liran Edelist is the president of Jedox Inc. a leading global provider of EPM solutions. He holds a PhD in business administration with a concentration in consulting and information systems. He has over 20 years of first-hand experience with financial and strategic planning technologies in both the public and private sectors. Dr. Edelist is also an experienced lecturer (visiting professor) at various academic and professional institutes. For more information, please visit www.jedox.com.
The Green Sheet Inc. is now a proud affiliate of Bankcard Life, a premier community that provides industry-leading training and resources for payment professionals. Click here for more information.
Notice to readers: These are archived articles. Contact names or information may be out of date. We regret any inconvenience.
Prev
Next