The Green Sheet Online Edition
June 13, 2022 • Issue 22:06:01
Build loyalty among existing customers
By Elie Y. Katz
National Retail Solutions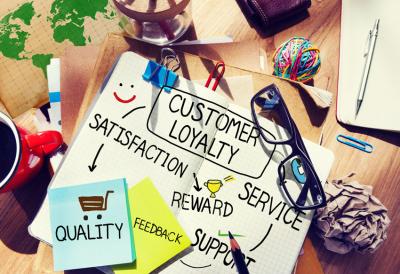 Customer loyalty is an important aspect in any business. Whether it's business-to-customer or business-to-business, keeping existing customers is more cost-efficient than acquiring new ones. As Amy Gallo wrote in a Harvard Business Review article titled "The Value of Keeping the Right Customers, "Acquiring a new customer is anywhere from five to 25 times more expensive than retaining an existing one."
Therefore, here are ways to personalize your business interactions with your current merchant customers and partners. After all, a returning customer is a satisfied customer.
Make it personal
Retaining the maximum number of happy customers can be achieved using methods that personalize business transactions. Customer personalization is key to providing great customer and partner experiences and improving loyalty.
Clients and partners notice when a business is all about money and nothing to do with them. No one enjoys feeling like a faceless number. Creating personal connections with your customers boosts long-term relationships and deepens customer loyalty.
Call them to say hello and discuss their business challenges. Email them when you have new products or upgrades to products and services they already use. Send postcards and birthday emails. Take each relationship's pulse with surveys to stay in touch with their wants and needs.
Keep in contact so you never lose that personal touch with your partners and merchants in your portfolio. Set this standard for relationships with them, and following your lead, they will do the same with their customers. This causes a domino effect with many levels of revenue generation.
Be accommodating and flexible
Some ways to personalize your customer experience are through accommodation, direct contact, and special rates and discounts. Accommodations can be broad; however, the more practical they are, the more effective they'll be. Get creative with bundling the best value and pricing for high-volume orders.
Create a pleasant online interface experience designed for B2B customers and partners so they can plan and track their implementation timeline. Keep your clients' needs in mind, and remind them when it's time to upgrade. Flexibility with payment terms, when possible, will benefit your clients' cash flow as well as your business. But carefully check your merchant or partner's credit history before extending such flexibility. You don't want to set terms that they cannot fulfill, which could leave you stranded or having to send them to collections.
Customer service is key
A responsive customer service team is necessary if you want to build loyalty and keep your business growing. Your merchant clients and business partners need to know you'll take care of them and their customers. Great customer care builds loyalty and referrals.
Your business model may be able to sustain itself on existing customers, but imagine the exponential growth potential if each of them refers you to others. Supporting customers reflects positively upon your merchants, as well as your partners and the businesses they serve.
Loyalty programs go a long way
Offering loyalty rewards, especially to long-term customers, strengthens B2B loyalty. The American Marketing Association stated, "The most successful loyalty programs make customers feel that they are individuals with specific needs—not just a number."
What do you have to offer besides your products? Having more to offer—more rewards and more loyalty programs—builds amicable relationships. Consider offering vacation packages, gift cards, redeemable points or cash credit. Kickbacks or incentive programs can be branded specifically for individual merchant clients and partners. Incentive programs that distributors have adopted often are growth-based rewards programs.
To measure the rewards a merchant customer or partner merits, review the B2B transaction history and set realistic goals for them to meet to earn rewards. This is a perfect strategy to accelerate growth, loyalty and engagement among clients who order more over time.
Building a loyal base of repeat customers and long-term partners takes time and focus. Implementing strategies to retain your business relationships doesn't have to be costly and can yield lucrative benefits. With the right attention paid to cultivating your connections and building your network, your business will succeed, and you'll get tremendous gratification in helping your merchants and partners—and their customers—grow.

Elie Y. Katz is founder, president and CEO at National Retail Solutions (NRS), https://nrsplus.com. Contact him by phone at 201-715-5179 or by email at ekatz@nrsplus.com.
The Green Sheet Inc. is now a proud affiliate of Bankcard Life, a premier community that provides industry-leading training and resources for payment professionals. Click here for more information.
Notice to readers: These are archived articles. Contact names or information may be out of date. We regret any inconvenience.
Prev
Next