The Green Sheet Online Edition
June 13, 2022 • Issue 22:06:01
Insider's report on payments: In-store payments get personal
By Patti Murphy
ProScribes Inc.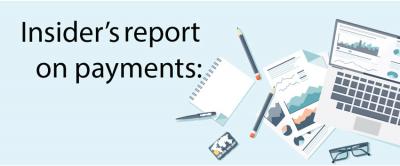 The COVID-19 pandemic has ushered in a lot of changes. Chief among these is a desire to minimize physical contact, especially when shopping. This has led to a dramatic rise in payments using contactless cards or mobile apps like Apple Pay.
Mastercard reported that half of all Mastercard in-person global switched transactions in the fourth quarter of 2021 were contactless. It expects contactless payments, globally, to reach $6.7 trillion in 2026. While contactless cards and smartphone apps will drive much of this growth, this is not the end game.
Biometrics adds a much higher level of security to contactless payments. After all, anyone can steal a contactless-enabled card to ring-up fraudulent purchases; they can't steal your fingerprint or iris.
Many of us are already using biometric identification at airports and stadiums and for accessing mobile devices; retail is a logical next step. In fact, a survey of consumers earlier this year by GetApp found 49 percent were comfortable using facial recognition for retail purchases. That's up from 27 percent of those surveyed in 2020, pre-pandemic.
Biometric checkout in the works
Card brands Visa and Mastercard have been working on biometric checkout functionality. In May 2022, Mastercard began piloting what it describes as "a first-of-its-kind technology framework" for biometric payments, dubbed Biometric Checkout. Facial recognition is the first biometric test out of the gate. Hand geometry biometrics and/or fingerprints will follow. The New York-based card company said it is working with a half dozen technology partners to advance biometric payments that adhere to minimum standards and specifications regarding security, biometric performance levels and data protection. One of those companies, the Brazilian startup Payface, is running a pilot with Mastercard at a handful of St. Marche supermarkets in Sao Paulo. St. Marche shoppers sign up using a Payface mobile app, registering their faces. Then they simply smile at checkout where a photo is snapped and the transaction gets completed without the need for a card or smartphone.
"The way we pay needs to keep pace with the way we live, work and do business, offering choice to consumers with the highest levels of security," Ajay Bhalla, president, cyber and intelligence at Mastercard, said in a press release. "We've been developing Payface since 2018, with a mission to help transform the way people pay—improving the experience without compromising security," said Eladio Isoppo, Payface CEO.
Consumers say it's more secure
Research from French technology firm IDEMIA suggests nearly three in four (74 percent) consumers globally have positive attitudes toward biometric technology. Forty-six percent of consumers surveyed by GetApp said biometric technology has made the pandemic easier to deal with.
Mastercard said its research indicates that 60 percent of consumers, globally, feel safer using biometrics to verify a payment versus using a PIN. Its research also revealed 93 percent of consumers, globally, are considering using an emerging payment method in 2022. Biometric payments fit that bill.
A Visa program called Visa Ready for Biometrics relies on consumers enrolling their fingerprints, which are securely stored in their cards and used for verification at checkout. Mastercard offers a similar capability.
Amazon appears to have been the first to test biometrics at checkout when it began deploying it at Amazon Go stores in 2020. Last year it started installing Amazon One palm scanning technology at its Whole Foods stores, and more recently the technology has been rolled out to non-Amazon locales, including sporting and music venues.
Amazon One uses computer vision technology to record a consumer's unique palm signature, which the consumer links to a credit or debit card. Then, at the POS, they hold their palm over a device that's about the size of a card reader. The device evaluates multiple aspects of a person's palm for comparison, and if it matches the details on file payment is authorized.
Obviously, biometric payments raise questions around privacy and data collection. Mastercard, for its part, said in announcing Biometric Checkout that it has created a set of encryption and other standards banks that merchants and technology providers can use to ensure security and data privacy when people make payments biometrically.

Patti Murphy is senior editor at The Green Sheet and self-described payments maven of the fourth estate. Follow her on Twitter @GS_PayMaven.
The Green Sheet Inc. is now a proud affiliate of Bankcard Life, a premier community that provides industry-leading training and resources for payment professionals. Click here for more information.
Notice to readers: These are archived articles. Contact names or information may be out of date. We regret any inconvenience.
Prev
Next