The Green Sheet Online Edition
August 12, 2019 • Issue 19:08:01
Merchants' online reviews are impacting your residuals
By Peter Shenk
Womply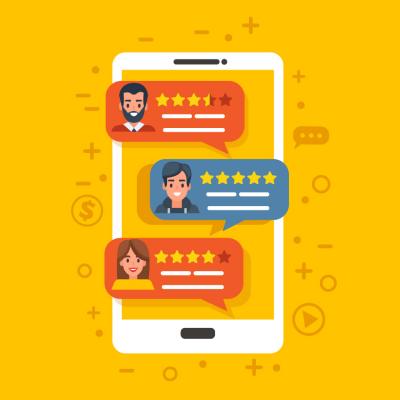 Merchant level salespeople (MLS) are familiar with merchants' complaints about the "Yelp factor," whereby online review sites have given dissatisfied customers an unprecedented amount of power over a small business's bottom line. Indeed, one of the main asks for agents as they move into a more consultative role with merchants is often: Can you help me manage online reviews?
But how much impact do online review sites like Yelp, Google My Business, and TripAdvisor have on small business revenue? To find out, Womply's data science team analyzed transactions and review data for nearly 210,000 merchants across dozens of industries in all 50 states. What we learned is this: online reviews have a very strong correlation to transaction volume and revenue performance – and by extension, large effects on processors, ISOs, and MLSs – but it's not as straightforward as you might expect.
The data suggests that the best way MLSs can help merchants increase transaction volume (and agents' residuals) is to educate them on the relevant points of online review management. I'll go over a few key findings from the report, including some that might surprise you.
Merchants profit by claiming their free online listings
If you could spend half an hour teaching a merchant a simple method that had the potential to increase the merchant's annual revenue by six figures, would you do it? Of course you would.
The study shows that merchants that have claimed their free business listings on at least three of the major review sites process $107,000 more in transactions annually than the average business. And they process $179,000 more than merchants who haven't claimed any listings, representing a whopping 60 percent swing in revenue.
Replying to online reviews correlates to increased transactions
A Harvard Business Review study (https://hbr.org/2018/02/study-replying-to-customer-reviews-results-in-better-ratings) showed when businesses start replying to reviews, they increase both the total number of reviews received and their overall rating. And according to "Google Confirms Responding to Reviews Improves Your Local SEO" by Chatmeter.com, Google confirmed the positive impact responding to reviews has on SEO.
Womply's study takes it one step further, showing that merchants who merely respond to customer reviews make more money. According to the data, merchants that reply to at least 25 percent of their reviews process 35 percent more in annual revenue than the average business. This means processors, ISOs and MLSs can profit from educating merchants about the correlation between employing online reputation management techniques like responding to reviews and an increase in transaction volume.
More customer reviews means more residuals
In addition to merchants replying to more of their reviews, agents should also encourage them to work for a regular supply of authentic, recent reviews, regardless of whether those reviews are negative or positive. In fact, few marketing efforts are more valuable. Womply's data shows that merchants with more than nine reviews posted within the last 90 days process 52 percent more revenue than average. Merchants with 25 or more recent reviews process 108 percent more than average.
Additionally, total review count matters. Merchants with more than the average 83 total reviews process 82 percent more annual revenue than merchants with review counts below that average. And those lucky merchants with over 200 reviews process twice as much revenue compared to the average. Again, this holds true overall whether reviews are positive or negative.
Bad reviews may not be bad news
If merchants fear that working to get more reviews will result in more bad reviews, you can assure them it's not a big deal. Womply found that negative reviews don't have as much impact on revenue as we have been led to believe. The data shows that even merchants whose reviews are 35 to 50 percent negative still earn almost as much as the average business. It's the total number and "freshness" of reviews that correlates with greater revenue.
Five-star merchants process fewer transactions
Another potential bombshell coming out of the study is that working to maintain a perfect five-star rating may not be the best use of a merchant's time. The data shows that five-star merchants process less average annual revenue than one-star merchants do. There are likely multiple reasons for this. For example, five-star businesses are often newer, with fewer total reviews. Also, when people search for businesses online, they might be expecting to see a certain amount of negative feedback. A business with zero bad reviews may seem "too good to be true."
Womply's report shows the sweet spot for revenue to be a rating of between 3.5 and 4.5 stars.
A bad star rating on Google hurts most
Despite many small merchants' love/hate relationship with Yelp, Womply's research shows a poor business reputation on Google to be more potentially damaging than similar ratings on any other major review site. Merchants with an average Google star rating of 1 to 1.5 brought in 33 percent less revenue per year than the average; those with the same star rating on Facebook or Yelp saw revenue drops of 19 and 9 percent, respectively, compared to the average business.
U.S. consumers are overwhelmingly positive online
Womply's data shows that Americans are very positive in online reviews overall, despite the common belief that most online reviews are negative. Eighty-one percent of online reviews for a typical business are positive nationally, with some states and industries as high as 92 percent favorable. Agents who help merchants understand the incredible financial potential of being engaged with their customers online will see increased merchant satisfaction, retention and revenue. For more surprising insights and vertical-specific data broken down by state, you can access Womply's full Impact of Online Reviews on Small Business Revenue report at www.womply.com/impact-of-online-reviews-on-small-business-revenue/.

Peter Shenk is vice president of partnerships at Womply, a leading software partner to the payments industry and the top provider of front-office software to small businesses. Contact him at pshenk@womply.com.
The Green Sheet Inc. is now a proud affiliate of Bankcard Life, a premier community that provides industry-leading training and resources for payment professionals. Click here for more information.
Notice to readers: These are archived articles. Contact names or information may be out of date. We regret any inconvenience.
Prev
Next