The Green Sheet Online Edition
August 12, 2019 • Issue 19:08:01
ATMs and debit cards 50 years on
By Patti Murphy
ProScribes Inc.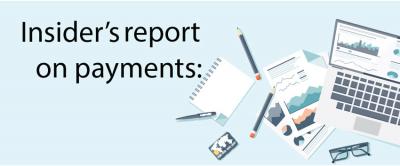 The summer of 1969 was a momentous time in America. On July 20, the United States realized its goal of landing the first manned-spacecraft on the moon. A few weeks later, half a million concertgoers converged on a farm in upstate New York for the now famous Woodstock Festival. And a few weeks after that the first ATM was installed at a branch of Chemical Bank, a large New York bank that eventually was acquired by what is known today as JPMorgan Chase.
Space travel hasn't progressed significantly since 1969, and no music festival has captured the mood of a generation the way Woodstock did. But that first ATM, which at the time was nothing more than an extension of a Chemical Bank branch, led to a sea change in banking and payments.
Eight years later, when I began my career in banking, ATMs were still a novelty. In fact, they weren't universally called ATMs. In some circles they were still referred to as CBCTs (for customer communication banking terminals). Back then, state and federal laws placed strict limits on how and where banks could set up branches. CBCTs were seen as a low-cost option to branch banking (like depositing checks and obtaining cash) during non branch hours, which generally ran from 9 a.m. to 3 p.m.
My first job – at the Office of the Comptroller of the Currency, the U.S. Treasury Department agency that regulates nationally chartered banks – entailed copyediting and proofreading a new handbook for CBCT examinations. It was a boring and tedious set of tasks, but it piqued my interest in banking, particularly in the application of technologies in banking.
By the early 1980s, ATMs were catching on. Although most remained tethered to branches, some enterprising banks had started deploying free-standing machines. Some of the earliest free-standing ATMs were placed in grocery stores. Grocers had a long tradition of cashing checks for customers. Publix, the Florida-based supermarket chain, at the time claimed it cashed more paychecks for Florida workers than did any bank in the state.
Allowing banks to install ATMs in stores freed grocery staff members for other tasks and created new revenue streams for stores: rental income from the machines.
At about the same time, banks and other financial institutions began entering into compacts – first local, then regional and national – that allowed their ATM cardholders to use other financial institutions' ATMs, for a convenience fee.
ATM cards curb consumer check writing
The emergence of ATM networks was perhaps the first nail in the coffin of widespread consumer check usage. Absent easy access to their cash, many consumers carried checkbooks, which they took out to pay for purchases when they were short on cash, or simply to obtain cash. (I recall, for example, often cashing checks at hotels, as I never seemed to bring along enough cash when traveling.)
The next nail in the coffin came when some enterprising networks and retailers decided to test the concept of using ATM cards for POS payments. It began with grocery stores, primarily in the southwest, which was served by the PULSE ATM network (a bank-owned network eventually acquired by Discover), and in California, served by STAR, which today operates as a unit of First Data Corp.
A few large bank card issuers, working with Visa and Mastercard, already had tested the concept of allowing credit cardholders who also had checking accounts with those banks to use their credit cards for checking account debits as well. But it was a clunky process, and that play never really caught on. Using ATM cards for POS payments was an easier sell since consumers were accustomed to using ATM cards to obtain cash for purchases. Using those cards to pay for purchases saved the time and hassle of going to the ATM first, and paying ATM convenience fees.
The only downside of these early POS debit programs was that they were constrained by the ATM networks' regional footprints. A rash of network mergers removed that constraint by creating national networks that allowed cardholders to access their cash pretty much anywhere.
Banking on ATMs and POS debit
Visa and Mastercard entered the POS debit space in a big way beginning in the 1990s, convincing banks to issue ATM debit cards that also carried the national card brand logos. And within about 10 years, debit cards were being used to ring up more purchases than credit cards. A 2009 article in the Wall Street Journal described the move this way: "The urge not to splurge by thrift-conscious consumers is giving the debit-card revolution a new push."
The Federal Reserve, which keeps tabs on non cash payments in the United States., reported that in 2017 there were 82.6 billion debit card payments worth a combined value of $2.88 trillion, and 13.1 billion prepaid debit card payments totaling $300 billion. That same year, Americans made 37.7 billion payments totaling $3.32 trillion using general purpose credit cards, according to the Fed.
While financial institutions achieved efficiency gains by shifting some branch work to ATMs, technology deployments have never been a draw for most banks and credit unions. So just as they did a decade earlier, financial institutions began offloading that work to independent sales organizations. Soon ISOs began deploying their own branded ATMs, primarily as cash dispensers, as well. (Most bank ATMs offer a slate of banking services.) In 1996, Visa (owner of the PLUS national ATM network) and Mastercard (owner of Cirrus) lifted prohibitions on surcharging ATM transactions, and soon independent ATM deployments exploded.
In 1996 there were just under 140,000 ATMs in the United States., with most owned by financial institutions, according to a report at the time by the Federal Reserve Bank of St. Louis. By 2018 there were more than 470,000 ATMs deployed domestically, with most owned and operated by ISOs, according to a study published by the National ATM Council.
The early test labs for ATM surcharging were casinos and airports. Today, better than two-thirds of all ATMs in the nation are in retail locations, with many deployed by ISOs in rural communities and inner city neighborhoods that banks ignore, NAC reported. From a lone terminal in New York City to 470,000-plus ATMs nationwide in 50 years – that's pretty remarkable growth. Clearly, the changes in banking and payments ushered in by ATMs have been remarkable, too.

Patti Murphy is senior editor at The Green Sheet and president of ProScribes Inc. Follow her on Twitter @GS_PayMaven.
The Green Sheet Inc. is now a proud affiliate of Bankcard Life, a premier community that provides industry-leading training and resources for payment professionals. Click here for more information.
Notice to readers: These are archived articles. Contact names or information may be out of date. We regret any inconvenience.
Prev
Next