The Green Sheet Online Edition
October 24, 2022 • Issue 22:10:02
The very point of sale: The gift of time
By Dale S. Laszig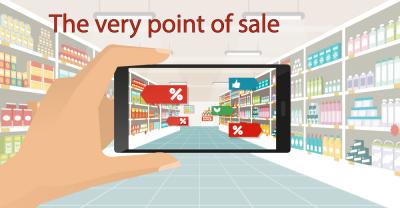 I try to avoid giving advice at weddings but recently made an exception when speaking with a niece and nephew about their new home. Take time to find the right furniture, I said, the same way you took time searching for a house. Another guest agreed, advising them not to furnish the whole home at once. It takes time, she said, sometimes a year, for a house to speak to you.
This year, our industry has been speaking to me, and it's had a lot to say. I occasionally have to remind myself to slow down when I'm chasing a story, to be thorough and get the facts. Covering technology in the fast-paced payments industry affords little time for self-reflection, but recently, on a rainy day in New York City, I discussed how I build news and feature stories.
Janine Savarese, CEO at NextTech Communications, shared pictures from the meeting. "Thank you to Dale Laszig for joining us in our New York office to share her experiences as a journalist at The Green Sheet," she wrote in an Oct. 7, 2022, post on LinkedIn. "We enjoyed hearing her perspectives and learning more on the ins and outs of being a reporter in today's media climate."
Smart collaborations
As a payments industry veteran, I sometimes feel as if I'm writing one continuous story about the everchanging commerce sphere, from early beginnings to modern-day solutions. Personal observations and the steady drip of incoming pitches keep me focused on each new chapter.
NextTech executives asked what qualities I look for in a source and where I find story ideas. I generally look for sources who are reliable, accessible and passionate about their work. My network includes payments analysts, tech leaders, VCs, PR specialists and journalists, all of whom help stock my idea pipeline. I also peruse The Green Sheet's newswire for newsworthy topics, companies and technology trends.
As we sat in NextTech's boardroom, exploring ways to collaborate, I mentioned The Green Sheet Inc.'s numerous free resources. For example, there is no charge to post press releases on our newswire or arrange a client interview for a feature article, breaking news story, company profile or product review. In addition, we promote upcoming events through media partnerships and our online calendar. On the marketing side, paid services include ads, email blasts and customized campaigns designed to amplify brand messaging.
Smart communities
These days, there's no shortage of extreme home makeovers, agile workflows and faster payments, but it's worth noting none of these solutions happen overnight. Supporting frameworks take years to develop, as designers seek to understand needs, desires and frustrations of their target audience and build accordingly. Some innovations never make it out of the lab; others fail forward, enabling inventors to learn from their mistakes.
Obsidian Banking, a Detroit-based neobank startup, is developing a unique methodology for understanding their Black American audience. They plan to travel the country, knocking on doors and bringing not just answers, but questions, to prospective customers. Years in the making, this uniquely analog approach to a digital-first solution is attracting attention and commentary from partnering banks and third-party service providers.
In an interview with The Green Sheet, Damon Kirk, co-founder and CEO of Obsidian Banking, said he expects Obsidian's Million Doors Campaign to further the company's long-term vision of becoming an all-encompassing bank for Black Americans that offers elite mobile banking, world-class investing and equitable lending options.
"Our primary differentiator is that we've built a product and experience with no compromise, a product that we can't wait to use and can't wait for the world to use!" he said, noting Obsidian users will soon be able to leverage the platform's data analytics, accessible fintech services and array of skill sets to make informed decisions that improve their financial health and overall quality of life.
Accidental innovations
As history has shown, many inventions begin as accidents. In 1954, Dr. Wilson Greatbatch tried to record heartbeats; his pulsating creation became the prototype of implantable pacemakers. The story is chronicled in "The Heartbeat of Invention: How Pacemaker Creator Wilson Greatbatch Saved Countless Lives," a Nov. 8, 2016, post on the Intellectual Ventures website.
"In the barn behind his home, the electrical engineering professor worked to use his inadvertent discovery to create the world's first implantable pacemaker," researchers wrote. "The first Greatbatch pacemaker was implanted in a human patient in 1960, and Greatbatch was awarded a patent for the device two years later."
In 1968, 3M scientist Spencer Silver created a lightweight adhesive using a substance called "microspheres," which could attach to surfaces and be easily peeled away. Six years later, 3M scientist Arthur Fry found a use for microspheres during his Wednesday evening church choir practice. Fry had been looking for a better way to bookmark his hymnal, according to CNN reporters Nick Glass and Tim Hume.
"Not everyone saw the value in the idea, says Fry, but the team continued to lobby for their idea and eventually in 1980, after extensive market testing, 3M released the product onto the market. From that point, the Post-it was unstoppable," Glass and Hume wrote in an April 24, 2013, article titled, "The 'hallelujah moment' behind the invention of the Post-it note."
Smart urban utopias
Today's technologies are embedded in the fabric of our lives, but it takes time for them to fully assimilate into mainstream culture. John Lorinc is a Canadian journalist and author of Dream States: Smart Cities, Technology, and the Pursuit of Urban Utopias, published in August 2022. By taking a long view of urban landscapes over time, he found technologies frequently advance beyond their original value propositions to address urban and ecological challenges.
"Just as the telecommunications industry's multi-billion-dollar investments in broadband [fiber-optic] networks gave rise to waves of new data-intensive applications for computers and smartphones, the massive experiment of electrical generating and transmission infrastructure in the late nineteenth and early twentieth century paved the way for city-altering technologies that had nothing to do with lighting," he wrote in the book.
Whatever you're chasing—a story, new client, invention or home furnishings—give yourself the gift of time and let new possibilities speak to you.

Dale S. Laszig, senior staff writer at The Green Sheet and managing director at DSL Direct LLC, is a payments industry journalist and content strategist. Connect via email dale@dsldirectllc.com, LinkedIn www.linkedin.com/in/dalelaszig/ and Twitter https://twitter.com/DSLdirect.
The Green Sheet Inc. is now a proud affiliate of Bankcard Life, a premier community that provides industry-leading training and resources for payment professionals. Click here for more information.
Notice to readers: These are archived articles. Contact names or information may be out of date. We regret any inconvenience.
Prev
Next