The Green Sheet Online Edition
May 09, 2022 • Issue 22:05:01
Runaway inflation a wrecking ball for many SMBs
By Chad Otar
Lending Valley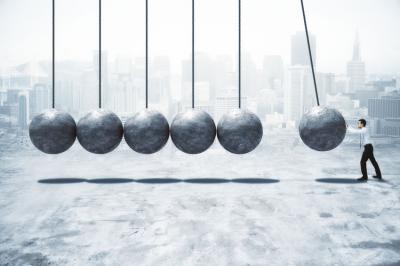 Inflation is on everyone's mind, but especially on the minds of small and midsize business (SMB) owners. We are experiencing one of the tightest economic situations in America's history. Inflation is a runaway train, blowing past historic rates to levels we haven't seen in decades—and it shows no sign of slowing down.
SMBs were already feeling a crunch from pandemic-related disruptions. They were told inflation would be transitionary (it wasn't). Now, with the Federal Reserve raising rates in March 2022—for the first time in two years—SMB owners know they're in for a bumpy ride. And I'll dig into that in this article.
Prepping for the long haul
According to a 2021 Business.org survey, SMB owners anticipated some inflation—with only a small amount anticipating it was going to get worse as 2022 rolled around. Eighty-nine percent of respondents said they had raised prices slightly since the beginning of the pandemic; 45 percent reported they'd increased prices by 20 percent. Now, SMB owners are preparing more aggressively for the long haul of runaway inflation. That means taking a handful of big steps many couldn't have imagined before 2020.
Increased costs
SMB owners are preparing for significantly higher costs across the board. Supply chain disruptions, lockdowns, strikes, labor unrest and a very tight labor situation have all led to significant cost increases for SMBs. Large businesses have been hit by many of these same increases. But because they operate at a bigger scale, they are able to absorb those increases better than smaller businesses can.
Increased prices
In the long term, SMBs can't paper over cost increases. Prices will increase. Sometimes significantly. Imagine the group of SMB owners queried in 2021 being surveyed again in early 2022—a lot more than 45 percent would be bumping prices 20 percent or more.
Tighter profits
Because inflation is so severe now, increased prices aren't equating to increased profits. In many places, increased prices are barely enough to reach a breakeven point; in some places increased prices are resulting in even tighter profit margins for SMBs. SMB owners typically already operate on razor thin margins. Inflation exacerbates that. A lot of SMB operations will have a tough time staying open if inflation continues to worsen, no matter how high they raise prices.
Tighter inventory
SMB owners also anticipate greater problems with inventory. As mentioned, supply chain disruptions have impacted all aspects of industry worldwide, including in America. Many SMB owners are having to maintain a bare-bones inventory, shuffle around offerings, and even streamline products and services in hopes of keeping things in stock. The just-in-time infrastructure we built around the world was a modern marvel. But everyone is discovering how fragile it can be in the event of a systemwide shock.
Customers squeezing for more value
One major challenge SMB owners face in 2022 and beyond is meeting customer pricing expectations while keeping their businesses open. Everyone is hurt by inflation, and everyone resists paying higher prices. There's only so much extra that people are willing to pay, especially when inflation continues apace. This forces businesses to operate on even tighter margins, often barely breaking even. That's no way to build a business—especially in the middle of the most competitive business environment in human history.
Customers are always hunting for the best value; now they're especially price conscious. SMB owners are seeking ways to navigate these desires, squaring them with their economic and business realities, and finding ways to weather this storm until we come out on the other side.
Note: The following resources were used in researching this article:

Chad Otar is CEO of Lending Valley Inc. For information about the company, please visit www.lendingvalley.com. To reach Chad, send an email to chad@lendingvalley.com.
The Green Sheet Inc. is now a proud affiliate of Bankcard Life, a premier community that provides industry-leading training and resources for payment professionals. Click here for more information.
Notice to readers: These are archived articles. Contact names or information may be out of date. We regret any inconvenience.
Prev
Next