The Green Sheet Online Edition
May 09, 2022 • Issue 22:05:01
Industry Update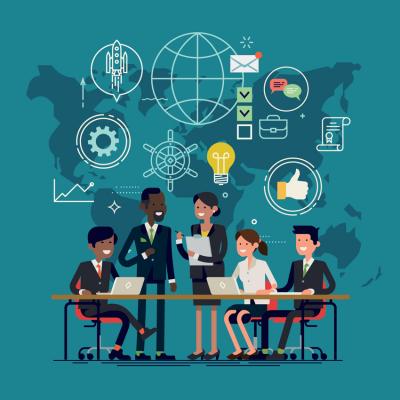 ANNOUNCEMENTS
Aite-Novarica launches CIO/CTO advisory
Aite-Novarica Group, an advisory firm providing insights on technology, regulations, markets, and operations to banks, payments providers, insurers, and securities firms, celebrated the launch of its Financial Services CIO/CTO Advisory practice. The service is designed for senior executives in banks, payment providers and securities/investment firms that lead the technology function or are responsible for technology strategy and execution. The new practice is led by Mitch Wein, head of financial services CIO/CTO advisory. Joining him on the team is research associate Aisha Chandraker.
BlueStar named 2021 Distributor of the Year
BlueStar has been granted Ivanti Wavelink's 2021 Distributor of the Year Award. This award is given to distributors that demonstrate growth and success while exceeding performance goals for reseller business development. Ivanti Wavelink noted it has participated in several BlueStar thought leadership-oriented opportunities, including presenting subject matter experts to showcase industry education throughout BlueStar's TEConnect Webinar Series and VARTECH, in the supply chain and warehouse markets. "They've proven to be a leader in their space, and work collaboratively with other key hardware vendors and BlueStar partners," Ivanti Wavelink said.
Monneo simplifies merchant crypto payments
Payment ecosystem provider Monneo launched a service to simplify online cryptocurrency payments by enabling merchants to accept cryptocurrency natively through their websites. The solution, Monneo stated, converts the cryptocurrency payment into its equivalent fiat currency value; then Monneo settles it to the merchant's international bank account number. Monneo affirmed that its solution ensures merchants do not take any volatility risk: the customer has 15 minutes to complete the transaction where the crypto to fiat rate is locked in, and the merchant receives the full fiat amount, regardless of any rapid exchange rate fluctuations. The company uses the Lightning Network, where available, a technology layer that helps facilitate instant exchange of cryptocurrency.
3 Techies Banter makes technology accessible
3 Techies Banter is a technology podcast for non-techies (and techies) and anyone with a sense of humor. The three podcasters come from diverse backgrounds, yet they are united in their desire to make technology a topic of drawing-room conversation where everyone can have an informed viewpoint. Technology, they said, impacts the lives of people as individuals and as a society significantly, and yet so many people know so little about it or expect so much from it — both equally dangerous. Episodes that have aired so far are available at https://audiowallah.com/podcast/3-techies-banter-3tb and all major podcast platforms.
RESEARCH
Mercator reports on Canada's digital divide
Mercator Advisory Group's 2022 North American PaymentsInsights: Emerging Payments and Technology – Navigating the Digital Divide in Canada analyzes the impact of technology within Canada on current and future behavior. The report revealed significant impacts that income and education have on both adoption of technology and forward-looking preferences, researchers noted. The report is based on the North American PaymentsInsights survey, administered in 2022 to a nationally representative sample of 1,000 Canadian consumers, ages 18 years or older. Topics highlighted in this 55-page report include technology access, mobile phone use, technology adoption, payment and banking methods, payment technology, P2P payments, and cryptocurrency.
U.S. Payments Forum reviews chip supply issues
Global semiconductor supply challenges are persistent and wide-reaching, affecting numerous industry sectors for nearly two years, according to the U.S. Payments Forum, which released a new resource addressing chip supply challenges, potential impacts on the payments ecosystem and considerations for payments industry stakeholders to help mitigate shortfalls in coming months. The free white paper, Global Chip Supply Challenges: Considerations for Payment Industry Stakeholders, is available for download on the U.S. Payments Forum website, www.uspaymentsforum.org. The forum pointed out that for the payments industry, the chip shortage challenge is impacting the availability of the security chips used in payment cards, POS terminals and other devices.
PARTNERSHIPS
Bluefin, DRB, Datacap Systems roll out P2PE
Integrated payments and security provider Bluefin launched its PCI-validated point-to-point encryption (P2PE) solution across 458 U.S. car wash locations with partners DRB and Datacap Systems. Car wash technology provider DRB specializes in advanced POS systems and next-generation business management. Datacap builds customized payment solutions that route through dozens of pre-certified devices from leading OEMs, empowering merchants to create a unified payments experience across brick-and-mortar, online, mobile and unattended applications. Bluefin specializes in PCI-validated P2PE solutions that encrypt all data within a PCI-approved point-of-entry device, preventing clear-text cardholder data from being available in the device or the merchant's system where it could be exposed to malware.
Nexio partners with Chargebacks911
Nexio, a provider of payment orchestration, partnered with dispute technology specialists Chargebacks911. Nexio said it will now benefit from Chargebacks911's end-to-end dispute management offering while reaping transformative results for its merchants. With fraud growing year-on-year, Nexio is leveraging Chargebacks911's industry-leading technology to deliver increased value to its merchants, while protecting and defending against chargebacks and disputes, Nexio added.
TruCentive expands with PayPal, Venmo
TruCentive, an all-in-one incentives delivery and engagement platform, added the PayPal and Venmo online payment systems to its catalog of incentive options. Marketing, HR, and operations professionals now have two new payment options when delivering incentives in the form of payments via TruCentive, the company stated, adding that PayPal and Venmo complement its existing deposit to debit card and deposit to bank account payment solutions. TruCentive said it enables clients to deliver payments, prepaid Visa and Mastercard, and over 3,000 merchant gift cards in over 150 countries via SMS and email, and clients can curate groups of gift cards or payment options to create a complementary theme to match their event or campaign.
ACQUISITIONS
Fenergo completes Sentinels acquisition
Fenergo, a provider of digital solutions for Know your Customer (KYC) and client lifecycle management (CLM), acquired Sentinels, an anti-money laundering (AML) transaction monitoring new market entrant with artificial intelligence-based technology. Fenergo stated the acquisition strengthens its ability to deliver end-to-end software-as-a-service–based CLM with smart transaction monitoring to financial institutions.
Sentinels' transaction monitoring solutions are purpose-designed to detect and eliminate criminal transactions fast and at scale, according to Fenergo, which added that its clients and financial institutions now will be able to combine rich KYC profiles with client behavioral data for continuous and granular KYC monitoring.
Payroc acquires Worldnet
Payments enterprise Payroc WorldAccess LLC acquired Worldnet, a provider of unified, global omnichannel payments solutions for ISVs. Incorporating Worldnet's technology solutions into the Payroc platform further propels Payroc into the ISV and embedded payments space, Payroc stated, adding that this new combination makes
Payroc a premier omnichannel payments technology solution for an array of SaaS and ISV providers. James Oberman, CEO of Payroc stated, "Our joint offerings and capabilities will drive more value for partners and developers, and enable more flexibility to create unique payment solutions for consumers. The addition of Worldnet complements our existing products and brings additional payment facilitation capabilities to our team as we focus on delivering flexible, white-labeled solutions."
Utimaco acquires Celltick
Utimaco, a provider of cybersecurity and compliance solutions, signed a share purchase agreement with Celltick, a provider of public warning systems (PWSs), mass notification systems and a cell broadcast center. Recent natural disasters, health crises and military conflicts have put a spotlight on the need for efficient PWSs that allow authorities to quickly alert the population and let them know of an ongoing crisis or imminent threat, Utimaco stated, adding that Celltick is working free of charge with the State Emergency Service and three mobile network operators in Ukraine to deploy a national cell broadcast-based PWS to help protect the civilian population.
APPOINTMENTS
Merchant's PACT taps Daniel Booth
Merchant's PACT, a payments industry advisory and management firm, promoted Daniel Booth to the position of chief technology officer. Booth has more than 20 years of technology experience in varied industries.
He has dedicated his career to spearheading technology innovation and has proven invaluable as Merchant's PACT continues to expand its software and integrated solutions for regional and community financial institutions, and their commercial clients, the company stated. As CTO, Booth will oversee the technology and development teams that build and manage all proprietary systems and will continue to lead integrations with various financial institutions' core systems and digital platforms.
Talus Pay hires Bryan Fricke
Talus Pay, a provider of payment processing solutions for small and midsize merchants, stated that payments industry veteran Bryan Fricke joined the company as chief revenue officer. Fricke will be responsible for the performance, strategy and alignment of revenue generating go-to-market channels encompassing sales, marketing, product and customer success teams.
With almost three decades of payments experience, Fricke is adept at building, leading and retaining high-performing sales teams to increase effectiveness and results. Directly prior, he served in executive relationship management and sales operations roles for JPMorgan Chase. Fricke previously spent 18 years with First Data, now Fiserv, in various sales, sales training, telesales and account management roles.
Joe Trelin joins authID.ai board
authID.ai recently welcomed Joe Trelin to its board of directors. As the former chief platform officer of CLEAR, Trelin brings invaluable industry expertise in technology product management as well as systems, platform, and application development, authID.ai stated. At CLEAR, Trelin designed, launched and monetized the CLEAR identity platform across various market sectors including payments, healthcare, entertainment, automotive and enterprise access management. He also led business development and was instrumental in launching identity, age verification, payment and facial ticketing solutions with Hertz, Anheuser Busch, the Seattle Seahawks, Mariners, Sounders, and the New York Mets.
Elbruz Yilmaz signs on with Paysafe
Specialized payments platform Paysafe appointed crypto executive Elbruz Yilmaz to the newly created role of senior vice president, crypto. In this role Yilmaz is charged with further extending Paysafe's group-wide crypto offering to meet the growing needs of its merchant and consumer customers worldwide, Paysafe noted. Yilmaz is the latest senior hire to the leadership team of Chirag Patel, CEO of Paysafe's digital wallets division.
Yilmaz joins Paysafe from Vienna-based cryptocurrency and digital asset investment platform Bitpanda, where he was managing director, MENA and Turkey. Before Bitpanda, Yilmaz was a venture capitalist investing in, and scaling, innovative tech startups including multiple blockchain and crypto companies.

The Green Sheet Inc. is now a proud affiliate of Bankcard Life, a premier community that provides industry-leading training and resources for payment professionals. Click here for more information.
Notice to readers: These are archived articles. Contact names or information may be out of date. We regret any inconvenience.
Prev
Next