The Green Sheet Online Edition
September 13, 2021 • Issue 21:09:01
Debit routing debate portends more industry scrutiny
By Patti Murphy
ProScribes Inc.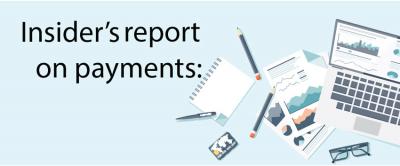 Debit routing may seem a mundane, even convoluted, topic. But it's more likely than not that the Federal Reserve will change its rules on debit routing, requiring that merchants be allowed to choose which network processes debit card payments they accept. And while the proposed rule change primarily affects debit card issuers and the card networks, it's growing more evident that Washington has its sights set on the payment processing industry.
This was my sense reviewing letters submitted to the Fed by the Department of Justice and the Federal Trade Commission. The letters were responses to a Fed request for comment on a proposal to change Regulation II to ensure merchant debit routing choice for card-not-present transactions. (Reg II implements the Durbin Amendment to the 2010 Dodd-Frank Act.)
Both agencies oversee the enforcement of federal antitrust laws. Additionally, the FTC has regulatory authority over debit card networks under the Durbin Amendment. It was the FTC, for example, that forced Visa in 2016 to 86 a requirement that merchant POS devices prompt customers to select a debit network, not merchants.
A statement, included in a DOJ press release and attributed to Acting Assistant Attorney General Richard A. Powers, is telling. "There is limited competition to process online and other card-not-present debit transactions," he said. "Consistent with President Biden's Executive Order on Promoting Competition in the American Economy, the department looks forward to working with the [Fed] on this and other efforts to foster competition." [Emphasis added.]
A hot button issue
Debit card routing has long been a hot button issue pitting merchants against card issuers and the card networks. The debate has become more pronounced as more debit payments migrate online and to other CNP environments. Last year, CNP debit payments jumped 23 percent, and now account for one in three debit card payments, according to a new study out of the PULSE network.
To accommodate growing demand for online debit, regional EFT networks, like PULSE, have developed PINless debit technology. This technology, as the name implies, supports debit card acceptance without PINs. Instead, the cardholder is typically authenticated using address verification service (AVS) and/or Card Verification Value (CVV), much as they would in a CNP credit card scenario.
But for PINless debit to work, debit cards need to be programmed to support PINless debit, and most are not, evoking the ire of merchants, regional EFT networks, and even Sen. Dick Durbin, D-Ill., author of the Durbin Amendment.
The Fed said its data suggests that among card issuers covered by the Durbin Amendment (those with assets exceeding $10 billion) about half saw no CNP transactions using debit cards they'd issued being processed through regional EFT networks in 2019. The DOJ said its analysis shows that the Visa and Mastercard networks, combined, process 75 percent of all debit card transactions and 90 percent of all online debit card payments.
Even before the ramp up in online debit usage that came with the pandemic, merchants were up in arms over the lack of debit routing choice, since regional EFT network interchange is much lower than Visa and Mastercard interchange. Merchants have had a powerful ally in Sen. Durbin, who last year asked the Fed to investigate whether the card brands and issuers were conspiring to hold PINless debit at bay.
It's important to note that the Durbin Amendment and Reg II specifically state that merchants must be able to choose between at least two unaffiliated networks to process debit card payments. However, when the Fed wrote Reg II, in 2011, it failed to foresee the rise of CNP and PINless options for debit card payments, which left wiggle room for issuers.
Affirming merchant choice
Back in May of this year, the Fed proposed changing its official commentary on Reg II to clarify that the merchant choice requirement applies to CNP as well as card-present transactions, and that issuers must take steps to enable this on the debit cards they issue.
Since then, the Fed has received an avalanche of comment letters, both supporting and opposing the proposed change—over 1,000 as of the mid-August deadline for public comments. As someone who has followed the Fed's regulatory apparatus for nearly four decades, I can say unequivocally that 1,000 comment letters on a single proposal is huge!
And since the Fed staff is obliged to read them all, it's going to take time for staff to present recommendations to the Fed Board of Governors, which has final say over any such changes.
Both the DOJ and the FTC wrote that they favored the Fed's current proposal, but added that it doesn't go far enough. "[T]he proposal is one step among many that could be taken to address the lack of competitiveness in the debit card payment market," the DOJ wrote.
Both said the Fed should prohibit, outright, "routing-based incentives" that encourage issuers to take steps that ensure the card brands get more debit traffic on their networks. Routing-based incentives include disabling (or not enabling) certain features offered by networks other than Visa and Mastercard. "Such actions eviscerate merchant routing choice," the FTC wrote.
Banks balk
A coalition representing financial institutions that has long accused the Fed of regulatory overreach with Reg II blasted the proposed change. The coalition—which includes the American Bankers Association, the Consumer Bankers Association and the Credit Union National Association—argued it would result in a $27 billion windfall to the largest retailers at the expense of small merchants, banks and consumers.
"During this trying time, our members have proven critical to maintaining the health of an American economy under siege. Our members also have greatly stepped up their payments products to support American consumers and businesses," the group wrote. "We did not anticipate a new mandate that would require us to undertake distracting, expensive, time-consuming efforts to change our core network infrastructure."
The coalition wants the Fed to withdraw the proposed change "until it undertakes a proper analysis on the impact of any rule making on routing and exclusivity." Failing that, the 17-page letter requested specific changes and four years for issuers to prepare for compliance.
Four years is a long lead time, and unlikely. Debit card issuers were allowed just 10 months to start complying with the original rules pertaining to merchant routing choice for debit cards.

Patti Murphy is senior editor at The Green Sheet and co-host of the Merchant Sales Podcast. Follow her on Twitter @GS_PayMaven.
The Green Sheet Inc. is now a proud affiliate of Bankcard Life, a premier community that provides industry-leading training and resources for payment professionals. Click here for more information.
Notice to readers: These are archived articles. Contact names or information may be out of date. We regret any inconvenience.
Prev
Next