The Green Sheet Online Edition
May 25, 2020 • Issue 20:05:02
Will COVID-19 accelerate the demise of cash?
By Simon Fairbairn
Ingenico Group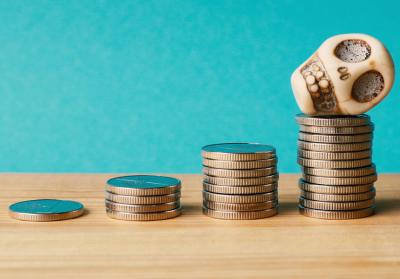 Every year someone, somewhere, trots out the story that cash is dead and electronic payments - be they card, digital or mobile - are the new king. Every year though, cash holds on, declining but fading slowly. A stubborn remnant from a different age but nevertheless a vital payment medium that is still relevant for an economy that is yet to go all-in digital.
For some, access to modern banking is simply not possible; anything that requires credit or an acceptable credit score remains very much out of reach. For others, cash is simply just a preference, one driven by a myriad of personal reasons. The key point is that despite all the heralding of a digital economy, cash still has its place and is becoming more entrenched the harder it is challenged.
A downside writ large
That is until the very essence of how it functions becomes the very thing that tests its relevance. We have always known about the unsanitary side of cash: the many pockets, hands and tills it passes through until it is finally withdrawn from circulation. Now, in the throes of a creeping, global pandemic, money in the form of coins and notes has become truly dirty. An unsuspecting culprit in the spread of a virus that is wreaking havoc globally with people's lives and the economy at large.
What better impetus to switch to an electronic medium where you do not even have to touch to pay. The value proposition of contactless payments has found a new champion. With contactless payments an already firm favorite with customers, terminal providers such as Ingenico, find themselves working to accommodate the new increased limits for contactless transactions to literally make payments even safer.
A precipitous drop
Could this be the nudge to tip the balance and accelerate the demise of cash? Will the cry of "Cash is king" finally be over as the risk of its use outweighs its advantages? Can the digital pretender finally ascend the throne and take the crown? According to Sam Baker in The Telegraph article titled "Death of cash: why the low paid and the middle aged have most to lose," cash recently accounted for 20.4 percent of total payments in the UK. But since the lockdown, cash withdrawals via the Link network are down 50 percent, according to The Guardian. Cash is no longer the dominant force it once was but certainly is still a relevant actor on a stage burgeoning with a plethora of more dynamic alternatives.
The reality, however, is that cash is still likely to be with us for some years yet. This current crisis is probably better seen as the beginning of the end, one almighty nudge to get cash over its current sticking point and further down its path to redundancy. Until we find a better medium to cater for all – the unbankables, the grey and black economies, a solution to replace the simple immediacy and anonymity of cash – we are probably still stuck with it for some years yet.
A tenacious holdover
On a parting note, perhaps the recent murmurings from the Bank of England and other central banks on the introduction of a central bank digital currency will take us from an almighty nudge to a grand finale and lay cash to rest.
Then again, who really knows when so far, every prediction, while correct in its direction, has fallen short of the final coup de grace?
SIDE NOTE:
More about cash
For additional perspectives on the future of cash, see "Cash dethroned? When accessible, inclusive options exist" by O.B. Rawls IV, The Green Sheet, Oct. 28, 2019, issue 19:10:02, and "Cash: Tomorrow's currency or yesterday's paper" by Dale S. Laszig, The Green Sheet, Feb. 8, 2016, issue 16:02:01.

Simon Fairbairn is head of professional services / Ingenico Group EMEA. Take a look around the new Payments Landscape in this Ingenico white paper with a special focus on the impacts to consumer behavior. www.ingenico.com/payment-landscape-new-normal. To reach Simon, please email simon.fairbairn@ingenico.com.
The Green Sheet Inc. is now a proud affiliate of Bankcard Life, a premier community that provides industry-leading training and resources for payment professionals. Click here for more information.
Notice to readers: These are archived articles. Contact names or information may be out of date. We regret any inconvenience.
Prev
Next