The Green Sheet Online Edition
May 11, 2020 • Issue 20:05:01
Catching payments' third wave
By Dale S. Laszig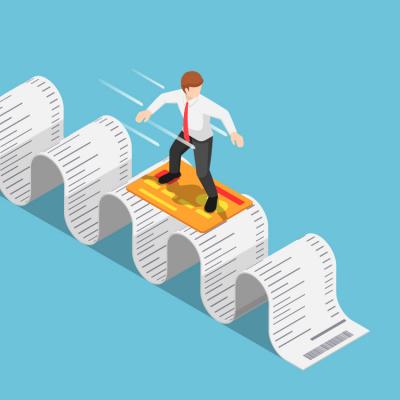 Technology waves are pummeling the payments industry, pushing merchant level salespeople (MLSs) out of their comfort zones. Experts have theorized about wave patterns for decades. In 1980, Alvin Toffler's bestselling book, The Third Wave, identified three waves of human progress: the agricultural age, industrial age and information age.
Thirty-six years later, Steve Case published The Third Wave: An Entrepreneur's Vision of the Future. He applauded Toffler and added three waves: building the internet, the app economy and mobile revolution, and the Internet of Everything (IoE). New waves in each cycle crest higher than their predecessors, using newly discovered capabilities to create something better and stronger, Case stated.
The payments industry has also experienced three distinct cycles. First was the launch of electronic processing technology. Next, an industrial age made POS devices and modems sleeker and faster. Today, a third wave is cresting, requiring MLSs to adapt or risk becoming irrelevant.
Case likened adaptation to what he learned from an experienced surfer who said that when the wave is cresting, you're either in the tube or you're in the sand. Adaptive professionals and companies that react quickly to their surroundings are more likely to be in the tube, Case noted.
"During the Second Wave, the industry of focus was technology, and so Second Wave entrepreneurs understandably flocked to the place in the country where tech companies and investors had clustered," he wrote. "But during the Third Wave, though products will be tech-enabled, they won't be tech-centric. They'll use apps, but the product won't be an app. And so, the benefit derived from being in the tech world won't be as high."
Beyond payments
The principle that apps are not the product also applies to payments. Today's payment solutions are tech-enabled, but they are not tech-centric. In many cases, embedded payments inside apps are not the core product but rather mechanisms that facilitate things like video streaming, ride sharing and coffee buying. People and companies use payments for commerce, but payments are not commerce. They are a subset of larger verticals, such as retail, hospitality or healthcare.
Merchant services and other businesses are becoming more distributed and less centrally located. Tech workers are finding work outside of major technology hubs. MLSs are broadening their knowledge base beyond just payments by becoming well-versed in their chosen verticals' trends, regulations and marketing strategy. And by surrounding themselves with industry experts, MLSs fully participate in solving specific industry needs.
"We will see more people starting more companies to solve more problems and seize more opportunities – many of which will never land on Silicon Valley's radar," Case wrote. "And I believe the leaders behind these emerging companies will end up being the most diverse group of CEOs America has ever produced."
Beyond app marketplaces
Case's timeline placed the three waves of the internet as follows: the first wave of building the internet took place between 1985 and 1999. The second wave, which occurred between 2000 and 2015, introduced the app economy and mobile revolution, with ecommerce start-ups growing on top of the internet. The third and current wave began in 2016, ushering in the IoE era.
It took guts for Case to proclaim the end of the app and mobile revolution in 2016, but the long arc of payments history supports his opinion. In the not-too-distant past, MLSs were selling and leasing countertop, virtual, integrated, portable and mobile POS devices. When the era of dedicated devices began to slowly fade, few MLSs or ISOs wanted to accept it.
Free terminal programs delivered the first blow, messing with profit margins and forcing many ISOs to adopt new business models. Competitively priced integrated solutions delivered the second blow, making complex, interconnected systems available to small and midsize merchants. Distributed software solutions delivered a near-fatal punch by making payments available anytime, anywhere, which provided merchants and consumers alternative options to dedicated devices.
Today's apps and app marketplaces are following a similar trajectory. In the early days of the app economy and mobile revolution, we learned to say, "There's an app for that." But lately we aren't thinking as much about which app to use for a particular product or service. When we walk into a coffee shop, our pumpkin spice latte is waiting. When we hail a ride, our driver arrives in minutes, greeting us by name. In the IoE, POS devices and apps share a crowded stage with smartphones, tablets, digital signage, and voice-enabled and payments-enabled intelligent appliances. Everyone is connected, transacting and communicating.
Paper to electronic
As payments industry veterans may recall, digitalizing paper transactions was the original value proposition. Merchants, accustomed to taking paper receipts to the bank, learned to transmit batches electronically.
Banks fronted credit card funds to merchants before batches had settled, gaining a competitive advantage over third-party acquirers and their average 48-hour wait times.
Waiting 30 days to receive paper copies of bank statements seems inconceivable today but was common practice 30 years ago. After decades of gradual banking infrastructure upgrades, the Federal Reserve established the Faster Payments Task Force in 2017, with the goal of enabling U.S. bank account holders to securely send and receive real-time payments by 2020.
Deluxe Corp. founder W.R. Hotchkiss invented the checkbook 105 years ago, a product that has steadily evolved from paper to electronic. Michael Reed, payments division president at Deluxe, said the company observed how checks were used and designed digital processes to take the friction away. "Seeing all these checks provides us with detailed use cases of the jobs they're performing," he said. "We saw checks mailed with sticky notes. Over time, we built software to manage unstructured data so banks would know how to apply it."
Same theme, different props
Siamac Rezaiezadeh, head of product marketing at GoCardless, agreed independent software vendors are empowering financial institutions. He recalled that 10 years ago, banks were trying to solve too many problems across a broad stack. Data sets weren't unified across personal accounts, business accounts, loans and credit cards, he noted.
"Slowly over time, fintechs ate into that stack," Rezaiezadeh said. "By focusing on small areas, they solved huge problems for a wide number of organizations. But their advanced technology platforms are not the end product, only a starting point."
Brad Giles, senior vice president, marketing and sales enablement at Ingenico Group, mentioned that some prototype models never make it out of his company's innovation lab. "We love to fail at innovation," he said. "We'll swing and miss a few times to get that one solution that delights our customers."
Giles pointed out that before World War II, the interstate highway system only had two lanes, because commerce hadn't caught up. "It took a decade and a half for the trucking system to explode and change the dynamic of our society," he said. "Today, we're going through the same thing digitally. The themes keep repeating; it's the same script, just different props."

Dale S. Laszig, senior staff writer at The Green Sheet and managing director at DSL Direct LLC, is a payments industry journalist and content development specialist. She can be reached at dale@dsldirectllc.com and on Twitter at @DSLdirect.
The Green Sheet Inc. is now a proud affiliate of Bankcard Life, a premier community that provides industry-leading training and resources for payment professionals. Click here for more information.
Notice to readers: These are archived articles. Contact names or information may be out of date. We regret any inconvenience.
Prev
Next