The Green Sheet Online Edition
November 25, 2019 • Issue 19:11:02
Outlook brightens for cannabis banking
By Patti Murphy
ProScribes Inc.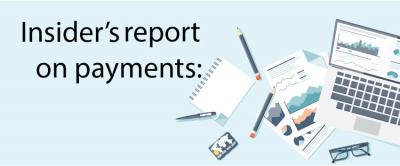 Efforts to bring cannabis businesses into the banking and payments mainstream may soon bring wide adoption of modern payment methods to this thriving industry. Legislation passed by the U.S. House of Representatives and now awaiting action in the Senate would create a safe harbor for banks that want to offer deposit and payment services to these businesses. Cannabis businesses comprise one of the fastest growing industries, according to U.S. New Frontier Data, which keeps tabs on the market. It estimates sales for the U.S. legal cannabis market (to medicinal and recreational users) will reach $13.6 billion this year, a 31.7 percent increase over 2018.
Total combined legal sales in the 33 states with legalized medical marijuana programs and the 11 states allowing adult recreational uses are projected to grow at a compound annual rate of 14 percent, to reach $30 billion by 2025. (Some states have legalized cannabis for both recreational adult use and medicinal uses. Cannabis remains fully illegal in just nine states.) Illicit cannabis sales still exceed legal sales, at $64.3 billion last year, but the illicit market will shrink to just $7 billion, by 2025, according to New Frontier's projections.
Cash-only troubles legislators
Here's the kicker, though: most legal cannabis businesses (from wholesale growers to pot shops) operate on a cash-only basis. Because cannabis remains illegal under federal law, and banks and credit unions are federally regulated, most will avoid knowingly working with businesses in the cannabis market. A few dozen banks and credit unions do serve cannabis businesses, but doing so brings about a host of burdensome regulatory requirements, like filing suspicious activity reports on the large cash deposits these businesses make. We're talking satchels filled with cash. Dispensary owners I've interviewed have described traveling to banks with bags containing $30,000-plus in cash. These businesses and their employees are also prime targets for thieves, which is why many employ armed guards.
The situation has been so troubling in California that state lawmakers proposed setting authorizing limited purpose banks to serve companies in the cannabis market there. That bill has been approved in the state senate, but not in the state assembly. Lead author of the legislation, Sen. Bob Hertzberg, said he is hopeful the measure will garner approval from both legislative bodies next year.
Card brands remain intransigent
Even if the Hertzberg bill were approved, however, it wouldn't make it any easier for cannabis businesses in California to accept card payments. The card brands have taken a firm stance against knowingly allowing transactions tied to cannabis businesses to cross their networks, in keeping with federal cannabis prohibitions. It is worth noting, however, that the card brands don't seem to be troubled by the fact that several retail chains openly sell CBD products. CBD (shorthand for cannabidiol) is a non-intoxicating chemical compound found in cannabis plants that often gets extracted, diluted with a carrier oil (for example, grape seed) and administered as drops, topically or as a food additive. CBD is believed to provide relief for a range of medical conditions, including pain, anxiety and post-traumatic stress disorder.
I've spotted CBD product displays in national chains like CVS and Walgreens, as well as at regional convenience and grocery store chains all along the East Coast. Surely the card brands can't be unaware that these chains are running CBD sales through their terminals. Yet I regularly field queries from agents inquiring about boarding CBD merchants, because their acquiring partners won't accept these potential clients.
Leading acquirer Elavon did start boarding CBD merchants earlier this year, only to pull out of the market a few months later, apparently after the card brands caught wind of what it was doing. The card brands would likely relax this stance should the federal government change its position on banking cannabis businesses, as they did following full legalization in Canada last year.
Is safe banking in the cards?
The Secure and Fair Enforcement (SAFE) Banking Act might pave the way for that to happen. The legislation, which was overwhelming approved by the House, would provide a safe harbor for banks and credit unions that want to work with cannabis businesses. The legislation made it through the House in what seems like breakneck speed compared to most major legislation. It was introduced in January, approved by the House Financial Services Committee in March and approved by the full House in September.
Backers insist the legislation doesn't seek to change federal law regarding cannabis; it merely aims to open the banking system to cannabis businesses that operate within the legal frameworks established by the states where they do business. "American voters have spoken and continue to speak, and the fact is you can't put the genie back in the bottle," Rep. Ed Perlmutter, D-Colo., the bill's lead sponsor, said following the House vote. "Prohibition is over. Our bill is focused solely on taking cash off the streets and making our communities safer." "Passing this bill keeps the right perspective," added Rep. Warren Davidson, R-Ohio. "No federal regulator should block Americans' lawful access to the financial system. This principle holds true whether you are talking about firearms or cannabis."
While no Senate votes have been scheduled yet on the SAFE Banking Act, the bill enjoys bipartisan support: Sen. Marco Rubio, R-Fla., is chief sponsor in the Senate. Sen. Mitch McConnell, R-Ky., who calls the shots on what legislation makes it to the floor of that chamber, reportedly met with executives of cannabis companies in October, but has declined to discuss the fate of the legislation publicly.
Sen. MConnell also ensured Senate passage of the 2018 Farm Bill, which included reclassifying hemp as a commodity, subject to regulation by the U.S. Department of Agriculture. Hemp is a type of cannabis plant with very low levels of THC, the compound that gets users high and is prevalent in marijuana, the most popular type of cannabis among medicinal and recreational users. While hemp has no intoxicating effects, for decades it was categorized as a controlled substance just like marijuana. Under the 2018 Farm Bill, CBD derived from hemp is legal, but only if derived from hemp grown by USDA-licensed growers. The USDA issued interim regulations in October that set up licensing, testing and other regulatory requirements for the production and sale of hemp.

Patti Murphy is senior editor at The Green Sheet and self-described payments maven of the Fourth Estate. Follow her on Twitter @GS_PayMaven.
The Green Sheet Inc. is now a proud affiliate of Bankcard Life, a premier community that provides industry-leading training and resources for payment professionals. Click here for more information.
Notice to readers: These are archived articles. Contact names or information may be out of date. We regret any inconvenience.
Prev
Next