The Green Sheet Online Edition
June 10, 2019 • Issue 19:06:01
Are stars aligning for contactless payments?
By Patti Murphy
ProScribes Inc.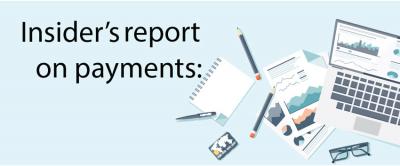 I'm old school: I like using plastic credit or debit cards. The idea of tapping a smartphone against a POS device to execute payments just doesn't do it for me. One reason, I suspect, is that I'm not very competent at using a smartphone. I can make calls, take photos, exchange text messages and even deposit checks using a mobile device, but not much else. I am open to change, however. Ten years ago I never could have imagined migrating all of my photo taking or check depositing to smartphone technology. Nor would I have considered using a contactless chip card to initiate payments, but these days I'm considering it.
A recent survey by Auriemma Research found that 59 percent of contactless card holders have used those cards to make tap-and-go payments, compared to 33 percent of those with payment-enabled smartphones. And some big players are betting use of contactless payments will increase. Visa and Mastercard are among the biggest bettors. Both card brands have mandated that new POS terminal deployments in the United States support contactless by mid-2020. At least three of the largest card-issuing banks – Bank of America, Chase and Wells Fargo – have plans to migrate their credit and debit card portfolios to contactless cards. Chase has already issued close to 20 million contactless cards, according to Abeer Bhatia, president of card marketing, pricing and innovation at Chase.
Visa said upward of 100 million Visa-branded contactless credit and debit cards will be in Americans' wallets by year end 2019; 300 million by year-end 2020. In a May blog post on Visa' website, Dan Sanford, global head of contactless payments, stated that 80 of the top 100 U.S. Visa merchants (in terms of transactions) now offer consumers the ability to tap and pay at checkout. He predicted that others will follow, and along with that so will consumer adoption.
"As more people get a chance to experience contactless payments as part of their daily routines, tapping to pay will become second nature for convenience-driven consumers everywhere," Sanford wrote.
Is mass transit the ticket?
Contactless cards (and mobile payment apps) use near field communication (NFC) technology to support the payment initiation process. Consumers tap their cards or mobile devices against a POS device that's been programmed for NFC functionality to activate the process.
There's a big push toward contactless credit and debit card usage in mass transit. In late May, mass transit customers in New York City got the option of using Chase-issued contactless cards to pay for entry to several subway stations and bus lines in lieu of using fare cards. Over time, all New York City subway stations and bus routes will be able to accommodate tap-and-go payments, Chase and Visa said in a press release.
Chase Merchant Services is also working with the New York Metropolitan Transit Authority to upgrade the fare machine system to accept contactless cards for fare card purchases. Visa offered telling statistics to support consumers foregoing fare cards for tap-and-go turnstile payments: 67 percent of mass transit riders have missed a train while waiting in line to reload a transit card; 83 percent reported having trouble getting their transit cards to work at turnstiles, and 66 percent have left or forgotten funds on a transit card, at an average loss of $35.10.
Mass transit should be an ideal proving ground for contactless payments, as people who use mass transit tend to use it a lot – 10 times, or more, a week – and they frequently use cash to purchase fare cards, experts have noted.
"Transit is an important catalyst for quick and broad adoption of contactless," said Linda Kirkpatrick, executive vice president, U.S. merchants and acceptance, at Mastercard. "There are technologies that need to be integrated both at the device level and infrastructure level. Mastercard is deeply engaged with cities, their transit authorities and integrators in bringing new products and solutions to support their payments transformation."
Mastercard stated it is working with transit agencies in about two dozen cities to implement solutions that support payment with open-loop contactless cards as well as closed-loop cards issued by local transit agencies. The company said its contactless technology is already being used in about 16 cities, including Los Angeles, Boston and Denver. Mastercard also is involved in the technology buildout needed to support contactless card acceptance at New York MTA fare card machines.
The big question remains: will success for contactless cards translate to greater adoption of mobile tap-and-go payments, or will the convenience of tap-and-go cards further endear consumers like me to plastic cards? A new report from the Federal Reserve Bank of Boston suggests it will be the former.
"It is clear that the U.S. is on the way to supporting both card and mobile contactless payments, motivated by the completion of EMV migration to chip cards and a solid NFC mobile payment foundation, which should accelerate the path to mass adoption in the U.S.," the report concluded.

Patti Murphy is senior editor at The Green Sheet and president of ProScribes Inc. Follow her on Twitter @GS_PayMaven.
The Green Sheet Inc. is now a proud affiliate of Bankcard Life, a premier community that provides industry-leading training and resources for payment professionals. Click here for more information.
Notice to readers: These are archived articles. Contact names or information may be out of date. We regret any inconvenience.
Prev
Next