The Green Sheet Online Edition
June 10, 2019 • Issue 19:06:01
Industry Update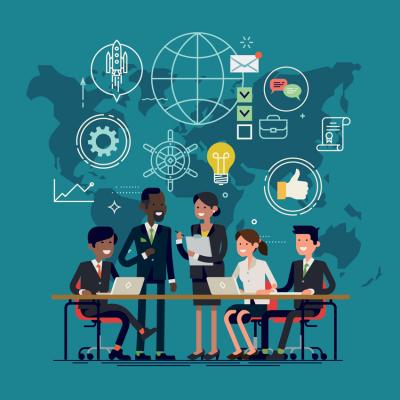 ANNOUNCEMENTS
Blackhawk recognizes payments leaders, innovators
Blackhawk Network recognized industry leaders in several categories at its 13th annual Hawk Awards. Among the recipients were Google Play, honored for making it easy for people to connect with branded payments globally; Chase, recognized for providing merchants with extensive, targeted marketing support; Samsung Pay, honored for offering innovative B2C connections and promotions; and Starbucks, recognized for engaging consumers by appealing to everyday gifting moments and occasions across multiple platforms.
DiscoverOrg an Inc. Best Workplace 2019
Business-to-business marketing solutions provider DiscoverOrg was named one of Inc. magazine's Best Workplaces for 2019. This is the company's second Best Workplaces award. Honors are based on a wide-ranging, comprehensive measurement of private American companies that have created exceptional workplaces through vibrant cultures, deep employee engagement, and stellar benefits. Collecting data on nearly 2,000 submissions, Inc. singled out 346 finalists, Inc. noted.
NAC salutes preservation of cash at retail
San Francisco's Board of Supervisors joined other state and local jurisdictions across the United States in passing an ordinance to preserve consumers' option to pay cash at the POS. It requires all San Francisco brick-and-mortar retailers to accept cash. The law includes few exceptions. Internet businesses as well as temporary and non-stationary retailers, such as food trucks and pop-up stores, can still go cashless. Purchases for more than $5,000 can also require noncash payments and retailers can refuse to accept bills above $20 in denomination.
Siemplify featured at Gartner summit
Siemplify CEO and co-founder Amos Stern, along with Siemplify customers Ariel Litvin, CISO of First Quality Enterprises, and Glen Combs, security consulting partner at Crowe LLP,, will deliver a presentation on security orchestration, automation and response (SOAR) solutions at the Gartner Security and Risk Management Summit June 8, 2019. The talk "will separate hype from reality by demonstrating how organizations leverage SOAR in the real world as a force multiplier for their security operations," Siemplify said.
RESEARCH
36.4 percent of people in U.K. prefer contactless for mobile spend
Mobile phone insurance provider, loveit coverit, a trading name of Pier Insurance Managed Services, surveyed 1,004 people between 18 and 65 years of age across the U.K. about their mobile spending habits, including preferred mobile payment options, frequency of use, emotional state and tracking online payments. Researchers found that contactless card payment was the most commonly used method of transaction, selected by 36.4 percent of respondents, followed by chip-and-pin card payments at 32.4 percent.
Payment solutions market worth $64.5 billion by 2024
According to a new MarketsandMarkets report on payment processing solutions analyzed by payment method, vertical and region, the global payment processing solutions market size is expected to grow from $39.3 billion in 2019 to $64.5 billion by 2024. Major driving factors are initiatives for promotion of digital and online payments, high proliferation of smartphones, focus on improving customer experience, and customers' demand for immediate payments and settlements.
PARTNERSHIPS
Bittrex, IdentityMind partner on AML
Blockchain trading platform Bittrex now employs IdentityMind's Digital Identities Platform for automated transaction monitoring as a core function of its anti-money laundering (AML) programs. "The availability of platforms like IdentityMind that focus on comprehensive operational support of the AML process allows for a more efficient and scalable solution," IdentityMind stated, noting that the cost of compliance continues to rise for organizations dependent on manual operations.
NAB adds Rezku POS to reseller solutions roster
Leading payment technology company North American Bancard formed a partnership with Rezku POS, a restaurant management system on the cutting edge of technology and service. Designed for counter service and table-side service, Rezku POS enhances efficiency and features customizable solutions backed by a dedicated support team, NAB stated, adding that its large base of resellers offers an industry-leading solution with customizable POS; advanced, reliable software; and unlimited remote access.
Radial, Ingenico team up for better payment experience
Ingenico ePayments, the ecommerce division of Ingenico Group, is now the payment partner for Radial, which serves prominent retail brands. Ingenico's payment services will provide Radial an added layer of fraud protection to offer retailers on top of its existing use of machine learning and big data to guarantee zero fraud liability, the partners stated.
ACQUISITIONS
Cryptomathic acquires Aconite Technology
Cryptomathic, a specialist in secure server and payments solutions, acquired end-to-end EMV card lifecycle, transaction processing and PIN management provider, Aconite Technology. Both companies have deep expertise in the provisioning of secure infrastructure for EMV payments. The acquisition is expected to enable the two firms to leverage their combined expertise to drive innovation and better answer demand for their services.
TapClicks completes StatX purchase
TapClicks, which specializes in marketing intelligence, analytics, reporting, workflow and orders management, acquired StatX, a Silicon Valley-based fintech provider noted for its data visualization application that features deep integrations with Salesforce, Intuit, Microsoft Excel and Google Sheets. This acquisition is expected to strengthen TapClick's omnichannel marketing operations and intelligence solution by integrating StatX's disruptive mobile data visualization and collaboration capabilities into the TapClicks marketing operations platform.
APPOINTMENTS
Rashawn Allen joins ClearGage
ClearGage LLC, a provider of patient payment technology, welcomed Rashawn Allen as its chief revenue officer. Allen brings extensive experience in driving sales and business development in the healthcare industry and will oversee sales, marketing, and business development to jumpstart initiatives that will contribute to the company's short- and long-term growth.
Payrix grows executive team
Payrix Payments Technology appointed Jason Key as chief product and information officer, Ben Lebedin as chief revenue officer and Sara Hightower as chief marketing officer. A process and digital transformation expert, Key will lead the product and engineering teams to deliver Payrix platform innovation. Lebedin is a payments and technology professional with more than 10 years' experience leading sales and revenue generating initiatives. He will oversee the sales and business development teams to ensure the company's growth goals are achieved. Hightower has extensive executive experience with marketing and brand activation. She will help elevate the Payrix brand, position products and drive marketing strategy.

The Green Sheet Inc. is now a proud affiliate of Bankcard Life, a premier community that provides industry-leading training and resources for payment professionals. Click here for more information.
Notice to readers: These are archived articles. Contact names or information may be out of date. We regret any inconvenience.
Prev
Next