The Green Sheet Online Edition
October 22, 2018 • Issue 18:10:02
Innovation in winemaking and financial services
By Brandes Elitch
CrossCheck Inc.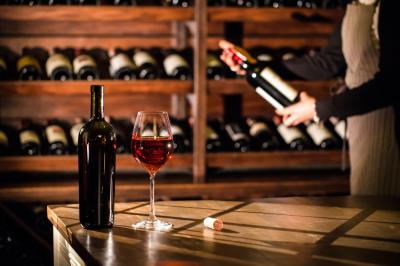 Recently, somebody told me that three correct guesses make you an expert. This might be true in some cases, but for the most part, being an expert takes years, probably decades, of study, experience and good judgment. But you don't have to be an expert to be an innovator. In fact, a lot of important inventions came from people, often outsiders, who saw things quite differently than recognized experts in their fields. It takes luck, skill and vision to be innovative.
Here is an example from the winemaking community in Sonoma County, where CrossCheck is located. Oak barrels have been the standard for aging, storing and transporting wine since the Romans discovered them during their conquest of Gaul. Oak barrels are expensive and have to be replaced after only about six seasons. But they are important for creating good wine, right?
Making wine is tricky. Your favorite wine might be served in a restaurant in Minnesota in January or in Palm Springs in August. It might be stored in a window with full sunlight or exposed to harsh store lighting. Some consumers love oak overtones; some detest them.
Success in a barrel
A local company called NuBarrel manufactures a concrete barrel, which holds the same amount of wine as four oak barrels and lasts for decades. It can be used for fermenting, storage or small experimental batches. It holds a third more wine per gallon than an oak barrel and loses less to evaporation. One model is square and can be stacked two-high and bolted together and to the floor. (This is important when you live in earthquake country.) There is a 10-year warranty against structural cracking and leaking. It comes in 240-gallon and 800-gallon models.
And taste should not be an issue. One way to achieve oak overtones is to insert a porous stainless sleeve filled with oak chips. For stronger flavor, a rack containing longer oak staves can sit inside the tank. Taste should not be an issue.
Concrete barrels can also help prevent oxygenation, which is the enemy of wine. Tanks are filled to the top and come with sensors that display fluid level and temperature. An alarm system automatically alerts winemakers if conditions change. And, unlike oak barrels, the seal is not broken, even for tasting, due to a secure access port built into the unit. One unit costs about the same initially as oak barrels, but since it lasts about five times as long, or longer, the savings are powerful.
Innovation in payments
What about innovation in the payments industry? But first, a reality check. Innovation happens in established companies, but it usually comes from disruptors, which are typically startups. And four out of five startups fail in the first five years. Not surprisingly, the biggest reason for failure is the lack of a need in the market for the new product.
Other reasons include insufficient financing or cash flow, a poor business model coupled with poor execution, legal challenges, the wrong team of people, inadequate marketing, pricing mistakes, and just plain being burned out. The point is that the odds are against any innovator succeeding, regardless of the product or service. That is a pretty sobering thought.
Urgency among acquirers
For ISOs in the acquiring industry, there is some urgency to all of this. If you haven't noticed, the traditional ISO model is under attack. The old model of leasing a terminal and printer to the merchant and then selling the lease paper is gone. Merchants can buy their own terminals. Increasingly, terminals are not stand-alone: they are running multiple systems in addition to credit card capture, authorization, and settlement.
Merchants are committed to integrated software platforms that run their entire businesses, and the payment portion is just one part of that. The independent software vendor is going to spend more time and attention on your merchant because it is a bigger revenue source for that company than it is for you.
When consumers buy something online through Amazon or PayPal, those are sales that would otherwise have gone to your local merchants, the ones you have been calling on for months. Previously, those consumers would have gone to the store and swiped their cards there. That's bad enough, but now Amazon is signing up your local merchants to sell their products or service on Amazon rather than run them through the terminals or gateways you provided.
Encroaching competitors
Amazon can process payments on behalf of merchants because many consumers are already using Amazon Prime and want transactions to flow through their Amazon accounts, so they can get free shipping. Is there no business segment or vertical that Amazon does not want to dominate?
Then there are your prospects using Square. You ask, "Why would they pay more and get less service than I would give them?" But merchants don't see it that way. They see Square as simple and easy to use. They like the 2.75 percent flat rate. It makes sense to them, more sense than trying to read your statements. Yes, originally Square was for the micro-merchants that you couldn't really underwrite anyway, but Square is moving into bigger merchants now, the ones you are calling on.
And there's Stripe. Stripe is a gateway that makes it easy for the merchant who is focused on payments made online, or via mobile apps. Like Payment Processing Inc. did 20 years ago, Stripe works with systems integrators, developers and ISV channels and does not call on individual merchants. Stripe has been successful because traditional ISOs were slow out of the gate on responding to the needs Stripe addresses.
This changing landscape is not limited to acquirers. Look at what has happened in the banking industry. According to a study done by Accenture Payments, in 2017, bank payments related revenue reached $163 billion. Banks used to dominate this market, but the same year, nonbanks (PayPal, ApplePay, etc.) earned $136 billion in payments revenue. As if this wasn't scary enough for banks, Accenture estimates that in two years the nonbank share will rise to $177 billion, versus $167 billion for banks.
Thinking like a customer
The prescription for banks is to introduce innovative products (like Zelle), data analytics and artificial intelligence/machine learning. But this is easier said than done, and most banks won't do that work.
There is no easy answer. Calling on a small business and saying, "I can save you money on your credit card processing" is not going to work anymore. When I worked at First Chicago Bank, we had a saying: Think like a customer. I believe this is the answer. But to think like a customer, say for example in our CrossCheck primary market, new car dealers, you have to understand how they operate and how they make money.
When you call on a general sales manager at a dealership, the individual will know quickly if you are faking it, or if you really understand their business model, their pain points and the things they want to fix. You are not going to learn all of this in a few weeks or even months. We have been providing payment processing and guarantee and banking services to thousands of dealers for decades, and it is a full-time job to keep up with trends and needs in the auto dealer industry.
As an ISO or merchant level salesperson, your time is your most precious commodity. You have to use it where you feel you will get the biggest reward. Focus on verticals and segments that you truly understand. When you sit down with a business owner you have to demonstrate that you have a good idea of the numbers that drive the person's business, and must show you can provide worthwhile ideas on how to increase revenue, and get more customers and more dollars per sale.
When you think like a customer, you increase your odds of fostering short-term success and long-term relationships. And if you do this, you will be able to determine if the market really needs your new product idea, or whether it is not ready for prime time yet. That knowledge will make you a better innovator, now and later.

Brandes Elitch, director of partner acquisition for CrossCheck Inc., has been a cash management practitioner for several Fortune 500 companies, sold cash management services for major banks and served as a consultant to bankcard acquirers. A certified cash manager and accredited ACH professional, Brandes has a Master's in Business Administration from New York University and a Juris Doctor from Santa Clara University. He can be reached at brandese@cross-check.com.
The Green Sheet Inc. is now a proud affiliate of Bankcard Life, a premier community that provides industry-leading training and resources for payment professionals. Click here for more information.
Notice to readers: These are archived articles. Contact names or information may be out of date. We regret any inconvenience.
Prev
Next