The Green Sheet Online Edition
October 22, 2018 • Issue 18:10:02
Industry Update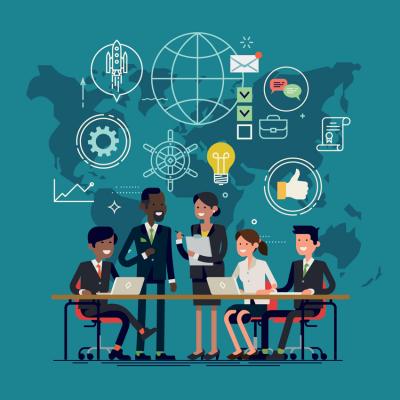 ANNOUNCEMENTS
'Russian hacker' publishes card payment systems manual
Dmitry Artimovich, referred to as a "Russian hacker" by the New York Times, Associated Press and other media organizations, published a training manual in Russian on Visa and Mastercard's global payment systems titled Electronic payments on the Internet. Artimovich said the textbook deals with the history, legislation and rules of payment systems, as well as risks and cost of Internet payments.
Billtrust opens new headquarters
Billtrust, a provider of business-to-business accounts receivable automation, celebrated the official opening of its new corporate headquarters in Lawrenceville, N.J. Billtrust said the 87,000-square-foot facility provides more than 50 meeting and collaboration spaces, indoor and outdoor fitness facilities, three coffee bars, ergonomic desks, and white noise cancelling technology.
Eight pioneers inducted into ETA Hall of Fame
The Electronic Transactions Association recently inducted the ETA Hall of Fame's inaugural class. During the ceremony, recipients were lauded for their formative impact on the modern payments industry. Inductees included: Chuck Burtzloff, founder of CardServices International; Diane Faro, CEO of JetPay; Paul Garcia, former CEO of Global Payments Inc.; Dee Hock, Visa founder and first company CEO; Joe Kaplan, former CEO of Paya; Ed Labry, a long-time executive and leader at the First Data Corp., as well as founder of Concord EFS Inc.; Frank McNamara, founder of Diners Club International; and Debra Rossi, executive at First Data Corp.
Good Leads offers 'end of year' incentive plan
Good Leads, a provider of outsourced business development services that prides itself on having worked with 400 domestic and international enterprises, heralded its "end of year" incentive plan. The plan consists of a two-month offering and financing for outsourced business-to-business lead generation services. Good Leads said it will rapidly deploy a strategic inside sales team under its Prospect Builder Program and extend delayed payments until the end of the contract term.
Jack Henry a top fintech provider for 10th year
Jack Henry & Associates Inc., a provider of technology solutions and payment processing services primarily for the financial services industry, was ranked No. 14 on the IDC Financial Insights' 2018 IDC FinTech Ranking. This marks the 10th consecutive year that the company has been listed by IDC among the top 100 financial technology providers worldwide.
Rich Consulting, Double Diamond support SRP readiness
Rich Consulting and Double Diamond Group launched a suite of services to ensure companies are prepared and ready to attest to full compliance under the new ETA Self-Regulation Program (ETA SRP). "[F]ollowing a self-regulatory process will go a long way in preventing industry-wide regulatory oversight and will ultimately benefit the industry, merchants and consumers," said Deana Rich, CEO of Rich Consulting.
Risk Ident honored at eCommerce Awards 2018
Risk Ident, a provider of fraud prevention software, won Best eCommerce Technology Innovation at the eCommerce Awards 2018. Now in its tenth year, the eCommerce Awards shines a spotlight on the very best achievements in online retail, including campaigns, innovations and products. The judges selected Risk Ident for its result-driven, artificial intelligence, anti-fraud solutions.
USAePay completes Rapid Connect EMV certification
Payment gateway USAePay achieved EMV certification with First Data's Rapid Connect processing program, which now provides a single integration to multiple First Data front-end platforms. This will allow merchants to accept EMV payments, particularly EMV PIN debit transactions, through USAePay's mobile application. The Rapid Connect certification includes the MP200 and MP200L devices, a mobile hardware solution that enables merchants to accept EMV, contactless (Apple Pay and Samsung Pay), and swipe transactions.
RESEARCH
New trends in ID document verification
As the incidence of identity crimes continues to grow and consumers increasingly use their mobile devices to carry out high-risk processes, financial institutions and other firms need to determine who is on the other side of the device, Aite Group LLC research divulged. Leveraging the Aite Impact Matrix (AIM), Aite's new report explores key trends within the identity document verification market and profiles seven vendors: Acuant, IDology, Jumio, LexisNexis Risk Solutions, Mitek, Onfido and Paycasso.
POS terminal market to see high growth to 2024
According to research by Global Market Insights Inc., the software segment of the POS terminals market will experience more than a 13 percent compound annual growth rate through 2024. This is due to POS software's ability to improve the operational efficiency of retail stores. Specifically, the software can reduce error rates, help speed up the transaction process, provide merchants with customized reports with critical information, such as frequent purchasing of items, that enables merchants to gain more insights about their businesses, researchers found.
TSG releasing 'data snapshots' weekly in October
The Strawhecker Group, an analytics and consulting firm focused on the payments industry, kicked off its second annual Payments Analytics Month. The month of October is devoted to highlighting the importance of using analytics to enhance decision-making while providing industry players with actionable insights. For more information, visit www.thestrawheckergroup.com or follow @thestrawgroup on Twitter for a stream of "quick facts."
Inbox overload a problem for retailers
In a recent report based on responses from more than100 consumers, Yes Lifecycle Marketing reported that inbox overload is the biggest reason subscribers ignore marketing emails, followed closely by irrelevant product recommendations (50 percent) and content (41 percent). Only 37 percent of consumers said the communications they receive from retailers are adequately personalized, 33 percent ignore marketing emails if they don't offer a discount or free shipping, and 60 percent will purchase from emails that offer these elements.
PARTNERSHIPS
BlueStar partners with kiosk manufacturer Zivelo
BlueStar, a distributor of digital identification, mobility, POS, RFID, digital signage and security technology solutions, formed a partnership with digital kiosk manufacturer Zivelo, a company that offers self-service kiosks and digital signage solutions to multiple key industries. Zivelo has provided self-service kiosks to businesses across the country, most notably to McDonald's locations across North America.
NBP adds new vendor to discount savings program
National Benefit Programs added Waste Focus LLC to its discount savings program. By combining the purchasing power of thousands of small and midsize businesses, NBP negotiates major discounts from leading national providers. Waste Focus LLC is a leader in the management of customer's solid waste removal and recycling services to reduce expenses. Customers save up to 20 to 30 percent off waste removal services, according to NBP.
Priority Payment to offer Sezzle payment method
Through a new partnership between Sezzle and Priority Payment Systems, Priority merchants will now be able to add Sezzle's technology directly into their product pages and checkouts. Sezzle's "Buy Now, Pay Later" solution enables shoppers to pay for ecommerce purchases in four interest-free installments spread out over six weeks. Sezzle pays the merchant in full, upfront, and assumes all repayment risk.
ACQUISITIONS
Fiserv to acquire Elan's third-party debit processing solutions
Fiserv Inc., a global provider of financial services technology solutions, agreed to acquire the debit card processing, ATM managed services and MoneyPass surcharge-free network of Elan Financial Services, a unit of U.S. Bancorp. The acquisition is expected to further enhance the value proposition of Fiserv, deepen its presence in debit card processing, and expand its mobile and digital payments offerings for consumers and businesses.
SpotOn acquires EmaginePOS
SpotOn Transact LLC reported it acquired EmaginePOS to enable SpotOn to equip restaurants and bars nationwide with an industry-leading POS solution. The cloud-based EmaginePOS platform offers reporting capabilities, remote management, pay-at-the-table and online ordering functionality. According to SpotOn, this will lead to improved efficiency and profitability for fine dining restaurants, bars and nightclubs, quick-serve restaurants, multilocation chains and franchises, and other businesses seeking to offer online ordering, takeout, delivery and order ahead.
APPOINTMENTS
PAI selects ATM business CEO, board members
Privately held ATM provider Payment Alliance International appointed Neil Clark CEO of its ATM businesses. In addition, Neil Clark and Marty Ambuehl, the co-founders of ATM Express which was acquired by PAI in 2008, were named to the company's board of directors, as was Bill Blakey, who previously served as a PAI board member through 2016.
Fluid Pay signs Theodore L. Cucci
Fluid pay LLC appointed accomplished technology executive Theodore L. Cucci as its CEO and board member to lead the company through its next phases while maintaining exponential growth. Cucci has worked in the tech space for over 15 years. He was a founding member of Network Merchants Inc. and ItsYourDomain.com (IYD). As chief operating officer, he was responsible for all aspects of the daily operation, and managed more than 400 affiliate partners responsible for over 60,000 ecommerce, mobile, MO/TO and POS merchants.
Pittman joins Sound Payments
Sound Payments Inc. welcomed Bill Pittman as its senior vice president of sales and technology for the commerce solutions channel. Pittman has more than two decades of experience in payment integrations as an executive and software entrepreneur. He will lead a team of sales professionals and the strategy for the company's seamless commerce solutions, drive top-line revenue and create strategies for business expansion. He previously served as Sound Payment's vice president of ECR/POS solutions and headed up the POS solutions group.

The Green Sheet Inc. is now a proud affiliate of Bankcard Life, a premier community that provides industry-leading training and resources for payment professionals. Click here for more information.
Notice to readers: These are archived articles. Contact names or information may be out of date. We regret any inconvenience.
Prev
Next