The Green Sheet Online Edition
August 27, 2018 • Issue 18:08:02
Here come the payment facilitators
By Mike Camerling
AEVI International GmbH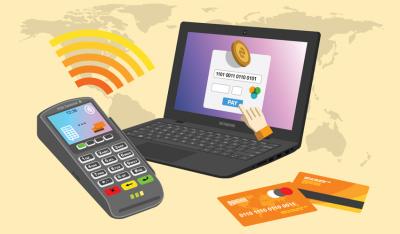 When PayPal acquired Square's primary European competitor, iZettle, it set the stage for an epic global battle over merchant payments that is sure to impact the U.S. market. Just a few days later, Square signaled that it was raising a $750 million war chest as the two prepare to duke it out in both the physical and virtual worlds of merchant payments.
Don't be lulled by an assumption that those companies will tear each other up in a war of attrition. The resources they are pouring into the battle are certain to spill over onto the ISO and merchant level salesperson (MLS) turf.
When Square burst on the payments scene in 2010, it capitalized on a large underserved market of small merchants who were ignored, unsuited or turned off by traditional card terminal service providers. The cost of hardware and complexity of fees created too much friction in the act of selling something and collecting payment. Square eliminated much of that friction with a simple, standardized fee per transaction and its original card acceptance dongle that made it easy to convert an existing smartphone, or to justify purchasing a new one, for payment acceptance.
Similarly, in the virtual world, PayPal's ability to simplify online payments and money transfers made it a natural for eBay's online auction and shopping site. PayPal was so successful that its usage surpassed eBay's own Billpoint service, so in 2002 is was acquired by eBay.
Simplifying merchant payments
Both PayPal and Square succeeded by aggregating merchant payments under their own merchant accounts. Sellers using their services didn't need to deal directly with credit card acquirer services and could get up and running while providing relatively minimal financial background information.
Those successes were instrumental in spurring venture capital (VC) investment in emerging payments companies. VCs recognized that the traditional model of acquirers and ISOs was ripe for disruption. At the same time, acquirers recognized they needed to adapt to changing markets. That spurred creation of a new class of service providers: the payment facilitators—more aligned with acquirers, but with a business model more in tune with PayPal and Square than ISOs.
Payment facilitators generally provide software or bundled hardware and software solutions that treat payment as an integrated feature, rather than a standalone purpose. Increasingly, payment is becoming one of multiple features within an integrated suite of business applications.
Avoiding the crossfire
So, the traditional ISO/MLS community will find itself in the crossfire of two giants – Square and PayPal – and a growing horde of payment facilitators that are converging on the small and midsize business (SMB) merchant space. There's lots of money at stake, and the competition is only going to intensify. If you don't think the threat is real, just look at Wells Fargo & Co.'s recent disclosure that, as it adjusts to heightened competition, it will simplify its pricing structure for merchants who process annual transactions of under $100,000.
Both Square and PayPal have the financial capability to invest in new product suites and scoop up smaller, innovative companies (PayPal's CEO reportedly said he is prepared to spend $3 billion annually on acquisitions). VCs are eagerly funding software startups, gambling that their portfolio companies can either become the next breakout hit or present an attractive acquisition target.
PayPal's acquisition of iZettle ensures that ultimately it will be in direct competition with Square here in the United States. They'll face off in both the world of physical payments and ecommerce. Each company is eager to bundle core payment acceptance with other financial treats, such as customer credit and merchant financing for inventory and cash flow management. Both are aggressively seeking to lure partners who can provide platforms or complementary software that will help to lock in long-term merchant relationships.
Where does that leave traditional ISOs and MLS? Actually, in pretty good shape if they respond proactively and aggressively. There's nothing quite like a face-to-face relationship if you're a Main Street merchant, and the ISO/MLS community has the advantage in that regard.
Leveraging your strengths
PayPal, Square, and the payment facilitators hot on their heels are wedded to a model that avoids a direct service relationship at any cost: their business success depends on being able to hold merchants at arm's length, building relationships remotely over the Internet and attempting to service merchants in the same way.
But ISOs and MLS need to recognize the value in creating a frictionless experience and in providing more value beyond payment. Square, PayPal,and the rest of the pack will focus on easy on-boarding, making payments simple to manage, and integrating payment with other business applications.
ISOs and MLS that want to thrive must also be able to provide full-function business suites that allow smaller merchants to simplify payments at the countertop, run their entire businesses from a payments solution, and provide tools to help merchants ease into online marketing and ecommerce. That means tapping into the apps phenomenon that spurred smartphone sales and is set to take merchant payments by storm.
To compete effectively, ISOs and MLSs must be able to help their merchants improve day-to-day management and create an engaging customer experience. The payment facilitators will never be able to counter your knowledge of your merchants or trump your vertical market expertise. Leverage that knowledge and your close relationship to provide out-of-the-box solutions tailored to the specific needs of your merchants.

Mike Camerling is an advocate for choice and freedom in payments, a passion he injects into AEVI as CEO. He has over 15 years' experience managing companies providing technology to every type of retailer and merchant solution provider. He became convinced that what everybody needs is more choice and flexibility. Mike established the fundamental principles of openness and collaboration that are central at AEVI, and his passion continues to inspire his team and drive the company's mission forward every day. Contact him at + 49 5251 693 3630 or at info@aevi.com.
The Green Sheet Inc. is now a proud affiliate of Bankcard Life, a premier community that provides industry-leading training and resources for payment professionals. Click here for more information.
Notice to readers: These are archived articles. Contact names or information may be out of date. We regret any inconvenience.
Prev
Next