The Green Sheet Online Edition
January 10, 2022 • Issue 22:01:01
Industry Update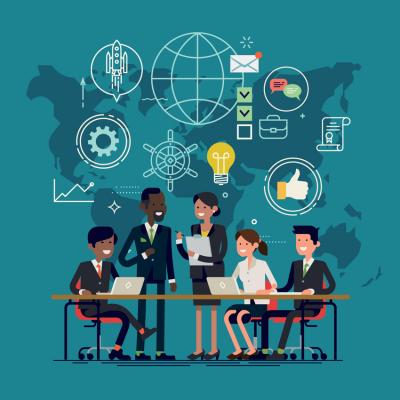 ANNOUNCEMENTS
Customers Bank a fintech-forward-focused institution
Customers Bank, a bank offering a blockchain-based, real-time payments platform for cryptocurrency and digital asset institutions, stated it rebranded to reposition itself as a fintech-forward-focused banking institution that "provides commercial and consumer clients the stability, regulatory and trust inherent in working with an established bank." The rebranding, according to the bank, encapsulates the new vision, mission, tagline, logo, website and more, and capitalizes on its nimble, innovative and entrepreneurial spirit to operate like a fintech while providing clients with the regulatory stability of a large bank.
Garima Shah honored as an Orlando CEO of the Year
Stating that Garima Shah, CEO of Biller Genie, is a rarity as "a woman with not just the capacity for greatness, but someone who personifies it," the Orlando Business Journal named her among its 2021 CEOs of the Year. "Through business endeavors and personal projects that take a stand on issues like discrimination and inequality, Garima has helped bring the community together and helped businesses adapt to the challenges of Covid-19," the journal stated. The publication annually honors executives who have made outstanding contributions to their organizations. Nominated by their peers, winners must demonstrate a strong record of community engagement, outstanding performance and innovation.
IPSI rolls out IPSIPay kiosks
Innovative Payment Solutions Inc. began rollout of its IPSIPay kiosks and provided an update on its IPSIPay app. The company said the initial focus of its kiosks will be nonprofit organizations, primarily churches in California's Central Valley. "The church market represents a large opportunity, providing church members the ability to send money to Mexico, as well as a digital method to donate to the church in an easy and cost-effective way," IPSIP said. It also stated it expects to release its IPSIPay app in early 2022, at which time it intends to embark upon a digital marketing campaign to generate awareness and interest in the rollout.
US Treasury approves Banesco for ECIP
Banesco USA reported it is now an approved participant in the U.S. Department of the Treasury's Emergency Capital Investment Program (ECIP). Banesco USA is eligible to receive an ECIP investment in an amount up to $237.5 million, which will enable the bank to increase lending and further provide a positive financial impact to the small and minority-owned businesses, and low- and moderate-income (LMI) consumers in the communities it serves in South Florida and Puerto Rico, the bank stated. This support is expected to directly benefit populations that have been disproportionately impacted by the COVID-19 pandemic.
RESEARCH
2022 equipment, software investment growth
The Equipment Leasing & Finance Foundation reported that low financial stress, an expanding housing sector and increased federal spending on infrastructure are expected to propel equipment and software investment growth of 4.6 percent for 2022. Annual U.S. GDP growth for 2022 is forecast at 3.5 percent, according to the foundation's 2022 Equipment Leasing & Finance U.S. Economic Outlook, which is focused on the nearly $1 trillion equipment leasing and finance industry.
Despite supply chain constraints, high inflation and tighter monetary policy, which are key headwinds to growth, as well as hiring difficulties that could dampen industrial sector output, the U.S. manufacturing sector should continue to expand, according to the report; however, small firms are more susceptible to surging input costs and labor scarcity than large firms, which could hinder smaller enterprises as 2022 gets underway.
Open banking evolving in U.S. without mandate
Mercator Advisory Group reported that sharing of data permissioned by millions of account owners is being used for account authentication, balance checks and gathering of transaction data, as well as to open accounts; provide budgeting, savings and investment advice; and in some instances to facilitate payments. Mercator's latest report, Open Banking American Style, explores current developments in connected banking in the United States, where, researchers found, there is unlikely to be a mandate for open banking, so the report uses the term "connected banking" to describe the sharing of permissioned data.
Highlights of the report include the current market for connected banking, likely use cases, implications for permissioned data without a regulated mandate to participate, the opportunities for financial institutions, overview of the ecosystem supporting connected banking, and the status of regulation in this market.
US Payments Forum predicts growth in 2022
The U.S. Payments Forum heralded the release of its latest Market Snapshot, which provides an overview of the state of the industry and highlights consistent growth in contactless payments, buy now pay later, and mobile wallet transactions, along with the pandemic-driven shift toward ecommerce. The snapshot also offers clarity from forum members regarding ongoing chip supply challenges, the eight-digit BIN migration, EMV L3 considerations, and current Forum priorities and projects, the forum stated.
"U.S. contactless payments have doubled year-over-year, ecommerce is booming and mobile and online transactions have become essential for retailers," said Jason Bohrer, director of the U.S. Payments Forum. "But there is still much to be done ahead of us in areas like online fraud prevention, navigating the chip shortage and opportunities being created by the new standard for mobile drivers' licenses, all of which created an exciting and active fall meeting for our members."
PARTNERSHIPS
BestPOS software integrates with Solutran
BestRx stated its BestPOS software is now fully integrated with Solutran, a health and wellness benefit provider. The partnership allows BestRx customers to join Solutran's S3 Retailer Network and process their OTC benefit cards through BestPOS. "By joining forces, BestRx and Solutran have made the process quick and easy for participating pharmacies and their patients," the partners stated. "Rather than having to manually process their OTC benefits, patients can redeem their benefits at participating BestRx pharmacies with a simple barcode scan at checkout."
Fiserv powers contactless commerce at UBS Arena
The New York Islanders and entertainment and sport venue UBS Arena at Belmont Park stated they are engaging fans, streamlining food and beverage ordering, and meeting growing consumer demand for digital and contactless payment options with the implementation of Clover POS hardware and Bypass POS software from Fiserv Inc. Supporting mobile and in-app ordering, self-service kiosks, grab-and-go marketplaces, and touchless order fulfillment, Fiserv implemented a fully cashless payments ecosystem at UBS Arena, the partners noted, adding that more than 350 Clover devices enable quick and contactless purchasing that shortens concession queues and allows hockey fans and concert goers to spend more time enjoying the event.
FSS, CSB launch Smart Cash for FIs
Financial Software and Systems, a payment processor and provider of integrated payment products, and CSB Bank, a private sector bank in India, joined forces to deliver hyperlocal banking services to financially underserved segments. Under this partnership, CSB Bank and FSS plan to open 1,000 Smart Cash franchisees in semi-urban and rural areas across India to expand financial services adoption among underserved segments. "Financial development has long been identified as a crucial accelerator for economic growth, as it increases the level of aggregate savings, investment and employment," the partners stated.
Paysafe, OSG enable online cash payments
Specialized payments platform Paysafe partnered with Output Services Group, a provider of customer engagement and payment solutions. OSG, which offers online billing and payment solutions to industries serving U.S. consumers, will now offer the Paysafecash online cash solution as an alternative payment method, further promoting financial inclusion for unbanked and cash-focused consumers to pay their bills online, Paysafe stated, adding that as an accelerator of digital transformation, OSG facilitates transactions across such industries as property management, utilities, municipalities and financial services, as well as bills. The addition of Paysafecash to OSG's B2C transactional suite will help businesses provide a payment option that is safe, convenient, and has no potential for chargebacks, Paysafe noted.
Wnet welcomes PSCU as new corporate partner
Women's Network in Electronic Transactions (Wnet), a nonprofit organization serving professional women in the payments and fintech industries, welcomed PSCU to its membership community. PSCU, a credit union service organization, partners with credit unions to help them grow and meet evolving member demands. "Through this new corporate partnership with Wnet, PSCU further demonstrates their commitment to their female employees, the advancement of women, and diversity and inclusion in the industry," noted Wnet CEO Wendy Holliday. "These efforts, and this new partnership, support our vision of a world where a woman's potential is as unlimited as her ambition." As part of Wnet's 2021 Strategic Priorities—led by Wnet President Mary Uslander, senior vice president at Fiserv—expanding into the credit union space supports Wnet's goal of reaching more women in the paytech space.
ACQUISITIONS
FDCTech to acquire AD Advisory Services
Fintech company FDCTech Inc. entered into a sales purchase agreement under which it will acquire a 51 percent equity interest in AD Advisory Services Pty Ltd. in a stock-for-stock transaction. Under the agreement's terms, ADS will receive 45,000,000 shares of FDC common stock, representing an equity value of approximately $3.15 million based on a $0.07 per share price. Accordingly, FDC will receive 62,450,000 ADS shares representing 51 percent of the current outstanding equity interest and voting power of the ADS common stock. The boards of directors of the parties involved have approved the transaction as well as the shareholder of ADS.
Visa completes acquisition of Currencycloud
Having divulged its intention to acquire Currencycloud in July 2021, Visa completed the transaction in December. Currencycloud is a cloud-based platform for B2B cross-border payments. "The acquisition of Currencycloud is another example of Visa executing on our network of networks strategy to facilitate global money movement," said Colleen Ostrowski, Visa's global treasurer. "Consumers and businesses increasingly expect transparency, speed and simplicity when making or receiving international payments. With our acquisition of Currencycloud, we can support our clients and partners to further reduce the pain points of cross-border payments and develop great user experiences for their customers."
APPOINTMENTS
CheckAlt strengthens leadership team
Payment processing solutions provider CheckAlt hired Rachel Book as chief people officer, as well as industry experts Laurence Dunne, Adam Halliday, Joanne Kaelin, and Chuck Ross to support its growth trajectory. With more than 20 years in talent acquisition and human resources roles, Rachel Book's depth of experience in bringing effective, inclusive people practices to life at companies including Stryker, Fidelity Investments, Bloomberg LP, and AT&T sets the stage for her new role as CheckAlt's chief people officer, the company noted.
Laurence Dunne joined CheckAlt as director of product management, utilizing his more than 20 years working in product management for fintech companies—including Intercept Merchant Services, FIS, and NTT Data—to oversee CheckAlt's API library and its continued investment in value-added APIs. Working closely with Dunne, Adam Halliday brings 25 years of product management experience in fintech to his new role as senior product manager, having previously championed automation, technology integrations, and APIs at Fiserv.
Joanne Kaelin spent more than two decades at JPMorgan Chase, most recently as the vice president and proposal group manager. And CheckAlt's new senior vice president of process improvement, Chuck Ross, has more than 30 years of experience managing lockbox operations, customer service and implementations at PNC Bank and, most recently, U.S. Bank.
WIT appoints new board, advisory council
Women in Technology added the following executives to its board and advisory council: Marva Bailer, senior manager at Global High Tech Vertical at Amazon; Marcia Calleja-Matsko, vice president and chief information officer at Avanos Medical; Holly Ma, vice president, Data Engineering at Cox Automotive; Cecilia Mao, chief product officer at Equifax; Christina Setzer-Poole, executive vice president–business services delivery group at Global Payments; and Kanyatta Walker, vice president–operational excellence at Cisco.
WIT also heralded its new executive committee: Patti Dismukes, director, sales, Cognizant Softvision, and WIT board president; Tracy Aldworth, senior vice president ecommerce and digital, Republic National Distribution Co., WIT board president elect; Andra Milender, chief technology officer US business division, Equifax, WIT board vice president–finance; Amy Vasquez, senior vice president, strategic accounts, 3Ci an MAU Co., WIT board secretary; and Tracy Garner, vice president, AT&T (retired) and WIT board chair.

The Green Sheet Inc. is now a proud affiliate of Bankcard Life, a premier community that provides industry-leading training and resources for payment professionals. Click here for more information.
Notice to readers: These are archived articles. Contact names or information may be out of date. We regret any inconvenience.
Prev
Next