The Green Sheet Online Edition
January 10, 2022 • Issue 22:01:01
Insider's report on payments: Scrutinizing big tech in consumer payments
By Patti Murphy
ProScribes Inc.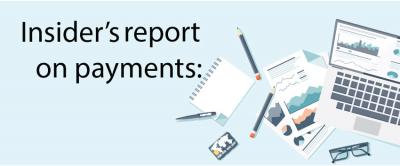 The Consumer Financial Protection Bureau is on a tear. And that's potentially good news for acquirers, ISOs and merchant level salespeople, as the bureau seems ready to rein in big tech companies' forays into the payments space.
The CFPB is a consumer watchdog agency created by the Dodd-Frank Act. It's an independent agency within the Federal Reserve charged with promoting fairness in consumer financial services. Its supervisory authority extends to banks and credit unions with assets over $10 billion, as well as large nonbanks in consumer financial markets. Think Square, Apple, PayPal.
The director of the CFPB is appointed by the President, and the current appointee is Rohit Chopra. Prior to helming the CFPB, Chopra was a commissioner at the Federal Trade Commission, where he spearheaded efforts to scrutinize the business practices of big tech companies like Facebook, Google and Amazon.
In October 2021, the CFPB ordered six major tech firms to turn over information concerning how they harvest and profit from users' payment data. Then in December, the watchdog agency issued orders to five companies in the buy now, pay later (BNPL) space, seeking information on the risks and benefits of these fast-growing loan products.
BNPL in the crosshairs
BNPL is marketed to consumers as a safer alternative to credit card debt, and as helpful for consumers with scant or subprime credit histories. And it has gained a lot of traction. McKinsey & Co. reported in 2021 that fintechs have diverted $8 billion to $10 billion in annual revenues from banks with BNPL offerings.
Merchants typically pay 3 to 6 percent of the purchase price to companies offering the service, which is higher than card interchange in most cases, but merchants seem willing to pay the higher fees because consumers typically spend more when using BNPL.
BNPL seems to have appeal for large-dollar purchases, like furniture and home goods, home fitness equipment, electronics and travel. McKinsey reported that the average BNPL ticket is close to $800. Average loan tenures are eight or nine months, McKinsey noted.
The CFPB said it is particularly concerned about how fast consumers using BNPL products are accumulating debt, and potentially overextending themselves. It also said it's concerned about how BNPL providers harvest data about customers. It asked the five companies—Affirm, Afterpay (which is being acquired by Block, nee Square), Klarna, PayPal and Zip—to respond in writing to its concerns.
BNPL has been picking up steam since COVID-19 was declared a pandemic. According to Cornerstone Advisors, consumers were expected to make $100 billion in BNPL purchases in 2021, up from $24 billion in 2020 and $20 billion in 2019. But there is a real consumer downside. According to research by Credit Karma, a third of U.S. consumers who use BNPL services have fallen behind on one or more payments, and 72 percent of those consumers saw their credit scores drop as a result.
The CFPB's action comes as many in Congress raise red flags over BNPL. In December, just days before the CFPB issued its orders to BNPL providers, six members of the Senate Banking Committee, including committee chair Sherrod Brown, D-Ohio, wrote Chopra requesting tighter regulation of these companies.
"BNPL products generally do not receive all of the protections credit cards have, including those governing ability-to-repay, monthly statements, reasonable and proportional penalty fees, and the ability to raise merchant-related disputes," the committee members stated. "In addition, nonbank BNPL providers currently operate without meaningful oversight. They are not generally subject to federal supervision that can spot unfair, deceptive, or abusive practices or other violations of federal consumer protection laws. ... This regulatory gap has troubling implications."
The CFPB, in disclosing its inquiry into BNPL, noted that it is not alone. Regulators have similar inquiries underway in several countries, including the U.K., Germany, Sweden and Australia, and the CFPB is coordinating with them.
Regulation looms for big tech in payments
The CFPB's orders regarding BNPL came on the heels of a set of orders requesting six big tech firms—Amazon, Apple, Facebook, Google, PayPal and Square—to hand over information detailing their payment systems activities and how they manage personal user data related to payments and financial information.
Chopra said in a statement that the inquiry is "one of many efforts within the Federal Reserve System to plan for the future of real-time payments and to ensure a fair and competitive payments system in our country."
He suggested the information gathered, along with an upcoming request for public comments, will help shape regulations under Section 1033 of the Dodd-Frank Act, which governs financial data access rights for fintech and bank customers. In July 2021, President Biden signed an Executive Order urging the CFPB to commence rule-making under Section 1033.
"Faster, friction-less, and cheaper payment systems offer significant potential benefits to consumers, workers, their families, and small businesses," Chopra said. "But payments businesses are network businesses and can gain tremendous scale and market power, potentially posing new risks and undermining fair competition."
Chopra added that little is known publicly about how big tech firms will exploit their payments platforms. For example, will they engage in "invasive financial surveillance and combine the data they collect on consumers with their geolocation and browsing data?"
The firms also use the data they hold to engage in price discrimination, or they could sell it to third parties without the consent of customers, Chopra noted.
The American Bankers Association and the Consumer Bankers Association are among several organizations to issue public statements praising the CFPB's orders. "These big techs are not subject to prudent standards for capital, liquidity, and resolution planning, which could introduce risks that consumers do not fully understand, including the loss of stored value, payment interruptions, and limited protection from fraud compared to the protections available from regulated banks," the two groups warned.
Many tech companies became big tech companies after finding ways to offer payments services without the same regulatory constraints that govern financial institutions and their partners in the payments space. If Apple, PayPal, Square and other big tech firms want to compete on the consumer payments playing field, it is only logical to expect them to abide by the same rules and requirements that financial institutions and their partners are held to.

Patti Murphy is senior editor at The Green Sheet and self-described payments maven of the fourth estate. Follow her on Twitter @GS_PayMaven.
The Green Sheet Inc. is now a proud affiliate of Bankcard Life, a premier community that provides industry-leading training and resources for payment professionals. Click here for more information.
Notice to readers: These are archived articles. Contact names or information may be out of date. We regret any inconvenience.
Prev
Next