The Green Sheet Online Edition
September 14, 2020 • Issue 20:09:01
Manifesting our digital commerce destiny - Part 1
By Dale S. Laszig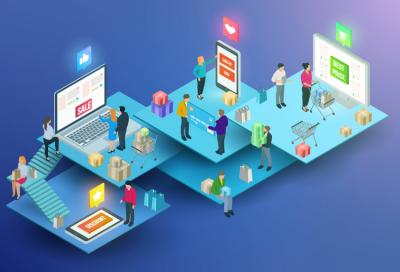 In a perfect world, digital commerce advocates would have chosen a friendlier accelerant; nevertheless, the COVID-19 pandemic kicked global adoption of mobile and virtual payments into high gear. Ecommerce continues to proliferate as stores remain closed, and contactless technology is scaling as people remain cautious about touching POS devices. These are positives for the future of payments.
From the industry's earliest days, payments professionals have modeled the way to more secure, compliant and flexible forms of payment acceptance. And payments industry veterans who converted merchants from paper receipts to electronic transactions in the 1980s may find similarities between yesterday's mass migration and today's push to contactless and virtual payments.
Today, as in the past, merchant level salespeople (MLSs) and payment service providers (PSPs) donate time, effort and resources to help small and midsize businesses (SMBs). Some describe their role during the current crisis as "second responders" whose essential services help businesses stay active, informed and connected.
In this series, fintech leaders discuss the intricate relationship between humans and technology in our sphere. These discussions, which have taken place in virtual settings amid the pandemic, provide insights into current trends and how they will shape our collective future.
Staying connected
The ongoing pandemic has been a proving ground for the payments industry's core values. In a June 2020 interview with The Green Sheet, Jodie Kelley, CEO of the Electronic Transactions Association, commented that all humans share a fundamental need to connect. This need formed the very heart of the ETA's conference, TRANSACT Connect, which took place entirely online in May 2020. In the absence of physical venues, this basic need continues to drive an array of virtual events in numerous industries beyond the payments and financial services sphere.
TRANSACT Connect attendees and participants were able to generate leads, hear thought leaders, schedule one-on-one meetings and expand their professional networks, Kelley stated. "Every speaker addressed the situation we find ourselves in now," she said. "We covered topics that we've been talking about for a long time but through the lens of the pandemic."
Discussions, networking and deal-making that have arisen from recent digital events mirror our merchants' experiences in many ways, demonstrating our mutual ability to pivot effectively from physical to virtual environments. Many tools originally created for customers have been refashioned into a new kind of connective tissue that holds us together and moves our industry forward.
Payback time
In recent months, payments professionals have had to master new digital skills and, in the process, they've learned what it feels like to be on the receiving end of technology training. Nothing spells "friction" like repeatedly pushing a virtual button and having nothing happen. Nothing feels quite as frustrating as trying to log into a Zoom meeting again and again while proving that you are not a robot. These experiences may feel like payback to anyone who has rushed a merchant through a POS installation or told a frustrated customer that an unresponsive system will be back online "shortly."
MLSs, PSPs and their merchant customers also have seen a marked increase in phishing attacks, new account takeovers and myriad forms of online fraud in the current environment. Justin Pike, founder of MYPINPAD, observed that physical-to-virtual marketplace transformation has provided fraudsters with a bountiful buffet. Online fraud is up by 50 percent since January 2020, he noted; this challenge has always existed but has been exacerbated by the pandemic.
"The world is changing," Pike said. "Accelerated by COVID-19, cash usage is down by half, yet a large number of people in the UK still have never made a payment or banking transaction online. With options for shopping currently more limited and an increasing need to [minimize] time in public spaces, these people are now starting to go online to buy what they need."
Virtual settings
During the pandemic, payments professionals have replaced physical points of interaction with virtual platforms in much the same way merchants have gravitated from single-purpose POS devices to virtual and digital forms of commerce. Competing digital platforms promote vibrant experiences, all claiming to closely resemble physical conferences. The array of options can be daunting, even for tech-savvy professionals.
When Bruce Renard, executive director of the National ATM Council Inc., began looking for virtual conference platforms in August 2020, numerous service providers advised they were fully booked through the end of the year. Fortunately, NAC found a technology provider that met all requirements for NAC 2020, a virtual conference and expo to be held in October, he stated.
"Our exhibit hall will enable attendees to tour the show floor from their phones or desktops with direct access to top vendors," Renard said. "And the exhibit booths will feature live video chat with options for private meetings. Live product demos and Q & A sessions will provide access to leading ATM suppliers, products and services."
From nice to need
Advanced technologies, originally designed for convenience and speed, have become lifelines. Technology platforms like Zoom and Microsoft Teams facilitate virtual face-to-face meetings. Online portals provide single-access views of an enterprise; business management systems enable enterprises to be managed remotely. Overnight, the global pandemic has pushed these capabilities into the forefront, transforming some technologies from nice-to-have to need-to-have, according to RJ Horsley, president of SpotOn Transact Inc. In his interview during FinTech Forward 2020, a virtual conference produced by Board Studios Inc., Horsley suggested that no one saw the pandemic coming, and now that we're in it, there's no time to lose.
"When you get up in the morning, it's motivating to make sure that we're getting in front of as many clients as possible; it's motivating every time you take a call; it's motivating as you're trying to perfect a product," he said. "That's what the job has always been and always should be, but there's just a particular sense of urgency these last hundred days around really knowing that we're helping our partners keep their businesses alive."
As he reflected on the global pandemic's impact on small and midsize business owners, Horsley said he doesn't think merchants will run their businesses in exactly the same way tomorrow as they did six months ago. Hospitality, food and beverage, salons and car dealers will all have to adjust in some way, shape or form, and the opportunity for SpotOn is to be the partner alongside these businesses as they figure it out, he stated. He added that there isn't a playbook for these challenging times and that not having one "means we're all in this together, trying to figure it out."
Empathy for SMBs
Horsley further noted that today, more than ever, SMBs want to know that people like them are going through the same challenges they face. They want to know what other companies are doing and how they are overcoming these challenges. In his opinion, any service provider that approaches this market with impersonal or generic solutions would be flying blind.
In addition, small business owners typically go into business for personal reasons. For example, Horsley noted, the guy who opened the auto repair shop didn't do it because he found a niche in the market; he did it because he loves fixing cars and decided to open his own place after doing it for 20 years—and the millions of entrepreneurs who have opened businesses have similar stories, and most have a personal relationship with their employees and company.
For SpotOn's clients and the small business community in general, there's a human element behind the brand, Horsley added. "You need to truly understand and truly care for and truly solve for that end user," Horsley said. "And most of all, remember that the end user is a person just like you and me, with their own struggles and probably the weight of the world on their shoulders right now."

Dale S. Laszig, senior staff writer at The Green Sheet and managing director at DSL Direct LLC, is a payments industry journalist and content development specialist. She can be reached at dale@dsldirectllc.com and on Twitter at @DSLdirect.
The Green Sheet Inc. is now a proud affiliate of Bankcard Life, a premier community that provides industry-leading training and resources for payment professionals. Click here for more information.
Notice to readers: These are archived articles. Contact names or information may be out of date. We regret any inconvenience.
Prev
Next