The Green Sheet Online Edition
October 14, 2019 • Issue 19:10:01
The smart kiosk - a better customer experience
By Dinesh Saparamadu
Applova Inc.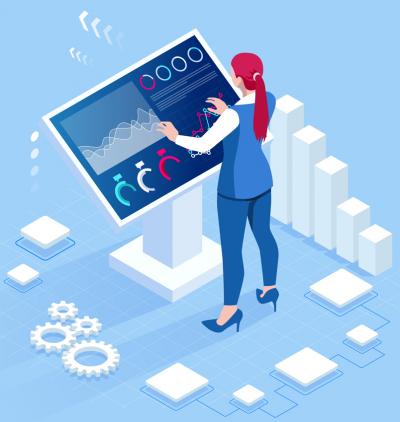 The first interactive self-service kiosks were developed in 1977 at the University of Illinois. Designed to provide campus information for students, staff and visitors, these early kiosks generated significant interest, with a reported 30,000 individuals using them in the first few weeks alone.
In 1985, the first network of interactive kiosks used for commercial purposes was developed by shoe retailer Florsheim Shoe Co. This network consisted of over 600 kiosks, connected via dial-up, and allowed customers to search for shoes in other stores if they weren't in stock at the store they were visiting. Customers were able to purchase shoes using kiosks and have them shipped to their homes.
In 1991, the first commercial kiosk with internet connection was displayed at Comdex – a computer expo and tradeshow. Functionality and use of kiosks expanded quickly throughout the 1990s with rapid advancements in technology.
As you can see, kiosk technology has been evolving for over 40 years. And just like those early users in 1977, today's users are delighted by new kiosk features and functionality.
The "smart kiosk" moniker is used widely today, and in absolute terms means "smart access." Kiosk content, digital signage, functionality and monitoring can be accessed from a single remote processing center. In most industries, "smart kiosk" is also synonymous with a great user experience.
Delivering a better customer experience
In the restaurant industry, where competition is fierce and margins are slim, delivering a great customer experience is everything. This begins with the menu order. Smart kiosks can delight customers during the ordering process – and can help increase customer ticket sizes by 20 to 30 percent.
Customer-centric functionality can:
Integrate artificial intelligence (AI) and cognitive functionality to create a richer user experience
Provide intelligent menu recommendations based on current and historical buyer behaviors
Estimate order wait times based on selected items, day/time, order queue, and kitchen support
Enhance the visual experience with personal customization and imagery
Provide self-payment options with advanced payment security and reliability
Provide seamless payment processing integration with onsite POS, inventory systems, and kitchen display monitors
AI enables machines to work and react similarly to humans. In many industries, AI technology is adopted to make our interactions with machines more convenient, enjoyable and empowering. Businesses that improve human-machine interaction enjoy significant benefits, including improved customer satisfaction.
When customer satisfaction increases, businesses typically see a positive correlation in sales, profits and client retention. According to a recent Deloitte Study, 82 percent of companies that have already invested in AI have gained a financial return on their investment. We employ AI technology every day for such functions as email spam filters and mobile checking deposit apps. Even commercial airlines employ AI in standard autopilot systems.
Smart kiosks can make real-time menu recommendations to customers during the ordering process. Recommendations may be based on a specific customer's previous orders and preferences or on insights gleaned from all customer orders. These suggestions have a higher propensity for customer acceptance and help lead to those 20 to 30 percent increases in ticket size.
The saying that we "eat with our eyes" comes into play with smart kiosks. The rich visual imagery of food, especially when we are hungry, drives impulse ordering. When a customer orders a sandwich and beautiful dessert images appear, the likelihood of a dessert order increases exponentially when compared with an order taken by a human.
One of the most important benefits of a smart kiosk is the ability to self-pay. As a society, we've grown accustomed to digital purchasing over the internet; self-pay with kiosks is a logical extension of that. We love the ability to pay without human interaction. And, as we migrate toward a cashless society, the ease of credit or debit card use to execute an order is increasingly easy, convenient and expected.
For those who still want to pay with cash, orders can be processed through the kiosk with cash payment made at the counter. Smart kiosks also can provide seamless integration with on-site POS, inventory systems, kitchen displays and public announcement systems. This enhanced integration helps level the playing field for restaurants of all sizes.
Payment processing – stay ahead of the curve
Kiosk payment options will continue to evolve to provide ever greater convenience. Having a smart kiosk today will enable businesses to quickly adapt to new payment methods such as biometrics, PIN on glass and cryptocurrencies as they become available for widespread market adoption.
According to The Data Point, 74 percent of customers will consider switching brands if the ordering process is too difficult. And a recent Viewpoint Consumer Survey found that 80 percent of Americans favorably support biometrics payment technology.
Biometrics rely on body measurements and uniqueness to process payments. The most recognized today are fingerprints and facial recognition, but retina scanning and voice recognition are also being tested in consumer and industrial applications.
We use fingerprint technology today to unlock our iPhones and download apps from the App Store. It is a logical progression to use fingerprints for payment at kiosks. Imagine paying with a smile. Facial recognition technologies would enable kiosk payments to be authenticated from an image of one's face, eliminating the need to remember lengthy passwords. Facial recognition payment systems will be available for widespread market adoption in the coming years.
PIN on glass technology involves entering user PINs directly on the glass of a mobile device, kiosk, tablet, etc. This can help reduce the required payment processing hardware for merchants, as well as the overall cost of card acceptance. PINs will not just be unique to debit cards; many credit card issuers are considering replacing signatures with PINs due to the authenticity issues encountered with customer signatures.
PIN on glass technology can transform mobile devices, kiosks and tablets into full-featured POS systems. While common in Europe, PIN on glass technology is in the early adoption phase in the United States.
Cryptocurrency is a digital currency designed to work as a medium of exchange for goods and services. The benefits of cryptocurrency include minimal processing fees, no sales taxes, discrete purchases, convenience and security. More than 1,500 cryptocurrencies are now in circulation, with bitcoin the largest.
Time will tell if this is a passing fad or an evolving, sustainable form of currency. Major companies accepting bitcoin today include Microsoft, Overstock, Shopify and cheapair.com. Early adopters of cryptocurrency may gain a competitive edge, but widespread adoption of this form of currency is not on the immediate horizon.
Payment technology continues to evolve rapidly and will be dictated by the demands of consumers. Adopting innovative technologies, such as the smart kiosk, can better position a merchant to quickly respond to and capitalize on new growth opportunities and changing customer expectations.

Dinesh Saparamadu is CEO and founder of Applova Inc., CEO and founder of hSenid Group of companies, and chairman of the board of PeoplesHR. At the forefront of restaurant technology, Applova, www.applova.io, delivers innovative kiosks and mobile app-building platform technology. The company is also a trusted partner for merchants seeking to provide an exceptional experience for customers while fueling growth for their businesses. Email Dinesh at dinesh@applova.io or follow him on Twitter at @applova_inc.
The Green Sheet Inc. is now a proud affiliate of Bankcard Life, a premier community that provides industry-leading training and resources for payment professionals. Click here for more information.
Notice to readers: These are archived articles. Contact names or information may be out of date. We regret any inconvenience.
Prev
Next