The Green Sheet Online Edition
October 14, 2019 • Issue 19:10:01
Industry Update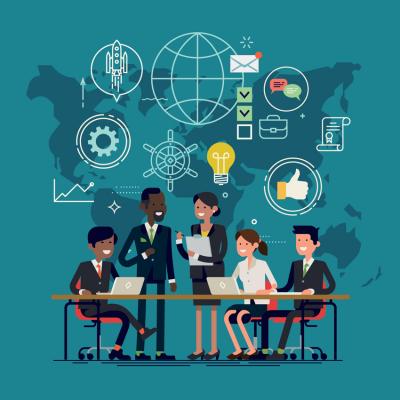 ANNOUNCEMENTS
Apptizer rebrands to Applova
Apptizer Inc., specializing in ordering and engagement technologies for restaurants and retail businesses, changed its name to Applova Inc. "With a growing family of customers, partners and stakeholders, we needed a new identity that could represent the larger vision of who we are and where we want to go," said Dinesh Saparamadu, Applova founder and CEO. "This new identity will satisfy all of the existing expectations of the brand, while simultaneously moving the brand forward to acknowledge the maturity, accessibility and simplicity of our product and services."
FIME joins NextGenPSD2 Advisory Board
FIME joined the Berlin Group's NextGenPSD2 Advisory Board, a pan-European technical standardization body. Additionally, FIME is participating in NISP, which supports the implementation of the NextGenPSD2 XS2A interface, as defined by Berlin Group and in compliance with PSD2 (the European Union's revised Payment Services Directive). FIME's expertise is expected to guide the stakeholders of the group's open banking API standard in defining and testing efficient implementation solutions.
ImageWare launches macOS biometric authentication
ImageWare Systems Inc., a provider of mobile and cloud-based identity proofing and biometric authentication solutions, released GoVerifyID, an end-to-end biometric authentication solution for the macOS operating system. Incorporated into GoVerifyID is ImageWare's anti-spoofing technology, Biointellic, which was previously made available for Windows and Linux operating systems.
Paysafe wins Stevie Award for Great Employers
Global payments provider Paysafe Group's Canadian HR unit received the Gold award in the HR Achievement in Benefits Design and Administration category at the 2019 Stevie Awards for Great Employers. This award "recognizes a milestone year for the company's Montreal and Calgary-based team of 14 HR professionals, who support close to 600 employees across three offices," Paysafe stated. "Following strong company growth, the team introduced a more flexible modular benefits program." Working with a new service provider, the company also incorporated "state-of-the-art technology via mobile apps."
RESEARCH
Banks struggling with payment profitability
Aite Group released a new report titled The Payments Transformation Race: Criteria for Success. Commissioned by Icon Solutions and based on a global survey of senior executives at the world's top-tier banks, the report revealed that high costs, low margins and increasingly commoditized business models are eroding payment profits, resulting in some services failing to break even. On the upside, researchers found a clear link between payment transformation priority and profit, with banks committed to investment demonstrating higher margins and more positive returns.
Fintech market at $309.98 billion by 2022
According to The Business Research Co., the global fintech market was valued at approximately $127.66 billion in 2018, and is expected to grow to $309.98 billion at an annual growth rate of 24.8 percent through 2022. Growth in the digital payments sector is driving the market for global fintech, researchers found. "Fintech has made payments for goods and services faster, easier, more convenient, and cost-efficient for customers," they wrote. "Customers can now pay for various goods and services via cryptocurrency, loyalty points and other digital cash alternatives."
Erroneous assumption causing security challenge
Panaseer, which offers a Continuous Controls Monitoring platform for enterprise cybersecurity, released results of a July 2019 study conducted by Forrester Consulting. Titled Cybersecurity Requires Controls Monitoring To Ensure Complete Asset Protection, the study found the key challenge facing security leaders – and putting their organizations at risk of breach – is misplaced confidence that the technology investments they have made have strengthened their security posture.
PARTNERSHIPS
Chargeback Gurus, Sift devise integrated solution
According to chargeback management and analytics solutions provider Chargeback Gurus and Sift, a specialist in digital trust and safety, true fraud and friendly fraud are on the rise. Sift research indicated that on average, 10 to 15 percent of chargebacks occur due to true fraud; Chargeback Guru data shows that 60 to 85 percent of chargebacks occur due to friendly fraud. To combat this, the companies partnered to form an integrated solution to help businesses minimize both true- and friendly-fraud chargebacks.
PCI SSC, Wnet form strategic partnership
The PCI Security Standards Council and Women's Network in Electronic Transactions (Wnet) formed a strategic partnership to raise awareness of the opportunity to create greater diversity in leadership within the payment security industry. "We are delighted to be joining forces with PCI SSC to advance, advocate and highlight women as leaders across the payments security industry," said Wnet Executive Director Lisl Dutterer. "Our partnership with PCI SSC is one more way Wnet's education, mentoring and network-building programs ensure that the payments landscape becomes stronger and more profitable. Partnerships and programs that improve creativity, productivity and strategic leadership drive a diverse, empowered workforce."
Sezzle, CyberSource team up
Sezzle Inc., which offers interest-free installment payments, reported its solution is now available to online businesses worldwide through Visa's CyberSource payment management platform. The relationship means CyberSource merchants will be able to offer Sezzle's zero-interest "buy now, pay later" (BNPL) solution. The BNPL product can help sellers increase sales and grow basket sizes, with no credit risk to the merchant, the partners stated.
ACQUISITIONS
Bizview acquired by insightsoftware
insightsoftware, a U.S.-based provider of enterprise resource software, acquired Sweden-based Bizview Systems. Bizview provides customers a unified interface for faster, easier business planning and forecasting, dashboards, and analytics. The acquisition marks insightsoftware's entry into the Nordic market and will bring a wider range of budgeting and reporting capabilities to customers around the globe, the partners stated.
Worldline claims equensWorldline
Worldline, a leader in the European payments industry headquartered in France, exercised its call option on a 36.4 percent minority stake in Netherlands-based equensWorldline. This was the final step of the Equens acquisition initiated in 2016 and allowed Worldline to take full ownership of equensWorldline, a leading European payment transaction processor.
APPOINTMENTS
LaterPay selects John McKinney
LaterPay, which offers access to content or services without requiring upfront registration or payment, appointed John McKinney as its chief technical officer. McKinney will manage the end-to-end development process of the company's suite of technologies. He brings almost 15 years' experience in managing diverse teams and shepherding companies through the evolution of web technologies. Most recently, he served as CTO of fintech startup Netcapital.
Alan Osborne joins Paysafe
Paysafe Group appointed Alan Osborne as its chief information security officer. Osborne will be responsible for cyber and physical security across Paysafe and will lead ongoing development and implementation of the company's global IT risk and business continuity strategy. He brings over 20 years of senior level experience and a proven track record in developing business-aligned security technology strategies. He previously served as chief security officer at Worldpay and most recently was chief information security officer for National Grid, a multinational electricity and gas utility company.
Jeff Ralyea to lead AMTdirect
AMTdirect, a provider of lease management solutions, strengthened its executive team with the appointment of Jeff Ralyea, a veteran technology leader, as its new chief executive officer. Scott Schubert, the company's former CEO, and Dan Schubert, former president, will remain on the board of directors, leveraging their industry experience to help guide the company's long-term strategy. Ralyea brings several decades of financial and operational software experience to the company. He has held leadership positions at Infor, SAP, Ellucian and ECi Solutions.
Vesta taps Tan Truong
Vesta, a developer of guaranteed payment and fraud technologies, hired Tan Truong as chief information officer. He will be responsible for all aspects of the company's technology, operations and product development. Truong joins Vesta after building the global issuing platform for SVM LP, a provider of gift and prepaid cards. He has more than 15 years' fintech experience, including two successful exits for companies whose platforms and teams he helped build: FSV Payment Systems, acquired by U.S. Bank, and UniRush, acquired by Green Dot.

The Green Sheet Inc. is now a proud affiliate of Bankcard Life, a premier community that provides industry-leading training and resources for payment professionals. Click here for more information.
Notice to readers: These are archived articles. Contact names or information may be out of date. We regret any inconvenience.
Prev
Next