The Green Sheet Online Edition
December 10, 2018 • Issue 18:12:01
New Products
Mobile cybersecurity, digital identity protection for businesses, consumers
Product: Mobile Defense Suite
Company: EZShield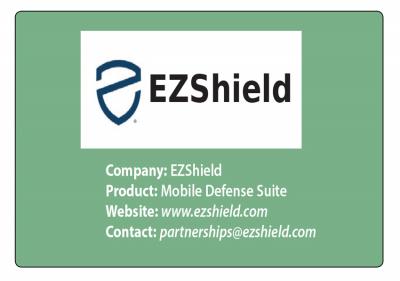 EZShield, an identity theft protection company owned by the Wicks Group of Properties LLC, launched Mobile Defense Suite, a portfolio of mobile cybersecurity technologies designed to protect business and private sector mobile devices. EZShield said the solution safeguards digital footprints by providing comprehensive visibility into mobile devices and alerting individuals and companies when threats are detected.
Rich Scott is chief commercial officer at EZShield and IdentityForce, a company EZShield acquired in August 2018. Scott said Mobile Defense Suite was initially developed for the EZShield app; a separate version for IdentityForce will be rolled out in 2019. Combining identity theft protection and mobile cybersecurity is crucial in a mobile-first world, he noted.
"People tend to feel safer when transacting on mobile devices," Scott said. "However, any connected device is susceptible to malware, spyware and privacy exposure. Individuals may succumb to phishing emails in their homes, or to any number of threats when they access free, insecure WiFi connections in public venues."
Advanced threat mitigation, recovery
The Mobile Defense Suite uses advanced digital identity theft protection and cybersecurity solutions to protect personally identifiable information and mitigate threats, both for the individual digital footprint and the enterprise.
EZShield noted its Mobile Defense Suite focuses on four key components to protect against known and emerging threats:
Mobile App: EZShield's mobile app provides anywhere, anytime monitoring and reporting to protect an individual's personal information and identity. The app is available in the iTunes Store and Google Play store. When opened, the EZShield app immediately scans the mobile device for malware and to confirm the device operating system is up to date.
Mobile Attack Control: This solution enables users to scan their mobile devices and detect when a device has been compromised. It also issues alerts when rogue applications, spyware, fake networks that spoof legitimate networks and unsecured Wi-Fi connections are detected, providing detailed notifications when anomalies are detected, with recommended next steps.
Mobile Attack Recovery: This post-breach solution guides consumers and individual users who have been affected by identity theft through steps for remediation. Users can click to call EZShield's Mobile Attack Recovery call center to receive white-glove restoration services.
Mobile Attack View: This dashboard provides a single-access view of mobile threats. Designed to protect customer and employee populations, the solution alerts IT and security teams when threats potential security risks and incidents are detected. The graphical interface displays mobile threats in a glance.
Protecting consumers, enterprises
The EZShield app was originally designed to protect consumers, but developers soon recognized a need for application shielding and hardening in the enterprise space, Scott stated. "A large enterprise has an average of 2,000 unprotected apps on the network, mainly on employee devices," he said. "These mobile apps are a gateway to data breaches and security threats."
Scott additionally noted that today's bring-your-own-device landscape makes it difficult for organizations to create uniform mobile security policies. Seventy-four percent of IT leaders from global enterprises have reportedly experienced a data breach due to a mobile security issue, he noted.
As mobile device populations continue to grow, connected devices provide hackers, identity thieves and cybercriminals with access to potentially exploitable endpoints. These endpoints can be found in connected household appliances, desktop computers, laptops, tablets and smartphones, Scott advised.
"Previous approaches to protecting mobile devices were mostly seen through the lenses of vulnerability management, anomaly detection, and intrusion prevention," Scott said. "EZShield's combined identity theft and mobile security solution is a major step forward in safeguarding the entire individual identity footprint."

Website: www.ezshield.com Contact: partnerships@ezshield.com
The Green Sheet Inc. is now a proud affiliate of Bankcard Life, a premier community that provides industry-leading training and resources for payment professionals. Click here for more information.
Notice to readers: These are archived articles. Contact names or information may be out of date. We regret any inconvenience.
Prev
Next