The Green Sheet Online Edition
December 10, 2018 • Issue 18:12:01
When innovation comes to Main Street merchants
By Peter Spee
AEVI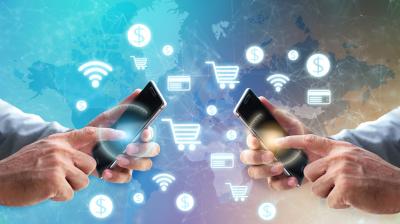 In retail segments, the key to survival is innovation. Merchant payment solution providers must play a crucial role in helping small to midsize merchants claim a place in the winners' category. Government data suggests that during good times the number of new U.S. private sector establishments opening in a calendar quarter exceeds those that close by about 10 percent. During bad times those numbers reverse, and closings overtake openings.
Survival is rarely guaranteed, particularly for retail merchants, who are often dealing with small profit margins and unpredictable consumer behavior. Overall, according to the Bureau of Labor Statistics, 44 percent of businesses fail within five years.
Increasingly, retail establishments view innovation as the key to competitive survival and sales growth, according to a survey conducted by Pymnts in collaboration with AEVI. That survey, which polled 400 U.S. retail businesses, found that 87.4 percent of small merchants believe they need to innovate to stay competitive, 75 percent say innovation is necessary to drive sales, and 68 percent need it to enhance customer loyalty.
An analysis of the economic impact of U.S. retailers conducted for the National Retail Federation by PricewaterhouseCoopers points out that retailers are the heart of every local community – 98.6 percent employ fewer than 50 workers; 95 percent operate a single location. Few of them have the resources or skills to innovate effectively. Indeed, the Pymnts survey found the smaller the company, the less likely it is to focus time and resources on innovation. These smaller businesses face a dilemma and need help.
Transformation at hand
Retail in general is engaged in a massive transformation that has seen the crumbling of Sears, the humbling of Macy's and J.C. Penney's, and the bankrupting of Toys R' Us, Radio Shack, and Bon-Ton, among others. Sales from physical stores still vastly outnumber those of online companies, but ecommerce and mobile technologies have provided consumers with far greater choice and the ability to quickly price-shop for better deals or find alternatives when they have a less than positive in-store experience.
Larger retailers have substantial IT resources to develop and implement new technologies in-store and integrate their own ecommerce offerings. Smaller merchants don't have those luxuries. Most are wearing multiple hats on the job; they have little time to explore what devices and apps could improve their operations. On a positive note, existing infrastructure is less of a barrier for smaller companies because they have so little to begin with.
This environment provides merchant level salespeople (MLSs) a target-rich environment of needy customers and prospects who can benefit from tailored all-in-one payment solutions that bring innovation to the in-store environment.
Moving from POS to POI
The POS must evolve from the traditional single-purpose payment transaction, to a robust and flexible point of interaction (POI) that improves the customer experience and improves business operations. The legacy, closed environment payment terminal represents a dead end for merchants and the MLSs and ISOs providing them with payment services.
Choice and flexibility are essential in meeting demands for innovative solutions. Merchants need the ability to modify their payment infrastructure fluidly as they and consumers discover new ways of doing business and seek to take advantage of new capabilities. Solution providers can't afford to be locked into closed-environment payment terminals that lock you and your merchants into a tightly restricted set of hardware and software that promotes a one-size-fits-all solution.
Today's merchant solution providers must match merchant needs to the growing potential of apps, value-added services, and the cloud. They must provide a suite, or bundle, of tailored apps and services that function across multiple types of devices from different hardware vendors in an open environment. And these apps must be integrated to work together in a fashion that adheres to merchant processes across multiple sites and devices.
Unlike smartphone apps that work separately – such as Facebook and LinkedIn – merchant solutions must be able to seamlessly share data. For example, when a customer purchases items and wants home delivery, the POS and payment apps can convey necessary information such as customer address, weight of items and more to a local transport company that can seamlessly confirm a delivery appointment window.
The apps also must be simple to use, given that small merchants typically deal with high staff turnover. Ease of use is the top feature that surveyed merchants require. Trying to replicate and market a solution that is in use at a large retailer is unlikely to be a winning strategy. Better to start with a simple, intuitive solution. Once merchants become comfortable with this, you can help them evolve to higher-level features and functions.
Moving your payments proposition into a new world
The world of retail merchants is changing rapidly. Even the smallest merchants have websites and are beginning to experiment with online services, such as making appointments, checking inventory, or paying online and picking up in the store. Today's consumer is adept at using mobile devices and web access to navigate across channels. Merchants must become just as adept at meeting consumers in each of those channels.
Merchants also want to take advantage of types of business applications that large retailers have long exploited. Inventory management, payroll management and marketing tools are high on the list of business applications smaller merchants want to take advantage of. But cost, ease of use, and an all-in-one fully integrated solution are their primary buying considerations. The ability to provide an out-of-the-box solution that meets today's needs and can adapt to tomorrow's is the definition of success for ISOs and MLSs.
The challenge for the service provider is to move your payments proposition into the new world of high-quality apps, services and smart POS devices that you can tailor to meet your merchants' specific needs. You are closer to these merchants than anyone and have the local market and vertical market skills and understanding to help them forge ahead in this new innovative environment.

Peter Spee has over 15 years of experience in driving product innovation and business transformation in Payments. In his role as VP of Strategy and Corporate Development at AEVI, he is responsible for leading and implementing strategic developments and projects. His primary focus is to expand AEVI's footprint by creating strategic business partnerships with customers and partners. Peter laid the foundation for the next generation of merchant acquiring with his early involvement in the creation of the first SmartPOS in the market.
The Green Sheet Inc. is now a proud affiliate of Bankcard Life, a premier community that provides industry-leading training and resources for payment professionals. Click here for more information.
Notice to readers: These are archived articles. Contact names or information may be out of date. We regret any inconvenience.
Prev
Next