The Green Sheet Online Edition
November 12, 2018 • Issue 18:11:01
Street SmartsSM
A better way to reach merchant prospects
By Steve Norell
US Merchant Services Inc.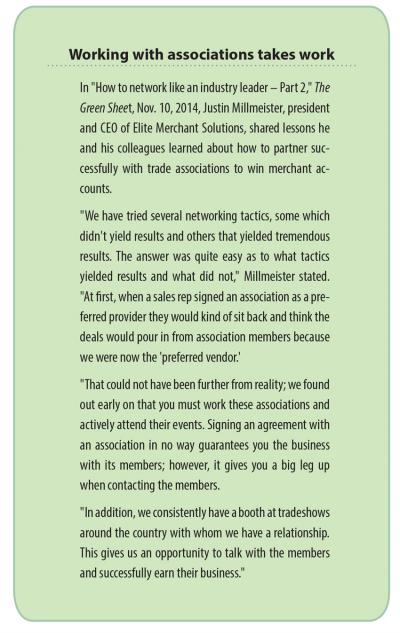 After all the years that I have been in this business, I am still at a loss about the best way to advertise when attempting to obtain new merchants. Advertising is not just expensive, but also many times inefficient and frustrating.
Tried and true failures
So first, let's take a walk down memory lane to the various ways many of us, including me, have attempted to find the magic solution to advertising. When I first entered the business I was told to take out a very small add in the local papers and put it in the classifieds. I was assured this was a time-tested method proven to be successful. So I gave it a shot, and guess what? It produced very little. I concluded that whoever time tested it should have spent more time testing it.
The next thing I did was to devise campaigns that used flyers and mailers. As most of you know, mailers will produce maybe a 1 to 2 percent success rate, which sounds low but is really quite high. Back in the late '90s when the Internet was not what it is today, this seemed to be the best method. However, I still felt that there must be something better.
Big effort, small results
So I reached out to Verifone, which chipped in on an ad campaign, and I ran a half-page ad in the Palm Beach Post every week on Business Monday, which cost $2,000 a week. Guess what the ad said? The Best Things In Life Are Free. Get a free terminal when you process with US Merchant Services. And this was in 1999 and 2000 before the free terminal thing had really hit full speed. Well, you can guess what happened. The phone rang nonstop, and we wrote more merchants than we expected, but it never was cost effective.
Then along comes the Internet age, and advertising takes on new dimensions. Before the free terminal phenomenon took hold, companies began selling terminals at close to cost as long as you opened a merchant account with them, and we all know how that turned out.
Now we come to the present, and we are all experiencing the pain of robo-calls done by offshore telemarketers looking to accomplish only one thing: to set up appointments for their clients. These calls have become so invasive that most merchant either don't accept them or just hang up. Now I know what most reading this must be thinking: if no one answers the calls or just hangs up, why do they keep doing it? The answer is simple: it works. If you throw enough spaghetti against the wall, eventually some of it will stick. So where do we go from here? After trying most of the advertising methods available today, I have decided I've had enough. It is a waste of money and time to try advertising methods that have no future and produce lackluster results.
The magic formula
The only type of marketing to merchants that works is marketing that comes from a company associated or partnering with a business that has a group of customers who will not hang up if you mention the company's name. What do I mean by this?
Here is an example. Sign A Rama, a large chain with 900 franchisees located in South Florida, recently entered into a deal with an ISO to offer merchant services to the company's franchisees. Now, I am fairly certain that the ISO will share a percentage of the residuals with the franchisor, so there is an incentive for the franchisor to help market to members. However, the members are not required to use any particular processor, so they can work with whomever they please. We process for many of those franchisees in South Florida, and when we started to receive calls from them about this new processor, it came as no surprise.
Even though we were priced at a very aggressive rate, these merchants, instead of hanging up on the new processor, were starting to listen because they were the chosen processor of their headquarters. I believe this type of business relationship is the magic formula. Just calling every merchant from a call list and hoping for the best is a waste of time and money.
Your entrée
You need to have a hook, and the best hook is the blessing, or at the least a hunting license, from the man at the top. You have a much better chance when you start the call with, "I am calling on behalf of the new Sign A Rama processing program, and I was given your number by Sign A Rama headquarters" than when you start with, "I am with XXX Merchant Services, and I've got a deal for you."
I know that this type of relationship will take time, and finding the right group to work with is not easy. But once you do, I can guarantee that your life will be much easier, and you will start to really like what you are doing. So give it a try, and let me know happens.

Steve Norell is director of sales at US Merchant Services Inc. Based in Port St. Lucie, Fla., he oversees the USMS sales force and maintains the company's bank and processor relationships. You can reach him by email at steven@usmsllc.com/a> or by phone at 772-220-7515.
The Green Sheet Inc. is now a proud affiliate of Bankcard Life, a premier community that provides industry-leading training and resources for payment professionals. Click here for more information.
Notice to readers: These are archived articles. Contact names or information may be out of date. We regret any inconvenience.
Prev
Next