The Green Sheet Online Edition
November 12, 2018 • Issue 18:11:01
New Products
Full-featured solution for unattended market
Product: VP5300
Company: International Technologies and Systems Corp.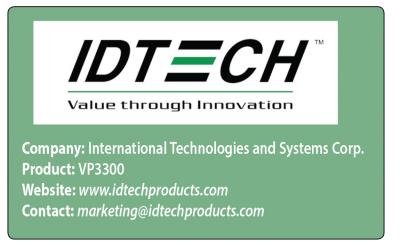 International Technologies and Systems Corp., dba: ID TECH, a global technology and manufacturing firm, has added the VP5300 to its growing family of unattended solutions. Designed to expand secure, reliable payment options at a variety of self-service venues, the product is simple to integrate into kiosk and unattended environments, company representatives stated.
ID TECH finds growing acceptance of self-service kiosks in airports, parking lots, restaurants, public transit and shopping malls. A white paper, published in July 2018, titled Outdoor Unattended EMV Payment Devices: Opportunities and Challenges, recommends deploying secure, tamper resistant, weatherproof, energy efficient and low-maintenance solutions. Unattended solutions require commercial-grade hardware, researchers noted, stating, "It's simply not feasible to repurpose "retail-oriented" payment devices to unattended scenarios."
Commercial-grade outdoor solution
ID TECH's VP5300 unattended bundle can be deployed separately or as a package to form a complete, dedicated unattended outdoor EMV payment solution. Designed to survive the rigors of outdoor operation, the solution meets the following challenges, according to the company:
Secure payments solution: For outdoor unattended applications where PIN entry is required, the ID TECH SmartPIN L100 PCI 4.x SRED certified PIN pad is designed to be paired with the VP5300 to provide secure PIN transactions for chip and PIN credit and debit transactions.
Tamper resistant: VP5300 is IK10-rated for shock and tamper resistance, increasing protection in locations with limited security and poor law enforcement coverage where machines are susceptible to vandalism and tampering.
Weather-resistant: VP5300 is IP65-rated, the highest possible intrusion-resistance rating for a mounted insert reader. Its rugged casing and stainless steel keypad increases resistance to water, dust ingression and direct exposure to severe weather conditions.
Energy-efficient: The VP5300 is optimized for off-grid and solar-powered operations, with ultra-low idle power consumption of less than 10 micro-amperes. Idle and sleep modes allow devices to consume little power, ideal for remote systems that need to be able to operate with solar panels and batteries. This helps ensure continuous functionality during power outages and power surges.
Low maintenance: Unattended solutions require reliable, future-proof hardware, designed to withstand long-term deployment cycles and infrequent maintenance.
Flexible communications, connectivity options: The VP5300 can communicate with kiosks and acquirer hosts, including USB-HID and RS232, and Ethernet.
Versatile, durable, secure
The VP5300 payment card reader, paired with the mobile L100 PCI certified PIN pad and optional NFC antenna, supports contact and contactless EMV, as well as Apple Pay, Android Pay, and other mobile wallets. The VP5300 with NFC antenna supports contactless ticketing and ApplePay VAS, Google SmartTap, and other loyalty technologies.
In addition to helping smooth integration of payments into kiosk and unattended environments, the VP5300's built-in ARM processor and remote download capability make it easy for operators to update its firmware and software, which improves future scalability, the company stated. The VP5300 is certified to the latest payment standards of EMV (Level 1 and Level 2) and PCI 5.x SRED. Its contactless L1/L2 certified payment systems limit transaction liability and audit scope for merchant and payment service providers, while providing SRED-level security.
ID TECH said it controls the design and manufacture of all of its products, from highly customized and tailored products to off-the-shelf, ready-to-deploy solutions, and facilitates successful deployments of unattended solutions around the world. Its extended line of products includes payment card peripherals, magnetic stripe readers, mobile payment readers, contactless readers, smart card readers, barcode readers, keyboards, signature capture devices, PCI-compliant PIN pads, and specialty products. The company works with OEMs, VARs, resellers, distributors and end-users, and includes product and technical support with all of its solutions.

Website: www.idtechproducts.com Contact: marketing@idtechproducts.com
The Green Sheet Inc. is now a proud affiliate of Bankcard Life, a premier community that provides industry-leading training and resources for payment professionals. Click here for more information.
Notice to readers: These are archived articles. Contact names or information may be out of date. We regret any inconvenience.
Prev
Next