The Green Sheet Online Edition
September 24, 2018 • Issue 18:09:02
Street SmartsSM
How effective is third-party telemarketing?
By Steve Norell
US Merchant Services Inc.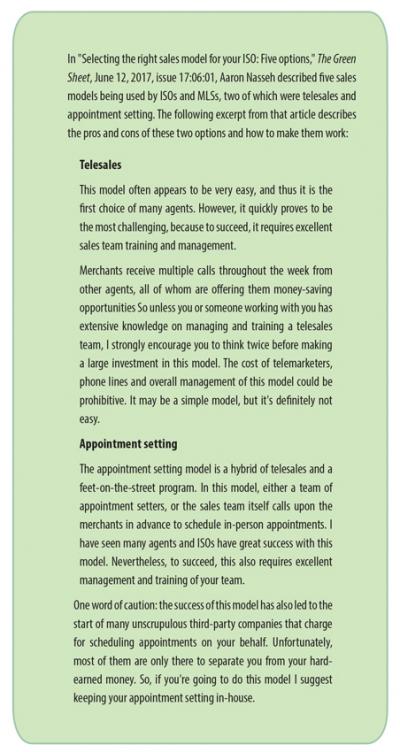 Many of us receive unwanted telemarketing calls, commonly referred to as "robocalls," on our cell phones, a phenomenon we thought was eliminated or at least reduced by the Do Not Call Registry. However, the Do Not Call Registry, which was established by the Federal Trade Commission in 2003, is more or less worthless when it comes to the unending stream of calls we are all now getting from overseas – where there is no way to enforce the Do Not Call rules.
These calls can now spoof phone numbers, so they appear to be local or from a valid caller, such as a merchant the recipient knows. When you answer the call, you hear quiet for several seconds, then John from (fill in the blank) Company tries to sell you something. Occasionally, a recording purporting to be an IRS agent says if you don't send money to the impersonator, the sheriff will arrive and arrest you.
Significant downsides
OK, so robocalls are a royal pain to people on the receiving end of them, and if there were a way to stop them, we all would subscribe to it. However, for quite some time, numerous ISOs have used telemarketing to provide leads for MLSs. Based on how annoying telemarketing/robocalls are for most people, I think this method of lead generation is not particularly fruit bearing for ISOs and MLSs. Over the years, I've been approached by telemarketing companies that have promised to obtain all the leads I could handle if I'd let them make calls for me. I was tempted, but my one rule was that the calls had to originate from inside the United States. As you can guess, not one of them could promise that, so our conversations went nowhere.
This is the problem: a person with an accent that reveals he or she is from outside the United States, typically from either India or the Philippines, calls a merchant in an attempt to set an appointment. The result is that the merchant hangs up, does not answer after he or she sees the caller ID or, in rare cases, the merchant actually agrees to an appointment.
However, the MLS shows up for the meeting and finds the business does only $1,000 a month in credit card transactions or learns the merchant only set the appointment to get the telemarketer off the phone. If you are an ISO or MLS, is this really the best use of your money and time?
A real-world test
Here is a true example. As many of you know, I own a cigar shop so I can have something to do when I need to get away from the credit card industry. The other day, I received a call marketing merchant services and, as usual, the pitch was that the government lowered something that would affect my rates, it was important that a representative see me about this, and, fortunately, the company's regional manager was going to be in the area and would like to stop in to see me.
Since I had time to waste and an abundance of curiosity, I took the appointment, albeit I explained that the rep would be wasting her time, as my rates could not be improved. Much to my surprise, the MLS showed up on time and was fairly professional. However, I did notice upon looking in her car that she had two children in it, both fairly young. I should note that she did leave the car running with the air conditioning on. As you can expect, she asked for the statement, took a picture with her phone and sent it to her supervisor in Dallas. A short time later, she received a call, and the closer started in explaining how she could save me money – and all they were going to charge me was 40 basis points.
When I started asking questions that most merchants would not think of asking, she became flustered, at which point, a male voice interrupted, and he started in on me. This person clearly was more polished than the MLS next to me, but after 10 minutes or so, we all agreed that nothing was going to happen.
What's your verdict?
This was based not just on the rates but also on the technology that I was using, which was a cloud-based POS system. Now, without mentioning names, it should be noted that this ISO was now on its third name change due to the fact that the previous two had burned more than enough merchants and could no longer use the previous names.
So after recounting all this, we are right back to where I started this conversation. How good is third-party telemarketing? Is it cost effective? Do the few appointments with merchants they produce have any true value? Most importantly, what is the alternative?

Steve Norell is director of sales at US Merchant Services Inc. Based in Port St. Lucie, Fla., he oversees the USMS sales force and maintains the company's bank and processor relationships. You can reach him by email at steven@usmsllc.com or by phone at 772-220-7515.
The Green Sheet Inc. is now a proud affiliate of Bankcard Life, a premier community that provides industry-leading training and resources for payment professionals. Click here for more information.
Notice to readers: These are archived articles. Contact names or information may be out of date. We regret any inconvenience.
Prev
Next