The Green Sheet Online Edition
August 13, 2018 • Issue 18:08:01
Self-ordering kiosks – a game-changing technology
By Dinesh Saparamadu
Apptizer Inc.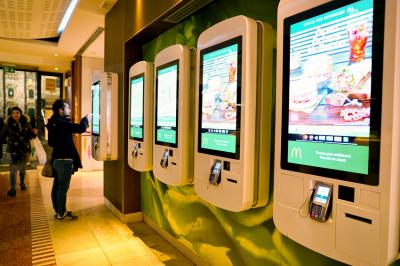 Consumer convenience and efficiency are fueling the rapid adoption and expansion of self-service technologies in fast-casual and quick-service restaurant environments. So it's important to understand the game-changing way self-ordering kiosks can impact buyer behavior while improving order accuracy, enhancing revenue, reducing costs and improving customer loyalty and satisfaction.
A Duke Fuqua School of Business study showed increased purchases of hard-to-pronounce items via self-service kiosks, as fear of making a mistake or being misunderstood by clerks was eliminated. The study also concluded that a desire to avoid negative judgment of their eating habits drove pizza connoisseurs to self-order food with more calories and with more special instructions as compared with phone orders. And a joint Harvard, Columbia and Northwestern study indicated a seven-second reduction in fast food restaurant service times can increase company market share from 1 to 3 percent. These are all interesting outcomes.
But the real driver of kiosk growth is that self-ordering enables consumers to have it their way ‒ to be in control without restaurant staff assistance. Imagine you walk into your neighborhood deli, select the sandwich of the day from an interactive touchscreen kiosk, and customize it with all your favorite condiments and add-ons. Then you select additional menu items like chips, salad, dessert and beverage to complete your order and pay at the kiosk. And voilà, your order is prepared exactly to your specifications, and you're out the door pronto. The experience is a dream come true during the busy noontime lunch rush.
Improved operations, sales
Not only do self-ordering kiosks drive consumer convenience and efficiency, they provide many opportunities for business improvement.
Handwritten order tickets that are run back to the kitchen for deciphering or entered by wait or counter staff into POS devices are slow and error-prone. Self-ordering saves time and money by reducing these errors and waste. Plus, additional human and financial resources spent remaking orders is eliminated. When customers select menu items from kiosks, orders are accurately transmitted to the kitchen for immediate preparation, precisely as entered.
Because self-ordering kiosks cut wait lines, orders can be placed fast and furiously, increasing sales volume. Upselling, cross-selling and promotions at kiosks encourage consumers to increase order size, and they do so more consistently than their human cashier counterparts. This generates overall higher per-check spend.
A McDonald's self-ordering experiment found that average check size was 30 percent higher, and 20 percent of consumers who didn't order a drink added one when offered during the kiosk self-ordering process. Cinemark theaters generated 32 consecutive quarters of increased per-person concession spending with self-ordering kiosks. Restaurant chain Chili's, after installing self-ordering tablet kiosks at tables, increased dessert orders 20 percent.
Superior customer experience
Self-ordering kiosks create operational efficiencies. Wait and counter staff can be redeployed to such tasks as food preparation; turning orders or tables; quality control; restaurant cleanliness; and creating a more efficient, customer-friendly operation. The real value kiosks have in restaurant environments is not reducing jobs, but improving customer service through efficiency.
Creating a more pleasant consumer experience, self-ordering kiosks can turn first-time and occasional diners into high-value, repeat customers. Kiosk technology takes customer relationships beyond transactions, turning every customer touchpoint into a meaningful interaction that drives loyalty and satisfaction.
Self-service technologies are dramatically changing what people do and how they act. There's real potential for fast casual and quick-service restaurants to capitalize on a game-changing technology that enables personalized ordering interactions, which ultimately result in significant business prosperity.

Dinesh Saparamadu is CEO and founder of Apptizer Inc., a company focused on delivering innovative mobile app-building and kiosk platform technologies. He is a thought leader on mobile payments and platforms and a frequent speaker at industry conferences. He can be reached at dinesh@apptizer.io.
The Green Sheet Inc. is now a proud affiliate of Bankcard Life, a premier community that provides industry-leading training and resources for payment professionals. Click here for more information.
Notice to readers: These are archived articles. Contact names or information may be out of date. We regret any inconvenience.
Prev
Next