The Green Sheet Online Edition
August 13, 2018 • Issue 18:08:01
Street SmartsSM
What is your exit strategy?
By Steve Norell
US Merchant Services Inc.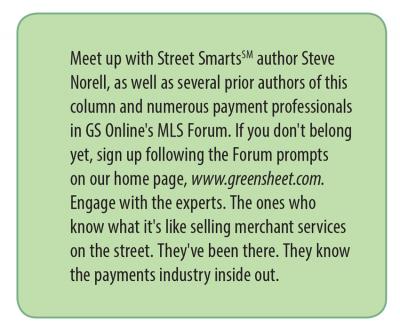 After nearly 20 years in this business, I find myself asking more and more, when do I want to leave and what do I want to leave with? More importantly, what am I going to do after I leave and how will I spend the money?
I have sold more than my share of merchants to many ISOs and super ISOs, and if I had to guess what the total amount was, it would be astounding. I never thought back in 1996 while I was selling one merchant at a time that I would be able to get checks totaling as low as $20,000 to millions of dollars. So where did all that money go, and what did I accomplish by cashing those checks?
Changing needs, changing strategies
Most of the merchant level salespeople (MLSs) I have met have sold their merchants for as little as $5,000 and as high as $50,000. This is the largest sum of money many of them have ever had at any given time. Some sell because they just want to get out of the business and use the funds to start a new venture. Many use it to buy a car, boat or house – or just blow it on a trip to Vegas with all the frills. You all know what I mean by frills. The trip to Vegas is usually the most common.
If you, like myself, are at a certain age, then the thought of exiting becomes more important and strategic as your retirement years loom.
This business is unlike many others in that it is extremely informal, not particularly organized and gives "independent" a whole new meaning. It also allows many of us to continue to make money without significant effort, so getting out becomes much more difficult. When I think about this, I always hear Al Pacino's Michael Corleone saying in The Godfather Part 3, "Just when I thought I was out, they pull me back in."
Questions to consider before retirement
Here are some of the items I am considering as I enter my Golden Years:
Why should I get out?

Even though, compared with the old days, I encounter more frustrating days the longer I remain in this business, I still have a fairly good time. So until the negative days outweigh the positive, I plan to continue to get up and go to work. Not quite as aggressively as I used to, but I still like what I do.

When should I get out?

I seriously doubt that age has anything to do with this question. (Not to mention, how many people over the age of 50 can get a job with any company today?) That said, I really don't want to be doing this when I am in my 80s, even though I may still feel like I'm in my 30s.

Should I sell or just ride this horse till it drops?

When I started in this business, our office manager asked me if I thought it was possible to drive down the street, park the car, and deals would just jump out at me with very little effort. I told him, "No way." Well, guess what? I was wrong. I find that the longer I stay in this business the easier it is to write a deal or get a new merchant. They literally jump out at me. I am more than sure that this is the same for a lot of us in the business. So as long as I can walk, talk and smoke a cigar, I guess that I'll ride this horse till it drops. I just won't do it 24/7 anymore. More like 12/3.

How much should I expect or need?

I guess it all hinges on how you like to live. If you have very few needs and you are basically debt free, it won't take as much. But if you want to live the same way you are living now during your peak earning years, it is going to take more effort. So I look at it this way. House and car paid off, no real debt, investments are making money and no alimony payments: $15,000 a month should do it.

What will I do with the money?

Enjoy the fruits of my labor, as well as give my family more of my time. Not to mention travel so I can see how the rest of the world lives.
So I would appreciate responses from as many people as possible to the points I posted above. Let the games begin..

Steve Norell is Director of Sales at US Merchant Services Inc. Based in Port St. Lucie, Fla.; he oversees the USMS sales force and maintains the company's bank and processor relationships. You can reach him by email at steven@usmsllc.com or by phone at 772-220-7515.
The Green Sheet Inc. is now a proud affiliate of Bankcard Life, a premier community that provides industry-leading training and resources for payment professionals. Click here for more information.
Notice to readers: These are archived articles. Contact names or information may be out of date. We regret any inconvenience.
Prev
Next