The Green Sheet Online Edition
July 09, 2018 • Issue 18:07:01
New Products
Prevent chargebacks with curated intelligence, automated alerts
Product: Prevention Alerts
Company: Chargeback Gurus Inc.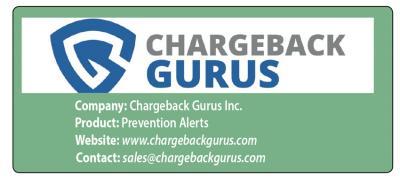 Chargeback Gurus Inc. launched Prevention Alerts, an automated alert system designed to notify merchants of chargeback-related activity and disputes. The solution combines advanced analytics and business intelligence from leading chargeback prevention alert networks to stop an average of 25 percent of all chargebacks. It can also help merchants understand the reasons for chargebacks, their potential costs and impacts, and effective ways to prevent them, the company stated.
"We've seen an increase in consumer-initiated chargebacks, with consumers contacting banks to dispute a charge without giving merchants a chance to resolve these issues," stated Srii Srinivasan, CEO at Chargeback Gurus. "Not all of these consumers have malicious intentions, but this so-called 'friendly fraud' can have dire consequences for merchants who don't have chargeback protection."
Automated alerts
An automated alert system will notify merchants when chargebacks have been initiated, enabling them to respond to disputes within required time frames and prevent disputes from turning into chargebacks. "Merchants who respond to alerts within 12 to 24 hours improve their chances of having issues resolved in their favor," Srinivasan said. "They can analyze prevention alert data to understand patterns in their businesses, see where chargebacks are occurring and make any necessary adjustments."
Businesses derive different benefits from prevention alerts, based on their industries and unique requirements, Srinivasan noted. Merchant acquirers and third-party service providers can use prevention alerts to identify heightened activity in select demographic areas. Chargeback Gurus organizes this data into detailed reports with suggestions on how to improve business processes. "Our team works with companies to present data in a meaningful way, enabling companies to track ROI from a dollar perspective and chargeback threshold perspective," she stated.
Curated intelligence
As an authorized reseller for Verifi Inc. and Ethoca Inc., Chargeback Gurus provides extended coverage to merchants and service providers, leveraging both companies' business intelligence and issuing bank networks. By combining the two leading chargeback alert networks, Chargeback Gurus provides a range of coverage in the United States, Canada, Europe, and Asia, company representatives stated. Both Verifi and Ethoca provide intelligence from the largest issuing banks, which may lead to duplicate alerts and fee structures for merchants who use both networks. By aggregating alerts from both networks, Chargeback Gurus can help merchants avoid duplicated alerts and fees.
Boost performance, minimize exposure
Srinivasan said acquirers set chargeback thresholds for merchants based on their risk profiles. Acquirers may hold a high-risk merchant's funds in reserve to guard against chargeback losses and occasionally terminate accounts even when they have not exceeded chargeback thresholds. Merchants who exceed chargeback thresholds also face dire consequences and may find "high-risk" payment processing to be the only available option for credit card acceptance, she added. Prevention Alerts can help merchants stay within prescribed risk thresholds and categories. The solution can be used as a standalone service or combined with Chargeback Gurus' prevention, recovery and management tools, Srinivasan said. These complementary services can help stop disputes and inquiries from becoming chargebacks.
Following are several examples Srinivasan provided:
Root cause analyzer: This solution identifies the true causes of chargebacks in real time. It uses artificial intelligence to analyze more than 40 data points to identify vulnerabilities.
Error prevention: Chargeback Gurus reviews orders and identifies fulfillment and customer service issues and vulnerabilities before they trigger disputes. The service includes a daily report on identified vulnerabilities.
Frictionless 3D Secure tools: Chargeback Gurus provides frictionless 3D Secure 2.0 technology to validate transactions in real-time with cardholders' banks, preventing the majority of fraud claim disputes and reducing chargebacks.
Value-added account management: Chargeback Gurus offers a suite of value-added services designed to track payments and proactively manage order issues and merchant accounts.
When integrated into gateways, networks and customer relationship management software, these tools continuously analyze chargeback data in real time while maintaining the strictest security compliance, Srinivasan said.

Website: www.chargebackgurus.com Contact: sales@chargebackgurus.com
The Green Sheet Inc. is now a proud affiliate of Bankcard Life, a premier community that provides industry-leading training and resources for payment professionals. Click here for more information.
Notice to readers: These are archived articles. Contact names or information may be out of date. We regret any inconvenience.
Prev
Next