The Green Sheet Online Edition
July 09, 2018 • Issue 18:07:01
The Green Sheet, CCSalesPro start new podcast series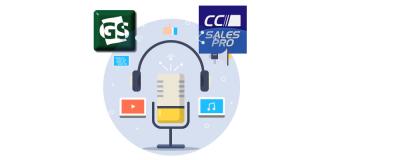 The Green Sheet Inc. has always been committed to advancing the knowledge and professionalism of merchant level salespeople. Now we're taking that commitment to a new venue: podcasts. The Green Sheet, in partnership with CCSalesPro, launched Merchant Sales Podcast as of July 2018. Weekly podcasts are set to commence in August.
Headquartered in Altoona, Pa., CCSalesPro provides how-to videos, blog posts and other sales training resources for MLSs. James Shepherd, CEO at CCSalesPro, and The Green Sheet Senior Editor Patti Murphy are hosting Merchant Sales Podcast. Podcasts include interviews with industry veterans and subject-matter experts, insider reports on industry trends, and questions from the field.
"While The Green Sheet has strong recognition as an online and print resource for MLSs and their merchant services partners, we recognize that time-strapped professionals need more convenient options for advancing their sales opportunities and careers," said The Green Sheet President and CEO Kate Gillespie. "Podcasts are great because they can be accessed when and how it makes sense to listeners. We're excited to be working with James with his proven track record in MLS training."
"The Green Sheet has always been a great resource for sales professionals and ISOs in our industry," Shepherd added. "Both of our organizations share a passion for helping MLSs and ISOs achieve success while keeping up to date with changing industry trends and business requirements. Producing podcasts together is a great way to pool our resources and collective expertise to create something special for the industry."
Shepherd knows firsthand about the value of quality training. "My first few weeks in the merchant services industry were filled with confusion and disappointment," he said. "My first day on the job, I spent two hours watching a webinar and then was challenged to get out in the field and sell. I felt totally unprepared." Rather than despair or pursue opportunities in another field, Shepherd committed to work toward change in merchant services training.
A shared passion for education
"While my early experience wasn't great, I committed to make a go of it because I felt merchant services was a great industry," he said. "So I took every opportunity I found to advance my knowledge and build a strong merchant portfolio. I also made a conscious decision to work to empower other sales reps and ISOs – to generate a feeling of confidence and excitement that was lacking during my initial introduction to the business."
It was this decision that led to the successful launch of CCSalesPro.com and its YouTube channel, as well as development of a proprietary learning management-statement analysis tool. "Since its inception 10 years ago, our YouTube channel has logged over 1 million views, Shepherd noted. "We've had more than 40,000 individuals visit our website in the past year. And our software is now being used by over 1,000 agents."
"Podcasts are an awesome way to reach busy professionals," Murphy said. "James' passion for the merchant services industry, his insights and his dedication to training make this a compelling opportunity. I'm truly excited to be working with him on this project." Murphy has over 40 years of experience reporting on and analyzing trends in banking and payments. She has been a contributor to The Green Sheet for the last 18 years; her monthly column, "Insider's report on payments," is one of the most popular features of The Green Sheet.
"After recording the first Merchant Sales Podcast with Patti, I am confident this show will be a great addition to the content provided by each of our organizations," Shepherd said. "It takes a lot of hard work to succeed in merchant services. But success is achievable for those individuals who are knowledgeable and determined." "Both of our organizations want to help ISOs and MLSs make the most of the opportunities for success in merchant services," Gillespie said. "Merchant Sales Podcast is a timely addition to the education and training tools our two organizations already provide tens of thousands of sale agents."
Merchant Sales Podcast episodes are accessible online at GreenSheet.com, CCSalesPro.com and iTunes. Have a question or a topic you'd like to see addressed by Merchant Sales Podcast? Visit CCSalesPro.com/podcast to submit. We'll do our best to answer in upcoming podcasts.

The Green Sheet Inc. is now a proud affiliate of Bankcard Life, a premier community that provides industry-leading training and resources for payment professionals. Click here for more information.
Notice to readers: These are archived articles. Contact names or information may be out of date. We regret any inconvenience.
Prev
Next