Merchant best practices
in a post-Durban era
When the Federal Reserve's new debit interchange fee regulations went into effect Oct. 1, many small retailers were left wondering how to effectively manage debit card acceptance costs. To address merchant concerns about the impact of the Durbin Amendment to the Dodd-Frank Wall Street Reform and Consumer Protection Act of 2010, Merchant Warehouse launched the Durbin Education Center, a web resource devoted to all facets of the legislation.
"Small businesses could be affected most by this regulation simply because they do not have the resources large retailers have dedicated to ensuring this amendment works in their favor," said Henry Helgeson, co-Chief Executive Officer of Merchant Warehouse. "Small businesses need someone knowledgeable to guide them through this process, and as a payment processor, Merchant Warehouse sees an opportunity to guide and consult these merchants."
In addition to explaining key points under the new regulations, Merchant Warehouse's resource guide describes best practices to assure revisions to interchange work in the merchants' favor, including the following steps:
Before seeking assistance to develop a better pricing strategy, examine existing transaction data to ascertain the ratio of credit to debit card transactions being processed.
Check current merchant account pricing to gain an understanding of what is being paid to a bank or processor, which in October should reflect updated savings under the new regulations.
Analyze the monthly statement for October, and compare it against the previous month to identify reductions applied; if unchanged, consult the bank or processor to discuss ways to save.
Merchant Warehouse encourages merchant level salespeople to educate merchants and to refer merchants to the Durbin Education Center located at
http://merchantwarehouse.com/durbin/.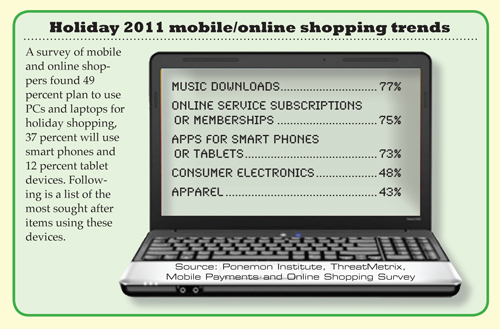 "Our survey demonstrates that very few business owners have taken a necessary precaution of having a professional data security firm perform a current assessment of vulnerabilities on their commercial website or database applications. ...We believe that small to medium-sized business owners need to review all aspects of their data security and disaster recovery efforts."

- Barry Sloane, President and CEO, The Small Business Authority
Source: SB Authority Market Sentiment Survey
Consumer angle on mobile payments
Mercator Advisory Group released the second of eight reports in its Customer Monitor Survey Series. The report, Consumers and Mobile Payments: Familiarity Paving the Way, explores consumer perspectives on mobile payments. It delves into consumers' confidence in mobile payment applications, current mobile payment usage, receptivity to payment concepts, concerns about security and interest in new mobile applications such as e-coupons. For more information about the report, visit www.mercatoradvisorygroup.com.