The Green Sheet Online Edition
June 27, 2022 • Issue 22:06:02
Implementing the last mile to BNPL at the card terminal
By Chris Hamilton
Amount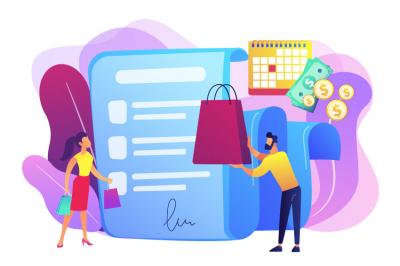 Consumers the last several months have shown a willingness to return to in-store shopping. In some instances, retail sales at physical locations have returned to pre-pandemic levels, as, according to PwC survey results published in Business News Daily, https://bit.ly/3G1heXg, many consumers still prefer in-store shopping experiences. From the more than 8,000 consumers surveyed by PwC, convenience, immediacy and avoiding delivery were among the top drivers favoring the in-store experience.   Now, retailers are asking themselves a key question: how do they bring popular commerce alternative financing options like buy now, pay later (BNPL) to the physical POS? Merchants' interest is simple: they want to reach more customers. The recent boom in online retail has paved the way for BNPL to find its footing. If that success is to continue, merchants and providers need to make alternative financing a viable option across all channels.   What's stopping merchants from adding BNPL to the physical POS are the current limits of card-terminal manufacturers. Those companies are seeking to evolve their utility with merchants, and bringing popular ecommerce alternative financing options to the physical POS could help.   However, complexities remain around delivering BNPL in-person at the card terminal.
BNPL at the physical POS
 At the moment, consumers can use BNPL in-store without the direct need for any kind of software integration at the physical POS. BNPL providers can provide a virtual card issued via an app and stored in a mobile wallet, which is then used to make purchases from supporting retailers that accept the issuing card network. This method could give banks a way into this corner of the market that would remove the merchant integration pain point for banks.   Additional BNPL implementation methods in physical stores could manifest in a couple of ways depending on certain scenarios:   Let's say a consumer visits Best Buy with the preconceived intention of purchasing a new TV and sound bar. While browsing options, the consumer scans a QR code with their smartphone's camera that brings up a BNPL loan application.
That provider can immediately populate the necessary fields based on the smartphone's analytics. If approved and the consumer agrees to the terms, the provider can issue a virtual card that they can either download to Apple Wallet or Google Pay, shown at the POS as a QR code, or typed in manually at a self-checkout register. This situation would help merchants capture the spend of consumers that might have otherwise left the store without buying something   A similar scenario could happen at the physical checkout. Once items are scanned, a BNPL payment option appears on the screen alongside more traditional methods. The consumer clicks a button, enters a phone number, and receives a text with a link to an application. This process is like the QR code situation previously mentioned. While implementation of this concept appears simple, obstacles remain.
The missing link
 BNPL providers, POS device manufacturers and retailers will need to figure out a few areas to complete the "last mile" of implementation at physical stores to solve how the process will work in practice.   Perhaps it's like the scenarios described above. The components right now are present: POS devices, merchants' back-end systems and consumers' smartphones. BNPL providers don't want to bring a clunky in-store solution to market, but there are more hurdles around implementing this seamlessly at a terminal versus when everything is self-contained within an app or website from the comfort of someone's home.   Education will also play a key role in implementation. Executives from retailers and POS manufacturers will need buy-in from the start, and to understand how BNPL at the physical POS benefits each stakeholder in the consumer purchasing process. Retailers will need to educate both store employees and customers about how to use the system on both ends in order to drive adoption.
Perhaps the most important aspect to this equation lies with the POS device makers. How will the terminals operate in a BNPL environment and provide a multi-lender in-store experience for consumers?
Device manufacturers might need to create more real estate on the screens, which means replacing terminals. The key, however, will be marrying the hardware to the software needed to make such a transaction. This requires creating the necessary back-end software to connect the merchants to BNPL providers, whether they're fintechs or banks.
This part of the process is vital. At the moment, merchants are forced to go with a single provider for an in-store BNPL experience. Merchants and consumers would benefit from choice and multiple lenders at the physical POS. To achieve this, it could be something as simple as POS companies creating a "marketplace" where BNPL providers provide an API the merchant downloads to the terminals.
The end game
 To be clear, POS providers are thinking about how BNPL fits into the in-store shopping process. Those companies will need to accommodate the different priorities, specifically those of BNPL companies and merchants. Complicating the process a bit is that banks also want to participate. This is good news but undoubtedly adds a layer of complexity in the short term.   In terms of which POS provider will figure out this process first? The race is on. Should this all come together, the future opportunity for all involved parties is massive. Just to put it into perspective, a recent Juniper Research study predicts consumers will spend $995 million via BNPL offerings by 2026, which is four times BNPL's 2021 projected volume.
Bringing a popular ecommerce payment method to brick-and-mortar stores would be a boon for all stakeholders involved in the process. Millions of dollars are at stake for the winners.

Chris Hamilton is the COO of Amount, www.amount.com, which powers end-to-end consumer, BNPL and small business solutions. Contact him atlinkedin.com/in/chris-hamilton-4a26443 or via will.hernandez@backbaycommunications.com.
The Green Sheet Inc. is now a proud affiliate of Bankcard Life, a premier community that provides industry-leading training and resources for payment professionals. Click here for more information.
Notice to readers: These are archived articles. Contact names or information may be out of date. We regret any inconvenience.
Prev
Next