The Green Sheet Online Edition
June 27, 2022 • Issue 22:06:02
Inspiration
Maintaining work-life harmony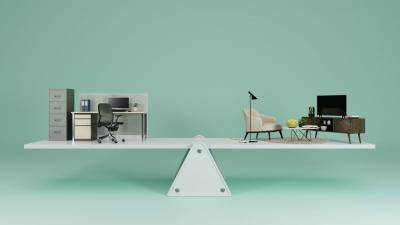 Many of us in the payments industry were situated in home offices long before the onset of the COVID-19 pandemic when huge swaths of people set up home offices for the first time. While some companies have now called employees back to their offices for all or part of the work week, many plan to continue with remote working arrangements.
Some people working from home have mastered the work-life balancing act; others are straining to make it work to their satisfaction. Many are somewhere in between.
Five suggestions
I recently gave my home-office routine a tune up. As a result, here are five suggestions to keep in mind.
Work-life balance means different things to different people. A solo entrepreneur living alone will have different requirements than a mother of three working for a corporation, for example. So don't assume what works for you will work for a teammate and vice versa.
Whenever possible, work in a room or area of your home that is dedicated to your business, and set your regular business hours and stick to them. This means if you live with other people, limit interruptions, making it clear they must respect your work time just like they would if you were working outside the home. This, of course, will be more difficult when children are involved, in which case, work and home activities will likely become integrated in creative ways—a true juggling act.
You may end up collaborating with people working in different time zones, so their work-day hours won't correspond with yours. Keep in mind that, while you may work outside of your normal business hours on occasion, for instance, to attend a crucial Zoom meeting or webinar, you do not have to be available at all times of day and night to accommodate schedules of colleagues across the globe.
Since you are not commuting to a different location by car, bike, bus or foot, you do not have the transition period these commutes inherently provide. Consider devising your own type of transition period to get you mentally prepared to begin your work day. Some ideas include walking or jogging around the block, listening to an inspirational podcast or music that energizes you, brushing your dog if you have one, or tending your garden for a short time. At the end of the day, it's a good idea to also create a short transition period, to get you into your home mindset.
If you supervise a group of employees who are working remotely, find ways to recognize team members to lessen the chance they will become isolated. This could mean periodic Zoom check-ins, phone calls, even emails that boost people's spirits. Letting your team members know you appreciate the effort they continue to put into the business will go a long way toward keeping morale high.
As we all continue to find ways to do our best work whether in a corporate office or at home, if we observe what works and what doesn't and adapt accordingly, we will succeed no matter what changes come our way.

The Green Sheet Inc. is now a proud affiliate of Bankcard Life, a premier community that provides industry-leading training and resources for payment professionals. Click here for more information.
Notice to readers: These are archived articles. Contact names or information may be out of date. We regret any inconvenience.
Prev
Next