The Green Sheet Online Edition
February 28, 2022 • Issue 22:02:02
Understanding cryptocurrencies' place in payments
By Andreas Rehrauer
Worldline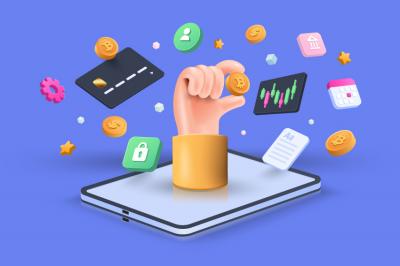 Driven by dramatic fluctuations in price and massive market capitalization gains—thanks in part to endorsement from celebrities and high-profile enthusiasts—more consumers and businesses than ever have begun to embrace cryptocurrencies. Meanwhile, governments are now considering new legislative and regulatory frameworks for these digital assets.
Veering away from its most popular use as a speculative asset, cryptocurrency within payments has seen strong momentum in the past three or four years. And let's not forget cryptocurrency was crafted for payments when it was created in 2009. Virtual currencies are steadily being noticed by consumers and private investors, as well as businesses and financial players all over the world, with their acceptance bolstered by consumers looking to use them as a payment method for a range of products and services, not just online but also at the POS.
International consumers are already well-versed in paying for goods with their smartphones; they understand QR codes and how to use them. This in turn makes the jump to using cryptocurrencies as a payment method far less daunting, as the process is based on using similar methods.
Meanwhile, we continue to experience a steady increase in demand from merchants seeking to offer cryptocurrencies as a payment option. Looking at continental Europe, for example, a notable increase has come from businesses in the hospitality sector, such as hotels, bars and restaurants. Luxury retail market participants have also experienced a significant surge.
A turning tide
Public views about cryptocurrencies and the possibilities they provide seem to be shifting, transforming from little-known payment tools loitering on the outskirts of the financial ecosystem, to developing digital assets that represent the future of the economy. Over the past year or so, cryptocurrencies have begun to capture mainstream attention, becoming a regular hot topic in conversations around fintech and banking.
As interest and demand from consumers and businesses grow, and governments explore the potential issuance of central bank digital currencies, many organizations are turning their attention to capitalizing on this interest, providing new payment solutions for customers in the process.
An issue of trust
Despite an obvious rise in popularity, there are several challenges to overcome before these digital assets can take their place in the payments mainstream. Virtual currency has the capability to allow for drastically smoother and swifter transactions, paired with an interesting potential for facilitating cross-border payments. But, for the crypto revolution to succeed, individuals and companies alike must first learn to place their trust in this emerging payment method.
The past decade has seen revived focus on the idea of trust, something that was primarily driven by the onset of the global financial crisis of 2008, which has been commonly attributed to the failure of trusted institutions such as banks and other financial institutions. More recently however, abuses of information and communication technologies for surveillance, the dissemination of propaganda, and public coercion have been exposed, leading to a growing loss of trust in many areas.
But if we focus for a moment on blockchain itself—the technology behind crypto—the issue of trust can almost be turned on its head. Blockchain technology has given rise to a new platform for business relationships that combines accessibility, low cost and high security. In short, it is creating a new basis of trust for business transactions in order to contribute to the simplification and acceleration of the economy.
The role of payment providers
When it comes to achieving mass adoption of crypto as an accepted payment method, the role of the more traditional acquiring firm is critical. While specialist crypto players may possess an intricate understanding of the currency itself, they often lack the distribution network, the confidence and the cross- and up-selling opportunities that major payment solutions companies can bring to the table.
Ultimately, the trust that all participants within the payment ecosystem place into reliable, established players should be maximized to drive growth and innovation in this space.
Looking to the future
While some remain reticent about the popularization of cryptocurrencies, there is no doubt that this trend is not a mere drop in the ocean; it is largely sustained with many recognizing that cryptocurrencies may well symbolize the future of money, replacing traditional centralized coins in the process.
Whichever side of the fence you sit on, all signs indicate that crypto could be a very lucrative investment for the future and that everyone—from consumers to merchants, to acquirers and indeed other services providers—is headed in its direction. With that in mind, examining the potential benefits, and how crypto can help to support your business now, could offer key competitive advantages in the future.

Andreas Rehrauer is a senior strategist at Worldline, which teamed up with Bitcoin Suisse to launch the integrated service WL Crypto Payments. A global leader in secure payments and trusted transactions, Worldline is at the forefront of the digital revolution shaping new ways of paying, living, doing business and building relationships that pass on trust along the entire payments value chain, enabling sustainable economic growth. For more information, visit https://worldline.com.
The Green Sheet Inc. is now a proud affiliate of Bankcard Life, a premier community that provides industry-leading training and resources for payment professionals. Click here for more information.
Notice to readers: These are archived articles. Contact names or information may be out of date. We regret any inconvenience.
Prev
Next