The Green Sheet Online Edition
July 26, 2021 • Issue 21:07:02
Industry Update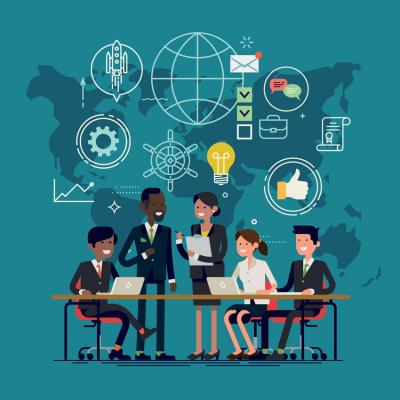 ANNOUNCEMENTS
Early Warning a Quantum Workplace honoree
Quantum Workplace, a provider of employee engagement and performance software, revealed the winners of its annual Employee Voice Awards. To be considered, candidates must have demonstrated dedication to making work better every day through collecting, analyzing and acting upon employee feedback. Early Warning Services LLC was honored in the Quantum Transformation category for engaging employees to uncover areas of opportunity for meaningful change. Early Warning focused on new leadership development, training and a conversation series in addition to implementing new communication formats and collaboration tools and creating an Employee Engagement panel.
Icon honored at PayTech Awards 2021
Cloud-native payment solutions provider Icon Solutions won the PayTech for Good category at the 2021 PayTech Awards, which recognize the most talented companies and individuals in IT and payments. The PayTech for Good category honors organizations that go above and beyond to deliver universal and lasting positive change. Icon was selected by the judges for actively putting the wider community first and demonstrating values of exceptional connection, collaboration and generosity to its chosen charities, Icon noted.
NAC commends Congress on Payment Choice Act
The National ATM Council Inc., a trade association for independent U.S. ATM owners, operators, and suppliers, commended the introduction of the Payment Choice Act of 2021 by a large, diverse and bipartisan cross-section of Congress. The proposed legislation—spearheaded and formally introduced by Reps Donald M. Payne Jr., D-N.J., Chris Smith, R-N.J., and 28 other bipartisan original co-sponsors—preserves cash payment options for consumers' in-person purchases of goods and services at retail establishments throughout the United States. Introduction of the Payment Choice Act of 2021 follows recent enactment of similar cash-acceptance legislation by state and local jurisdictions around the nation, including New York City, San Francisco, New Jersey, Pennsylvania, and most recently, Colorado.
Paysafe's Skrill expands crypto service
Skrill, part of specialized payments company Paysafe, reported that it added 20 new cryptocurrencies to its digital wallet for its customers to buy and sell. The new additions bring the total number of cryptocurrencies available within Skrill to 35 for customers based outside of the United States. The expanded portfolio is also available within NETELLER, another of Paysafe's proprietary digital wallets. In addition, following its initial expansion into the United States in March of 2021, Skrill launched its cryptocurrency buy and sell service in 11 additional U.S. states and territories, including California, Florida, Massachusetts, North Carolina and Pennsylvania.
Shyft Network tackles security, privacy
The Shyft Federation launched the Shyft Network with a focus on security and privacy. The network is built with an opt-in toolset for trustless identity attestation, and DeFi compliance, the final piece for institutional buy-in to the blockchain ecosystem, Shyft Federation stated, adding that the Shyft Network is the layer-1 public blockchain protocol, and the Shyft Federation is the collective that maintains, runs, and ensures the security of the network. Shyft co-founder Joseph Weinberg said the "protocol's multi-layered stack and trust infrastructure allows the blockchain industry to meet traditional requirements, without sacrificing the core pillars of decentralization, open-innovation, and privacy in permissionless protocols."
Socure unveils BNPL-specific ID solution
Socure, a platform for digital identity verification and trust, said it introduced the first identity verification and fraud solution purpose-built for the buy now, pay later (BNPL) industry. The solution leverages technology and data currently used by more than 100 top BNPL providers, alternative payment providers, fintechs, banks, and credit card issuers, Socure stated. The company noted that it developed the solution using deep identity and transaction data that enables multiple leading BNPL providers to attract new merchants, power growth by converting qualified shoppers in real time, and reduce loss rates. Socure attested that its solution has proven to safely boost online account auto-acceptance rates by up to 97 percent while reducing fraud-related loss rates by up to 40 percent versus legacy strategies.
RESEARCH
CO-OP analyzes Amazon Prime Day
Transaction data for Amazon's annual Prime Day analyzed by CO-OP Financial Services' SmartGrowth card portfolio experts revealed that debit cards accounted for 90 percent of all Amazon credit and debit transactions processed by CO-OP during the event, which took place on June 19 and 20, 2021. CO-OP's analysis also showed that total credit and debit transactions on Amazon increased by just 2.8 percent in 2021 over the 2020 Amazon Prime Day event; the 2021 total transaction amount of more than $11 billion was up just 7.6 percent year over year.
Data breaches up 38 percent in Q2 2021
The Identity Theft Resource Center, established to support victims of identity crime, released its U.S. data breach findings for the first half of 2021. According to the analysis, publicly reported U.S. data breaches were up 38 percent in the second quarter of 2021 (491 compromises) compared to the year's first quarter. However, the number of individuals impacted (52.8 million) is down 20 percent over the same period. For the first half of 2021, the number of compromises (846) equals 76 percent of 2020's total compromises. If the current attack pace continues, the increase in data breaches in 2021 will end with a record-setting number of compromises, exceeding the current high-water mark of 1,632 set in 2017.
Mobility-as-a-service to disrupt travel sector
Juniper Research recently found that mobility-as-a-service (MaaS) will displace over 2.2 billion private car journeys by 2025; rising from 471 million in 2021. MaaS involves the provision of multimodal end-to-end travel services through a single platform by which users can determine the best route and price according to real-time traffic conditions and demand. The research identified government investment in public transport and public-led partnerships between MaaS vendors and transport operators as key to incentivizing adoption by consumers over the next four years.
Lifestyle commerce impacting retail sales growth
In Lifestyle Commerce Drives Expanding Mobile Sales Channel For Merchants, Mercator Advisory Group disclosed that lifestyle commerce is a prime mover of a customer experience journey that includes using mobile apps and payments as a key channel for retail shopping. "Mobile use for pre-buy research and payments is a greater part of retail sales than much of the conventional wisdom now believes.," the report, which focuses on how retailers can leverage consumer usage, noted. "Mobile devices enhance the customer experience and provide merchants more opportunities to connect with consumers whether in-store or online," stated Raymond Pucci, author of the report and director of the consultancy's merchant services practice.
PARTNERSHIPS
APImetrics, tomato pay team up
APImetrics partnered with tomato pay, a QR-code-based payments app for businesses and sole proprietors, to launch an independent production monitoring dashboard for open banking APIs. The API.expert dashboard will use tomato pay's open banking connections to provide performance metrics on the top 30 regulated open banking brands in the UK. This includes data on sandboxes and open data APIs. About the collaboration, David O'Neill, CEO of APImetrics, said, "Being able to see independent, third-party quality data is an essential first step for trust in the ecosystem." APImetrics offers monitoring for hard-to-monitor production APIs in regulated sectors such as finance.
Century partners with Innormax
Century Business Solutions formed a partnership with Innormax LLC, a consulting company that helps businesses succeed through ERP best practices, to allow credit card processing directly within SAP Business One. Century's development team built a payment integration for SAP Business One that uses Century's proprietary payment gateway, EBizCharge, to provide credit card processing. This integration allows merchants to process credit cards from directly within SAP Business One. EBizCharge is compatible with over 100 leading ERP and accounting systems and major online shopping carts and provides unlimited transaction and batch history for reporting purposes, the partners stated.
Payroc, Fluid Pay, IVR enable pay-by-phone
Merchant acquirer and payment processor Payroc now enables pay-by-phone payment processing. Through partnership with Fluid Pay and IVR Technology Group, this brings together each key element to offer businesses payment collection over the phone, along with RewardPay Choice compatibility, Payroc stated. The IVR payment solution offers a true omnichannel platform, through multiple features for an enhanced payment experience, Payroc noted, adding that high-volume processing environments are the niche for this solution, because such enterprises benefit from the automated voice and text payment system. Also included are 24/7 payment acceptance, custom call flows, voice prompts and customer service automation tools to streamline contact centers. Rational picks TruNarrative platform TruNarrative reported it was chosen by the Rational Group, home of the FX and payment companies RationalFX and Xendpay, to boost its customer onboarding and identity verification processes and deliver a seamless customer experience. RationalFX is a foreign exchange and international payments company; TruNarrative's SaaS platform enables businesses to detect fraud and identify risk via a single API, the partners stated. Rational FX's stated goal in selecting TruNarrative is to drive business efficiency, improve match rates and provide customers with a frictionless onboarding experience while remaining compliant with current and future regulation.
Stax, CareTime tackle home-care payments
Stax by Fattmerchant, an all-in-one solution for managing the payments, partnered with CareTime, a cloud-based software company for the home-care industry. CareTime will debut a new integrated payment processing solution through the partnership, allowing home-care agencies to meet the needs of their private-pay customers who demand more flexible payment options such as credit card and ACH, the partners stated. CareTime acts as a communication tool for agencies and their clients by managing scheduling, billing, payroll and documentation. With Stax Connect's features, home-care agencies will be able to quickly and securely accept client payments in the CareTime platform and offer a more efficient onboarding process.
ACQUISITION
SMI acquires PayPerks
Systems & Methods Inc. acquired the PayPerks platform, brand and assets. The PayPerks platform has been successfully used for 10 years to improve the financial health of its millions of users, and will now power the education, gamification, and rewards functionality of the smiONE Visa Prepaid Card, SMI stated. The PayPerks solution was devised in 2010 to create a new approach to cardholder engagement through a unique combination of easy-to-digest visual education, fun quizzes, engaging points schemes, and exciting sweepstakes-based rewards, SMI noted, adding that it plans to integrate the functionality of the PayPerks platform directly into its smiONE Card product, bringing the same education and rewards solutions to its 1.9 million cardholders.
APPOINTMENTS
Gregg Hoffman joins Corserv
Corserv, which provides banks and fintechs with payment programs, welcomed Gregg Hoffman as its director of business development. Hoffman has more than 20 years of executive experience with credit card technology companies such as FNBO, Marlett Funding, The Kessler Group and MBNA. In his new role, Hoffman will develop and maintain strong, strategic relationships with key decision makers within the banking and financial technology space as well as pursuing potential partnership opportunities, Corserv stated.
Jamie Walker succeeds Royal Cole as ATPC chair
The American Transaction Processors Coalition appointed Jamie Walker, CEO of Elavon, to succeed Royal Cole of FIS as chairman of the board. Walker joined Elavon in 2001 and has served as CEO since 2017. He has led Elavon's global growth in North America and throughout Europe, managing acquisitions and international expansion and assessing opportunities for strategic growth, the ATPC noted. Royal Cole, recently stepped down as FIS executive vice president of financial institutions payments services. Cole served as ATPC board chair from 2019 to 2021, and under his leadership the organization launched a COVID-19 Taskforce and expanded its Cyber Council.

The Green Sheet Inc. is now a proud affiliate of Bankcard Life, a premier community that provides industry-leading training and resources for payment professionals. Click here for more information.
Notice to readers: These are archived articles. Contact names or information may be out of date. We regret any inconvenience.
Prev
Next