The Green Sheet Online Edition
July 12, 2021 • Issue 21:07:01
Inspiration
Finding community in a new locale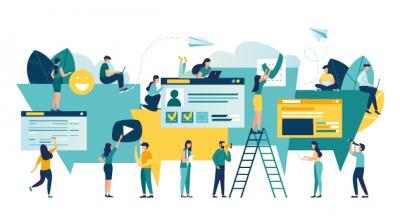 When measures were enacted in 2020 to halt the spread of COVID-19, the payments sphere was forced to transform. Ecommerce soared along with contactless payments, digital wallets, mobile apps and other forms of digital commerce.
In addition, many employers found that having people work from home worked as well or sometimes better than having all workers on site. And numerous entrepreneurs realized they could run their businesses far from expensive metropolitan centers. This has led a good number of individuals and businesses to relocate.
While these people's professional responsibilities may be essentially the same, their new communities may be quite different than the old. And just like remote work requires adjustments, settling into a new locale requires adjustments, too. If you are among those who have moved recently, here are some ideas to help you settle in and become part of your new community.
Check out local classes and clubs
See whether a nearby university or community college offers classes in subjects that appeal to you. It's one way to meet people who share your interests. If you belonged to a gym or health club in your former hometown, find one to join in your new home. The same goes for other clubs. Many organizations, such as Toastmasters, have branches throughout the world. If you're an amateur actor, audition for a part in an upcoming play at a local theater. If you own a dog or two, consider an agility training course. Even toy dogs can do this, and it's a great way to have fun with other dog owners. Possibilities abound. And don't forget to check in with your local chamber of commerce, which will likely give you a warm welcome and help you connect with potential business partners.
Volunteer for worthy causes
If you have children in school, you'll find opportunities to be of service there. If you belong to a faith community, you'll find not only fellowship but also ways to offer a helping hand, as well. There may be local issues or causes that resonate with you, too, such as preservation of historic buildings or parks. Local museums or walking tours might need docents or guides. There's no better way to learn all about a community than to teach others about it.
Get to know your neighbors
It used to be more common that when folks moved into a new community, neighbors would stop by to introduce themselves, often with some food, flowers or drink to share. If your neighbors don't ring your doorbell, ring theirs instead and introduce yourself. If you have a family, introduce them, too. Then invite your new neighbors to a barbecue or other type of gathering at your home. While socializing, they will volunteer all sorts of useful information from gardening tips and recycling guidelines to best local attractions and eateries nearby.
In the past, moving to a new locale often meant switching jobs. Not so anymore. You can be employed by one company long-term or continue to run your business seamlessly whenever you pick up stakes and find a new place to call home.

The Green Sheet Inc. is now a proud affiliate of Bankcard Life, a premier community that provides industry-leading training and resources for payment professionals. Click here for more information.
Notice to readers: These are archived articles. Contact names or information may be out of date. We regret any inconvenience.
Prev
Next