The Green Sheet Online Edition
February 22, 2021 • Issue 21:02:02
The difference between selling B2B and B2C
By Roger McNamara
Guide2Interchange LLC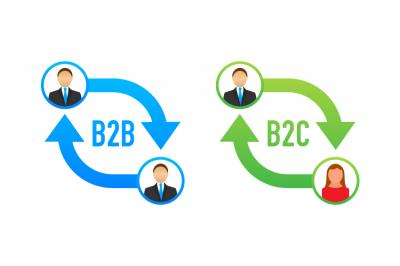 I pulled up to the airport arrivals terminal to meet a colleague had arrived on an early morning flight and would be working with me for the day. I had been signing lots of accounts. For me, business in B2C was good, really good—too good according to some, because compared with my peers, I was an anomaly. The person boarding my Ford Taurus wanted to see if I was legit or somehow cheating the system.
As we headed off, he asked me to conduct business like I would on an ordinary day. We went to an area I knew but hadn't worked before, and began cold calling as I would normally do. By 12:30 p.m., we had signed five accounts, and my colleague was getting tired. When we returned to the airport for his flight home, his last words were, "You are pretty good at this." I replied that it was all about the opportunity.
For many years, that fantastic opportunity existed in B2C. Long before aggregators and fintechs, it was possible to know all the service providers in your town or market, and there was even a little friendly competition. Today, the B2C landscape has greatly changed, and there is a smaller pie to divide. Increased pressure to acquire accounts has led to an all-out assault on price, creating what our industry coined as "the race to zero."
Merchant level salespeople find their books of business under constant assault and pressure. Legions of agents ply the same territories, calling on the same accounts on every main street, back street and cross street across the country.
Regroup for B2B
Many ISOs are experts in B2C accounts, but few can claim the same in B2B. This is not anyone's fault. B2C has been a cash cow for years with overwhelming demand and industry adoption, whereas plastic acceptance and use within B2B has yet to be fully explored by the ISO channel. Why is that?
The rigors of running an ISO don't lend themselves to cultivating new channels, especially ones perceived to be as complex as B2B. If the same selling principles from B2C are applied in B2B, they yield less than stellar results. Unlike B2C, B2B payments on card have stiff competition in the form of checks, ACH, wire transfer and, to a lesser extent, debit.
Suppliers believe credit payments are the most expensive alternative they can offer. ISOs selling B2B fall right in the "supplier bias" trap when they sell processing without positioning credit into the payment cycle as an alternative to term payments. Other than check, ACH and wire, term is the greatest threat to plastic acceptance in the B2B world.
So, what do you do if you're in this predicament? The worst thing is to do nothing. The B2B opportunity is too great. By some accounts, there is a $20 trillion market for B2B payments, and today only 8 percent of B2B payments are on plastic. That says there is a ton of opportunity for those able to remove themselves from the carousel of B2C.
The temptation to do nothing is strong. Don't succumb to that urge; the market is crying out for payments consultants who understand B2B and can talk intelligently about where credit best fits into the payments cycle. We also need to articulate what that means to suppliers and their buyers.
There is unfortunately a pricing perception issue in B2B that did not manifest in B2C. Being able to explain value versus the competitive forces is essential. Suppliers are looking for experts in payments, not credit card sellers. You're looking for suppliers that you won't find on Main Street.
Educate yourself on where these suppliers are in abundance. Learn to talk their language. Doing so will set you apart from your competition and put you on the road to success in this category. In the end, the only thing similar in selling a B2C merchant and a B2B supplier is the application they sign.

Roger McNamara, president, Guide2Interchange LLC, is a 25+-year veteran of the payments industry, most recently as director of business development with American Express in the United States. He has sold more than $200 billion worth of card processing and now leads a B2B merchant sales training organization. Contact him at Guide2Interchange@gmail.com or 561-379-3151.
The Green Sheet Inc. is now a proud affiliate of Bankcard Life, a premier community that provides industry-leading training and resources for payment professionals. Click here for more information.
Notice to readers: These are archived articles. Contact names or information may be out of date. We regret any inconvenience.
Prev
Next