The Green Sheet Online Edition
February 22, 2021 • Issue 21:02:02
Small business and the Biden-Harris administration
By Chad Otar
Lending Valley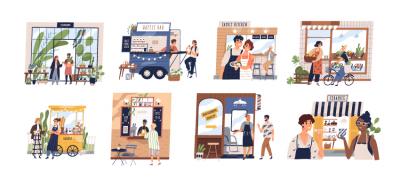 The new year began with small businesses in a sorry state. Decimated by the pandemic, one in six small businesses may never reopen. Even if they do weather the pandemic, many will drown under the murky depths of COVID-19 debt.
Small businesses across the United States, including myriad merchants we serve, need leaders who understand their importance on both economic and personal levels. Could President Joe Biden and Vice President Kamala Harris be those leaders? My recent research indicates the answer is yes.
What relief is planned?
One Biden-Harris administration's stated aim is to make "bold, transformational steps" to ensure small businesses can be revived across the country. They are far more focused on these companies than on those making big bucks on Wall Street. While their plans are incredibly ambitious, they are striding confidently forward into what promises to be a brighter future for small businesses.
President Biden has also made it clear that, even though we are in the middle of the pandemic, funding for small businesses should start now. His administration has called for over $50 billion in public-private capital to be put into small businesses in disadvantaged areas. Alongside this, he wants to ensure that underprivileged business areas be invested into—at a rate of $5 billion per year. He also plans to put more focus on companies located in small towns and rural areas.
Will they level the game?
Biden and Harris want to ensure that everyone has a fair shot. To do this, they are promulgating rules and regulations that will shift large, corporate powers from a dominating to a more cooperative position. From there, they intend to promote fair competition to give small businesses a chance to shine. The Biden-Harris team also wants to use the federal government's resources to protect American Indian artisans, as well as give disadvantaged businesses and companies owned by people of color a chance to participate in the international marketplace.
The best part? This administration is aiming for a swift end to racial discrimination and inequity in the funding and support for small companies. Put simply, President Joe Biden wants small businesses to thrive.
Who will be affected?
While the new administration plans to assist all small businesses equally, it has a particular focus on certain types of businesses, such as restaurants, which have been massively hit throughout the pandemic. In addition to aiding the restaurant sector, Biden and Harris plan to put a lot of money into businesses in rural, small town and disadvantaged areas, as well as those owned by people of color and women.
As for the large corporations, my research indicates they can expect some tax increases. Currently, the tax for the titans sits at 21 percent. Biden plans to raise this to 28 percent, which is expected to raise federal revenue by a staggering $2.4 trillion. This money will then be used to help with the revival of small, struggling underfunded businesses, which is just about every business owner. Whether bigger corporations think this is a positive change remains to be seen. 
When will these plans take effect?
So, after all of this, you might wonder when the Biden-Harris small business proposals will take effect. This is where it becomes less certain. With partisanship rampant throughout the country and in the nation's capitol, cooperation is often in short supply. Having said this, though, I believe Biden and Harris are in a strong position to make changes. They are leading with two principles essential to small businesses in mind: stability and leadership . Even though implementation dates are unclear, I believe small businesses, which are a substantial part of our customer base, will rejoice once they take effect. In any case, the world is watching to see how the new president and vice president plan to resurrect America's economy under the most challenging of conditions.
Note: I referred to the following in researching this article: https://joebiden.com/main-street/; https://joebiden.com/reopening/; https://factorialhr.com/blog/joe-bidens-policies/#4; and https://eu.usatoday.com/story/money/columnist/2020/10/14/joe-biden-how-his-presidency-would-affect-your-small-business/5902453002/. The predictions in this article do not reflect my political views or those of Lending Valley or The Green Sheet Inc.

Chad Otar is CEO of Lending Valley Inc. For information about the company, please visit www.lendingvalley.com. To reach Chad, send an email to chad@lendingvalley.com.
The Green Sheet Inc. is now a proud affiliate of Bankcard Life, a premier community that provides industry-leading training and resources for payment professionals. Click here for more information.
Notice to readers: These are archived articles. Contact names or information may be out of date. We regret any inconvenience.
Prev
Next