The Green Sheet Online Edition
December 09, 2019 • Issue 19:12:01
Inspiration
Generosity is good medicine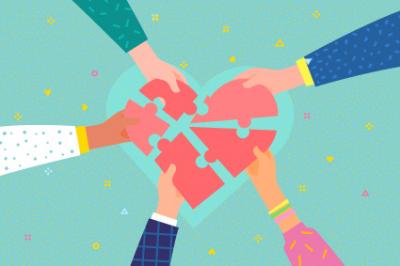 In addition to gifting people in our immediate circle at this time of year, many of us also step up our philanthropic efforts. Some are able to fund entire charitable events, such as community tree trimming parties complete with hundreds of toys to give away; others get up early when they'd rather sleep in and stand at buffets for hours, dishing up free holiday meals. Whether the amounts given are large or small or the time spent volunteering is long or short, every act makes a difference.
Then there are folks whose intentions are good; they want to help better the lives of others during the year-end holidays. But something unexpected occurs to throw them off: they might, for example, experience a major data breach that severely impacts their business and takes huge amounts of time to remedy, or someone in their family might need help in a crisis.
At times like this, giving to community groups or strangers can fall way down the list of priorities or disappear from it entirely.
Givers gain too
Don't let this happen to you, because giving to others benefits the recipients of your kindness, sure, but it also benefits you in several ways, according to numerous health professionals. For instance, researchers have found that helping others can increase your happiness, lower your blood pressure, provide relief from chronic pain, and even help you live longer.
And generosity is contagious. According to a study by University of California, Los Angeles, and University of Cambridge and University of Plymouth in the U.K., when we see someone else help another person "it gives us a good feeling, which in turn causes us to go out and do something altruistic ourselves."
Helping others can also strengthen friendships. "When you help others, you give off positive vibes, which can rub off on your peers and improve your friendships, according to a study by the National Institutes of Health," wrote Kimberly Yam, Asian voices editor for HuffPost. "Both parties will contribute to maintaining a mutually beneficial dynamic."
More than right
According to the Mental Health Association, face-to-face activities such as volunteering at a drop-in center can help reduce loneliness and isolation. And for some people who lean toward pessimism, having a regular positive impact on other people can shift their outlook toward optimism.
That's an impressive list of benefits from taking actions that most of our parents taught us long ago were just the right things to do. Many in the payments industry have taken this lesson to heart and give generously throughout the year, devising technology that makes it easy to donate a small portion of each transaction to charity, hosting fundraising events at association meetings for causes that matter to attendees, and more. It's uplifting to know that giving kicks into high gear as each year draws to a close. I hope we all give what we can and feel the benefits reverberate throughout the coming year.

The Green Sheet Inc. is now a proud affiliate of Bankcard Life, a premier community that provides industry-leading training and resources for payment professionals. Click here for more information.
Notice to readers: These are archived articles. Contact names or information may be out of date. We regret any inconvenience.
Prev
Next