The Green Sheet Online Edition
January 14, 2019 • Issue 19:01:01
New Products
Secure, frictionless pay-at-table solution
Product: TableSafe Pay-at-the-Table
Company: TableSafe Inc.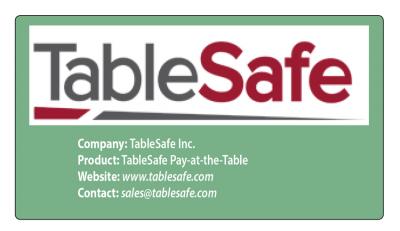 TableSafe Inc. launched TableSafe Pay-at-the-Table, a secure at-table checkout solution designed to increase restaurant revenue, table turns and staff efficiency. The technology also provides enhanced back-end reporting and customer insights, according to company representatives.
"One of the key differences between ours and other pay-at-table solutions is that TableSafe is truly designed to be left at the table, enabling customers to control the entire payment process," said Ryerson Schlitt, director, product management at TableSafe. "Servers do not stand over diners' shoulders during checkout and can spend more time attending to guests without having to focus on payments."
TableSafe streamlines the payment process from check presentation to checkout, Schlitt noted. Consumers keep possession of their credit cards throughout the dining experience. When they check out at the table, their credit card data is sent directly to payment card processors and is not stored locally at the merchant's POS.
Improved guest experience
Erik Ploof, vice president of business development at TableSafe, said the solution is designed for the table service hospitality industry. While quick-serve restaurants have implemented digital ordering apps to facilitate fast pick-up and delivery services, full-service restaurants have been slow to adopt these technologies, Ploof noted. The traditional method of presenting a check at the end of a meal can be frustratingly slow for consumers who expect fast checkouts, he added. "If a restaurant gets busy or has a long checkout queue, it can create a delay that can change a diner's restaurant experience," Ploof said. "TableSafe checkouts take approximately 60 to 90 seconds, compared with traditional payment methods that can take 8 to 10 minutes to complete. Guests can select an appropriate tip amount and share feedback in complete privacy." Ploof said the solution is purpose-built to fit in a server's back pocket and does not look like a repurposed consumer device. He said servers can log into different tables on the same device to receive the following status updates:
Solid green: Payment is done; guests are good to go.
Flashing green: Guests are requesting a receipt.
Blue: Guests are paying with cash; provide change if needed.
Red: Assistance is needed.
Improved merchant experience
TableSafe provides a comfortable guest experience, Schlitt said, adding that in addition to improving the guest experience, TableSafe provides participating merchants with the following efficiencies, features and benefits:
Streamlined tip adjustments: TableSafe guests approve their tips, which improves accuracy and eliminates the need for tip adjustment. Just hit one button, and a server gets a full record of the tips they've acquired. This saves an average of 30 minutes per shift for each server and eliminates overtime charges during peak hours. Inventory management: The TableSafe solution delivers metrics to help restaurants identify top-selling and underperforming menu items.
Customer analytics: Customizable notifications immediately alert restaurateurs and managers to subpar reviews, giving them a chance to respond to guests before they leave the restaurant.
Increased table-turn: TableSafe reduces a server's trips from the POS to the table from eight to one, increasing the amount of time a server can spend attending to dining guests.
Enhanced security: TableSafe uses point-to-point encryption and never stores guest data at the POS. The credit card never leaves the guest's possession.
Acceptance of all payment types: TableSafe payment card readers are compatible with traditional magnetic stripe and EMV-enabled credit cards. They also support near field communication, have built-in QR codes and bar code scanners and are Bluetooth-enabled.
Complementary experience: TableSafe is presented in a traditional folio, which is guest-controlled with a familiar, easy-to-use interface.
Unlike restaurant-facing surveys that occur post-payment while the server is watching, TableSafe reviews provide guests an increased comfort level because they are private. "Guests can add tips and complete surveys," Schlitt said. "If their cards are declined, the app will prompt them for another card, while keeping the entire process private and discreet."

Website: www.tablesafe.com Contact: sales@tablesafe.com
The Green Sheet Inc. is now a proud affiliate of Bankcard Life, a premier community that provides industry-leading training and resources for payment professionals. Click here for more information.
Notice to readers: These are archived articles. Contact names or information may be out of date. We regret any inconvenience.
Prev
Next