The Green Sheet Online Edition
June 11, 2018 • Issue 18:06:01
Visa, Mastercard aim to accelerate B2B card payments
By Patti Murphy
ProScribes Inc.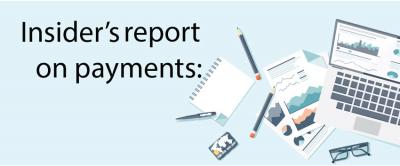 Having made significant inroads in consumer adoption of credit and debit cards, Visa and Mastercard have now set their sights on expanding their footprints in the business-to-business (B2B) payments space. Each is pursuing different sides of the B2B payments equation: for Mastercard it's the payables side; for Visa it's, receivables.
The B2B payments market in the United States is huge. It has been expanding at a combined annual growth rate (CAGR) of 5.8 percent over the past several years; the growth rate for B2B ecommerce transactions has been almost twice that. This is according to the consultancy Deloitte, which expects the B2B payments market to top $23 trillion in 2020.
Small businesses (those with less than $50 million in annual revenues) and midsize businesses ($50 million to $1 billion in revenues) will each account for about $4.5 trillion of the expected 2020 total, according to Deloitte's calculations, while the largest companies (those with over $1 billion in annual revenues) will account for the lion's share at just over $14 trillion in B2B payments.
Industries with the largest volumes include professional and business services, which in 2014 made about $2.6 trillion in B2B payments, and finance, insurance, real estate, rental and leasing firms, which made about $2.2 trillion in B2B payments that year. Manufacturing firms accounted for the largest chunk of B2B payments at $3.5 trillion, Deloitte said.
The majority of payments made by businesses continue to be check and automated clearing house (ACH) transactions. A survey of credit and account receivables professionals conducted in 2017 by NACHA –The Electronic Payments Association and The Credit Research Foundation revealed that nearly 50 percent of all business payments were made by check in 2016, 32 percent were ACH transactions and just 11 percent were card payments. (Businesses made about 8 percent of payments by cash or wire transfer, combined, the survey found.)
Checks have at least two inherent advantages over electronic payments, such as ACH and credit cards: simplicity and universality. All that is needed to initiate a payment is check stock and a mailing address. But as more business interactions move to electronic channels, checks are losing their luster, Flint Lane, founder and CEO of Billtrust, suggested in a recent interview. "The desire to move off paper is clear," he said. "How it happens is still unclear."
One stumbling block is cost: many businesses balk at paying prevailing merchant discount fees, which as an upfront cost can seem more burdensome than the baked in overhead of handling checks. Lane doesn't see this as an insurmountable obstacle, though. "I think Visa is looking at ways it can be creative about that," he said.
Visa focuses on receivables
Over the past year, Visa has been aggressive in pursuing opportunities to move more accounts receivable transactions to its network. Receivables processing can be one of the most complex tasks in corporate treasury operations since payments often cover multiple invoices that must be accurately matched to buyer records.
Last June, Visa launched a program it calls Visa Ready for Business Solutions, a framework that helps technology firms integrate with Visa's B2B payment services and data solutions. To date, five companies have been certified under the program: Bora Payment Systems LLC, globalVCard LLC, MineralTree, Priority Commercial Payments and Bottomline Technologies Inc. All offer solutions that integrate with the Visa network to support B2B virtual cards, which generate unique 16-digit virtual account numbers for each payment made.
Virtual cards are an emerging trend in what the research firm Packaged Facts estimates to be a $1.9 trillion commercial card market. "This is a space that continues to attract heated interest from payments market participants," said David Sprinkle, the company's Research Director. He predicted that business spending on virtual cards will soon outstrip spending on corporate travel cards.
In October 2017, Visa formed a strategic partnership with Billtrust, which specializes in automated solutions for invoice delivery and payment, as well as for cash applications, which is a major pain point for billers. Visa said it also made a strategic investment in Billtrust. "We have a unique opportunity to make cards more palatable to suppliers," said Lane of the Visa partnership. And earlier this year, Visa formed similar partnerships with receivables automation firms serving Latin America, Europe and Asia.
"The B2B payments industry landscape is relatively complex, replete with partnerships between multiple entities," said Steve Murphy, Director of the Commercial and Enterprise Payments Advisory Service at Mercator Advisory Group Inc. "Regardless of size, businesses do not typically understand how the pieces fit together or the potential benefits of integrated solutions."
Mastercard eyes payables
While Visa has been busy forging partnerships to support receivables automation and migrating more billers to card payment acceptance, Mastercard's focus has not been on cards to the exclusion of other electronic payments.
The Mastercard B2B Hub, introduced in the summer of 2017 and offered through card issuers, targets the accounts payable needs of mid-market and smaller companies. The hub leverages digital tools and resources to support automation of these traditionally paper-intensive processes, integrating with more than 130 accounting systems, as well as with Mastercard's virtual card platform and the ACH. Mastercard's "execution partner" in the endeavor is AvidXchange, which specializes in automating invoice and payment processes for mid-market companies. Mastercard also has taken a minority stake in AvidXchange, which supports payments by virtual card and data-rich ACH options.
Fifth Third Bank holds a minority interest in AvidXchange and was the first bank to join Mastercard's B2B Hub. "There are a number of inefficiencies and complexities that traditionally come with managing payments," said Bridgit Chayt, Senior Vice President for Commercial Payments and Treasury Management at Fifth Third. "Joining the Mastercard B2B Hub will help to eliminate these pain points for our clients in an innovative and user friendly format."
Mastercard's effort to leverage the ACH in support of B2B payments should come as no surprise. The payments giant paid over $900 million in 2016 for VocaLink Holdings Ltd. Headquartered in London VocaLink built the rails for and operates BACS (the U.K.'s ACH network) and several real-time account-to-account payment networks, including one launched in 2017 by The Clearing House, which is owned by a consortium of large U.S. banks.

Patti Murphy is Senior Editor at The Green Sheet and President of ProScribes Inc. Follow her on Twitter @GS_PayMaven, or email her at patti@greensheet.com.
The Green Sheet Inc. is now a proud affiliate of Bankcard Life, a premier community that provides industry-leading training and resources for payment professionals. Click here for more information.
Notice to readers: These are archived articles. Contact names or information may be out of date. We regret any inconvenience.
Prev
Next