The Green Sheet Online Edition
April 23, 2018 • Issue 18:04:02
New Products
All-in-one, single-screen commerce solution
Product: Carbon Mobile 5
Company: Verifone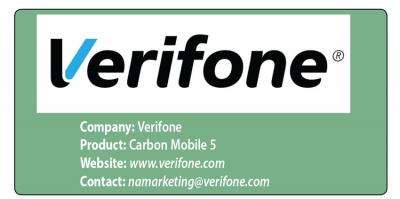 Verifone launched Carbon Mobile 5, the first in a new line of all-in-one commerce solutions. The portable device can run as a standalone POS in small and midsize merchant environments or as part of integrated POS systems at Tier 1 retailers. The Carbon family of commerce solutions provides a range of advanced features and variations to support Verifone's diversified clientele, channel partners and end-users around the world, according to company representatives.
"The app ecosystem in Carbon Mobile 5 enables small and midsize merchants to compete with large chains," said Jeff Wakefield, Vice President, Americas, Sales Enablement at Verifone. "A sandwich shop's customers can order ahead and pick up in store. Local gallery patrons can buy art online and in the store. Apps make commerce easy and improve the customer experience."
Wakefield noted Carbon Mobile 5 uses a special-purpose version of the Android 7 OS and Verifone's Engage payment engine. These additional security layers enable merchants to safely process transactions and implement an array of value-added business apps.
Small footprint, extended reach
Carbon Mobile 5 is compatible with all types of merchant environments, from small retail businesses to established global retail and hospitality brands. The versatile device can transition from fixed to mobile settings, making it an ideal choice for merchants who need mobile and countertop capabilities, Verifone noted.
When combined with Verifone's value-added applications and services, Carbon Mobile 5 can increase efficiency and drive consumer engagement in several ways, for example:
Verifone's Engage: Verifone Engage is an EMV-ready, PCI compliant solution that uses end-to-end encryption and tokenization to securely process cardholder data.
Verifone Trusted Android:This locked-down version of Android 7 OS provides merchants with safe access to the Android developer ecosystem, where they can integrate business apps with their POS systems.
Merchant Marketplace: Merchants and acquirers can download third-party apps to customize their POS and personalize the shopping experience. These apps can be implemented without recertifying the device.
Verifone Connect: Verifone Connect digital services provide value-added services, such as checkout, payment, loyalty and real-time inventory management. Its features include payment services, estate management, and merchant- and consumer-facing apps.
"Through Verifone Connect, a large merchant with a complex CRM program can integrate with Carbon Mobile 5, then access that data when they engage customers in the aisle," stated Abizar Vakharia, Senior Vice President of Global Solutions at Verifone. "Small business owners, on the other hand, can begin the loyalty journey with a simple, 'download-and-go' loyalty app offered by one of our developer partners."
Purpose-built hardware, software
Verifone noted that its Carbon products are designed to enable commerce and adapt to ever-changing merchant environments. Carbon Mobile 5 supports Verifone's expanding line of digital services, end-to-end solutions and intelligent business systems. Its key hardware features include the following:
Extended battery life: Carbon Mobile 5 devices use replaceable batteries that can run for up to 16 hours. Their extended battery life and optional multi-unit charger makes them adaptable to high-volume environments.
Multitasking: Carbon Mobile 5 devices have built-in cameras, speakers and microphones. Optional integrated printers, and 5 MP QR and barcode scanners can be added for fast printing and scanning.
Advanced communications: Carbon Mobile 5 devices use cellular, high-speed 4G LTE, dual-band Wi-Fi and Bluetooth with BLE/beacon connectivity. Optional Ethernet adapters are available.
Multitrack card readers: Carbon Mobile 5 readers support all payment schemes, including triple track MSR, EMV L1-approved smart card, ISO, NFC/CTLS.
PCI, EMV-compliant: Carbon Mobile 5 meets PCI PTS 5.0 SRED and supports AES DUKPT encryption.
Optimized portability: Carbon Mobile 5 has a five-inch, high-definition capacitive touchscreen to expand its performance potential.
"Carbon Mobile 5 is a handheld device, but its larger screen expands its real estate and supports real business functions," Wakefield noted. "Merchants can even take pictures with its built-in optical scanner."

Website: www.verifone.com Contact: namarketing@verifone.com
The Green Sheet Inc. is now a proud affiliate of Bankcard Life, a premier community that provides industry-leading training and resources for payment professionals. Click here for more information.
Notice to readers: These are archived articles. Contact names or information may be out of date. We regret any inconvenience.
Prev
Next