The Green Sheet Online Edition
April 09, 2018 • Issue 18:04:01
New Products
Advanced digital assistants to enhance the customer experience
Product: Cognitive Selling Platform
Company: magia.ai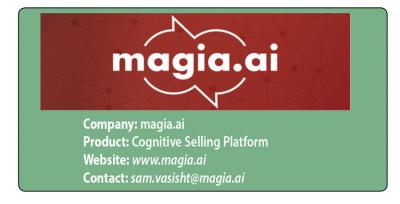 San Jose, Calif.-based magia.ai launched the Cognitive Selling Platform, a suite of artificial intelligence-powered technologies designed to provide a personalized shopping experience across an array of digital channels. The platform's Virtual Sales Assistant can interact with shoppers on websites, apps, social media, messaging services, in-store displays and kiosks. Its advanced language and cognitive skills facilitate selling complex products and create human-like shopping interactions, the company stated.
magia's adaptable sales assistants professionally engage with shoppers, helping them compare products and services. Their natural language, product knowledge and advanced listening skills differentiate them from early iterations of selling bots. For example, magia's Virtual Sommelier can sell millions of wines, based on its extensive knowledge of region, taste profiles, varietals, food-pairing, price and other attributes. Company representatives said merchants can leverage these capabilities to boost conversion rates and enhance the consumer shopping journey.
Cheng Zou, Chief Executive Officer at magia.ai, said the company beta tested its Cognitive Selling Platform in the wine vertical, because buying wine can be a complex decision process. People who know little about wine rely on human assistance, but wine specialists don't always have the ability to match a user's need with the most optimal selection. "This is where magia not only helps find the optimal wine, but also explains to a user why it is so," he stated. "This has not been done before with the finesse that we do."
Enhancing the human experience
Sam Vasisht, Chief Marketing Officer at magia, said the Virtual Sales Assistant can employ up to 27 selling techniques to build rapport and create a buying rationale. Its ability to instantly recall millions of products has made the Virtual Sales Assistant an indispensable asset for consumers and sales associates alike, he said.   "Many large-format stores have a wide range of products and departments," he added. "It's difficult for retail salespeople to stay abreast of store layouts, products and inventories. But like Iron Man, they can don magia's exoskeleton and become superhuman, confidently answering questions and telling customers where to find products."
Ron Vaughn, co-founder and COO of Argonaut Liquor, said the magia Virtual Sommelier is an invaluable tool for online and in-store customers. The Denver liquor store has more than 8,000 wines and 40,000 square feet of retail space. "Increasingly wine shoppers are visiting our website not only for selection but also for wine information, and the Virtual Sommelier provides all of that," Vaughn stated. "It has become a great resource for my staff, adding to their education and ability to manage our inventory. It helps my customers and employees make great informed choices and they learn a lot along the way."
Full-featured, autonomous selling platform
The Cognitive Selling Platform understands free-form natural language and can follow a shopper's thought process while continually adapting and updating product selections, Vasisht noted. Following are several additional features and benefits he described:
Consistent, omnichannel experience: The Cognitive Selling Platform enables merchants to sell on every channel, maintaining a uniform, omnichannel customer experience.
  ​
Fast, easy deployment: Domain-specific Virtual Sales Assistants are equipped with vertical industry knowledge and selling techniques. This enables merchants to deploy magia Virtual Sales Assistants within days or weeks with minor customization.
​
Advanced retail analytics and business intelligence: By capturing user intent and objections in their own language, these digital sales assistants can capture shopper buying behavior and analytics. Retailers can assess this data to better understand shopper needs and buying triggers, and craft intelligent merchandising strategies.
Simple integration: The open platform is designed to seamlessly integrate with any service a company can deploy, from ecommerce to POS systems to interactive, in-store displays.
"The Cognitive Selling Platform addresses multiple industry requirements across many different services," Vasisht said. "We can integrate in smart shopping carts and smart shelves to enable merchants to compete with autonomous shopping formats such as Amazon Go."

Website: www.magia.ai Contact: sam.vasisht@magia.ai
The Green Sheet Inc. is now a proud affiliate of Bankcard Life, a premier community that provides industry-leading training and resources for payment professionals. Click here for more information.
Notice to readers: These are archived articles. Contact names or information may be out of date. We regret any inconvenience.
Prev
Next