The Green Sheet Online Edition
April 09, 2018 • Issue 18:04:01
Brick-and-mortar merchants must own their 'digital storefront'
By Barry Davis
Womply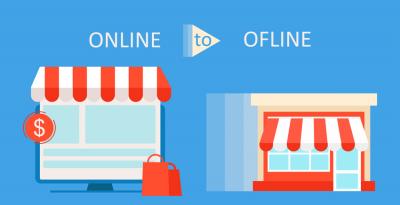 Not long ago, consumers found local businesses through word of mouth from friends and neighbors, window shopping, or printed business listings like the Yellow Pages. When is the last time you used the Yellow Pages? I recently threw out ten copies that were taking up space in my kitchen.
Today, the Internet has fundamentally changed how consumers find places to spend money nearby, but most small businesses still market their businesses like it's 1985. It's time for our industry to help them move into the 21st century.
Think about it. When you want to find a restaurant, boutique, auto mechanic, or flower shop nearby, what do you do? Chances are, you pull out your smartphone and search Google, Yelp, Facebook, Angie's List, or other similar sites. From there, you probably look at the businesses' star ratings and recent reviews. Then, once you zero in on a choice, you visit the physical store.
Seize the opportunity
This shift is a significant opportunity for merchant level salespeople (MLSs) to add value in their merchant relationships. As I wrote in "What keeps merchants up at night?" The Green Sheet, Feb. 12, 2018, issue 18:02:01, attracting customers is a major concern for merchants, and most of them are spending too much money on ineffective and outdated marketing methods.
If you can save your clients from wasting up to $400 per month on bad advertising, you'll be a hero, according to researched cited in "SMBs spend an average of 46% of marketing budget on 'digital," by Myles Anderson, published by Search Engine Land on Nov. 19, 2013.
The truth is the most effective marketing plan for any merchant today is to simply take control of their online presence. Millions of people use review sites like Google and Yelp every minute to search for businesses precisely when they're looking to make a purchase. In a sense, these sites have created a tractor beam that pulls shoppers into local businesses when there's an urgency to buy.
In short, merchants can attract more customers by "pulling" them in with a strong online presence than "pushing" a message via traditional advertising. Here are three tips for helping brick-and-mortar merchants take control of their online presence and attract more customers.
Claim listings on top sites
Online review sites have created a vast footprint of business listings for brick-and-mortar businesses. Many merchants don't even know their business is listed on Yelp and Google, which means they're ignoring their "digital storefront"—the place consumers visit first when looking for local businesses to patronize.
Claiming a business listing enables the owner to edit critical information, including hours of operation, photos of the store, and links to the business's website and menu (if applicable). It also allows the business owner to respond to customers who post reviews about their business and ensure that nobody else claims the page.
If your merchants just take this one step, they'll be doing better than most small businesses. According to the 2017 State of Local Marketing Report, a national study conducted by Brandmuscle Inc., only 33 percent of all Yelp listings and only 44 percent of Google My Business listings have been claimed. Worse yet, only 23 percent of businesses update their listings, which makes them appear outdated—or not appear at all—in local Internet searches.
Advise your merchants to claim their business listings, especially for the most popular sites: Google, Yelp, Facebook, and TripAdvisor.
Respond to all reviews
Word of mouth is still the way consumers decide where to spend money, but the conversation has moved online. According to BrightLocal's Local Consumer Review Survey 2017, nearly nine in 10 consumers trust online reviews as much as personal recommendations from friends and family.
Often, merchants bristle at negative reviews posted about them and can't get past the emotional reaction they experience. Help them put negative reviews into context and focus on the result they want rather than picking a fight. Every business is going to receive a negative review from time to time, so it's typically not worth the energy trying to fight it. What merchants can control, however, is how they respond to those negative reviews
At Womply, we recommend responding to all reviews because there's evidence that simply posting a considerate response has a positive impact on revenue. It doesn't have to be hard. For positive reviews, advise your merchants to post a simple thank-you message. For negative reviews, tell them to apologize briefly for the bad experience (even if it's not their fault) and give the customer a way to contact them via email or phone to take the conversation offline.
Get more reviews
Getting more online reviews helps small business in two ways. First, it calibrates the business's online review score to the true experience, rather than letting a few negative reviews skew perception. Second, it frames the business as current and up-to-date because, as BrightLocal's consumer review found, 73 percent of consumers think reviews more than three months old aren't relevant.
For most merchants' businesses, getting more reviews will naturally lead to a higher star rating. To accomplish both of these vital tasks, encourage your merchants to ask their happy customers to post a review. BrightLocal research also shows that seven in 10 consumers will post a review if you simply ask.
These days, consumers peruse a business's "digital storefront" instead of physically window shopping, and they use the social proof of online reviews as a proxy for personal recommendations. By helping your merchants evolve into this new reality, you'll help them with one of their top concerns: attracting more customers.

Barry Davis is Vice President of Business Development at Womply, the top software partner to the payments industry and the top provider of front-office software to small businesses. For more tips or resources, reach out to the Womply team at partnerships@womply.com.
The Green Sheet Inc. is now a proud affiliate of Bankcard Life, a premier community that provides industry-leading training and resources for payment professionals. Click here for more information.
Notice to readers: These are archived articles. Contact names or information may be out of date. We regret any inconvenience.
Prev
Next