The Green Sheet Online Edition
January 14, 2013 • Issue 13:01:01
Research Rundown
New payment channels pose challenge
A survey conducted by Compass Plus during the recent Cartes 2012 international event in Paris revealed the growth of new payment channels was considered the single largest challenge facing global payment and card providers, as well as security and identification professionals.
Cartes attendees were asked to identify the challenges and issues facing the payments industry today and in the foreseeable future, when they expected mass adoption of near field communication (NFC) and mobile payments to occur within their regions, which types of fraud pose the greatest risk to businesses and what types of payment channels represent the most opportunity for growth.
Top challenges identified for the payments industry include:
30 percent – proliferation of new payment channels
21 percent – growth of NFC/contactless technology
18 percent – need for simple, convenient user authentication
17 percent – rise of nontraditional payment providers
14 percent – new business models via software-as-a-service and open-source app development
While a number of respondents viewed NFC as a major challenge, 63 percent also considered it one of the best opportunities for payment providers in the near term; 67 percent expected NFC to reach mass adoption in their regions within one to three years. Fraud, security and compliance were ranked as the top three issues facing the payments industry in 2013.
"The industry still remains in a period of turbulence with technology led disruption at its core," stated Maria Nottingham, Chief Marketing Officer at Compass Plus. "Marrying innovation and speed with security and compliance is paramount for financial institutions to create an environment where they can launch new payment services quickly and cost effectively while ensuring they meet industry standards."
To view results of the Compass Plus Payments and card market survey, visit www.compassplus.com.
---
Slow uptake on mobile payments
In a recent Litle & Co. survey, U.S. consumers stated they preferred using credit cards over debit cards, cash or mobile payments during the 2012 holiday shopping season.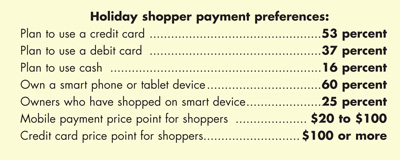 Source: Litle & Co., 2012 Holiday Shopping Payment Preferences Unwrapped
---
Multichannel reality check
A survey of online retailers by Retail Systems Research LLC found that 71 percent of top performers value investment in cross-channel capabilities as a top priority. "Customers are channel agnostic, and as a result, retailers know they must be as well, said Steve Rowen, Managing Partner for RSR and co-author of the report, The Multi-Channel Retailer's Reality in a Post-Amazon World: Benchmark Report 2012.
---
Roadmap to data security
An RIS Roadmap Series report, Six Steps Toward Tighter PCI and Data Security, describes six mileposts for gaining better control over data security. These include mapping responsibilities for mobile payment security, tightening mobile payment security measures, improving in-store wireless network security and protecting customer data online, among others. The report also addresses underlying security issues, such as the deployment of employee smart devices at work.
---
Fed reports on small business card usage
The Federal Reserve Bank of Philadelphia paper Small Business Use of Credit Cards in the U.S. Market offers insights into the small business payments environment, including pre- and post-recession credit comparisons, impact of the Durbin Amendment to the Dodd-Frank Act of 2010 on debit card usage, and the influence of credit card billing cycles on meeting the cash flow demands of small enterprises.
---
Shopper perceptions about e-commerce
A survey of 2,000 North American online shoppers by Postcode Anywhere, a firm specializing in online address auto-fill and verification software, asked online shoppers to reveal their personal habits, experiences and reasons for cart abandonment when shopping online.
Respondents rated excessive shipping charges (76 percent), concerns about security (57 percent) and lengthy purchasing processes (39 percent) as top reasons for cart abandonment. "These results highlight that it doesn't matter if your prices are very low or even if you have the best products in the market; if your shipping prices are too high or the checkout process is too long, you will lose customers," said Guy Mucklow, Chief Executive Officer at Postcode Anywhere.
Other online shopper perceptions identified:
67 percent find it difficult to make purchases using a mobile device.
49 percent rated the option to collect items directly from a store as important.
39 percent have recently faced a poor online experience.
23 percent would abandon their cart if a form took too long to fill in.
"Based on feedback from our own customers, we've felt for some time that lengthy checkout processes are a huge irritation to consumers," Mucklow said. He added that lengthy checkout processes are easy to fix, noting that online merchants can remedy the problem by requesting essential information only at checkout, not forcing customers to register on their websites; they could also implement address auto-fill technology to reduce checkout time.
Based on survey findings, the high level of difficulty expressed by mobile device shoppers represents a key challenge for online merchants that will need to be addressed before widespread adoption occurs, Mucklow said. He believes this highlights a missed opportunity in what is the fastest-growing retail channel.
---
Multichannel insights from midsize merchants
What are mid-market merchants doing to create a seamless experience for today's tech-enabled customers? Aberdeen Group explored this market and found several solutions had been implemented.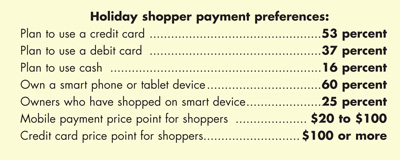 Source: Aberdeen Group, Benchmark, The Curious Case for Mid-Market Retail Transformation, November 2012
---
FDIC mobile payments overview
The Federal Deposit Insurance Corp. winter edition of Supervisory Insights includes the report Mobile Payments: An Evolving Landscape, which describes a range of mobile payment options that are available in the market, identifies the risks associated with mobile payments, and addresses the importance of bank oversight of third-party relationships in this developing market.
---
PCI compliance advisory guide
Cloud data backup and recovery firm Intronis Inc. recently published a paper titled PCI Compliance is More Than a Matter of Dollars (and Sense): Are Your Clients Properly Protected Against Lost or Stolen Data? The paper outlines the basics of Payment Card Industry (PCI) Data Security Standard (DSS) compliance, the role of solutions providers, and concerns and opportunities related to PCI DSS validation requirements and compliance.
---
Discounted payment options underutilized
A Federal Reserve Bank of Boston paper, Why Don't Most Merchants Use Price Discounts to Steer Consumer Payment Choice?, revealed despite recent legislation and court settlements allowing merchants to use price discounts to steer customers to less costly payment methods such as debit cards and cash, most merchants have not done so. Among the reasons cited was that cost increases associated with posting pricing menus may offset cost reductions.

The Green Sheet Inc. is now a proud affiliate of Bankcard Life, a premier community that provides industry-leading training and resources for payment professionals. Click here for more information.
Notice to readers: These are archived articles. Contact names or information may be out of date. We regret any inconvenience.
Prev
Next