The Green Sheet Online Edition
January 23, 2012 • Issue 12:01:02
Riding the POS life-cycle wave
By Dale S. Laszig
Castles Technology Co. Ltd.
Merchant level salespeople (MLSs) have the unique advantage of being in the real world, forming relationships with the people who buy their companies' products and services. As front-line professionals, they're at the epicenter of commerce and are the first responders to any seismic shift in the retail, hospitality and payments landscapes.
What can be done to leverage this position during challenging economic times? Creating sales strategies based on the age of merchants' processing equipment is a good way to start. Are these devices in the beginning, middle, or end of their product life cycles?
Each product stage has its unique characteristics, pros and cons. The most effective sales presentations are age-appropriate in order to show every product to best advantage.
A typical product life cycle consists of development, introduction, growth, maturity and decline. While MLSs can influence the design of products during the development stage, most selling efforts are centered on the four subsequent stages: introducing products to the market, nurturing them through growth and maturity and helping customers move on when the products reach the end of their useful lives.
Following are guidelines to understanding and optimizing each stage of a product's life. Introduction New products can be cause for celebration, but they're not for everybody. After quality assurance and alpha testing, the first order of business for a new product is to find the right beta test partners who are willing to have the product installed in their businesses and provide valuable feedback on day-to-day performance.
These early adopters enjoy the prestige associated with being the first in their industries or neighborhoods to try something new. They know to expect the unexpected and to have a back-up plan in place for when problems occur. Sometimes they earn a free or discounted product in exchange for participating in a beta test.
Launches are a call to action for sales and marketing teams to emphasize the novelty and innovation of a fresh new product. Target customers who are most receptive to trying leading edge, unproven products and manage rollouts carefully. Successful beta tests should be followed by pilot testing in larger areas before new products are widely released.
Growth
Every decade or so in the hardware business, a credit card terminal will separate from the pack and become an uncontested winner. Merchants will begin to ask for it by name, manufacturers will open new lines to keep up with demand, and MLSs will have the ride of their lives.
I remember the wise counsel of a sales manager during one of those heydays, advising us to stop banking on our hot-selling product as if it were a lifetime annuity. Inevitably, every gold rush comes to an end. It's important for sales professionals to plan ahead and be ready for the time when a best-selling product begins its inevitable decline into maturity and end of life. Seasoned professionals understand the importance of keeping full pipelines and staying in touch with customers so they can anticipate their needs and react quickly with upgrades and enhancements to existing systems.
Maturity
The greatest advantage of mature credit card terminals is their proof of concept. They have survived the beta tests and challenges of early adoption, and have become stable fixtures in the POS landscape. Salespeople can point with pride to the large installed base and high percentage of market share of these products.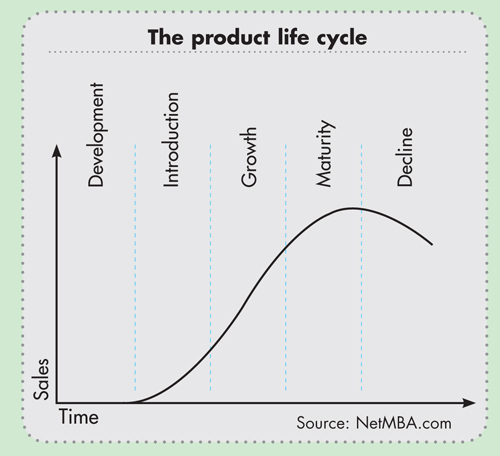 The biggest pitfall in selling mature products is their risk of becoming commoditized. Former Harvard Business School Professor John Quelch, Dean and Distinguished Professor of International Management at the China Europe International Business School, recommends three approaches to working with older products to keep them fresh and exciting:
1. Innovate: A new product or even an upgrade of a proven device can put you ahead of your competitors, making them play catch-up to your innovations.

2. Bundle: Selling a commodity device with other specialty services will set your product apart from the pack and may allow you to charge a premium for the value-added component.

3. Segment: Large, mature markets can be divided profitably into multiple segments, allowing you to focus on the more lucrative elements. Your sales force can zero in on less price-sensitive customers who require applications expertise.
Decline
John Stark, author of Global Product: Strategy, Product Lifecycle Management and the Billion Customer Question (Decision Engineering), wrote, "The lifetime of some products is now so short that the development of a future generation has to start before the development of a previous generation has been finished."
This aptly describes the evolving payments industry, in which products continuously evolve in response to changes in security requirements, industry standards, government oversight and consumer behavior. A manufacturer's decision to end a product's life is usually met with a mixed response in the market. Some wholesale distributors rush to buy up remaining stock so they can continue to supply the majority of buyers who are slow to adopt a new product and even slower to change.
Others cut prices and attempt to clear their warehouses to make room for the next generation of products. After-market companies continue to supply spare parts and support and maintain products that are no longer manufactured. The end of a product's useful life can be the beginning of an exciting new chapter for MLSs who can combine closeout inventory selling with introductory offers on next-generation products.
Effective sales professionals cater to the needs of their customers by offering products that are best suited to their personal tastes and business requirements. Whether your terminal is newly hatched, growing rapidly or in its golden years, it is a timely resource for the right buyer.

Dale S. Laszig is Senior Vice President of Sales in the United States for Castles Technology Co. Ltd., a manufacturer and global provider of smart card, contactless and POS solutions. She can be reached at 973-930-0331 or dale_laszig@castech.com.tw.
The Green Sheet Inc. is now a proud affiliate of Bankcard Life, a premier community that provides industry-leading training and resources for payment professionals. Click here for more information.
Notice to readers: These are archived articles. Contact names or information may be out of date. We regret any inconvenience.
Prev
Next