The Green Sheet Online Edition
January 23, 2023 • Issue 23:01:02
Industry Update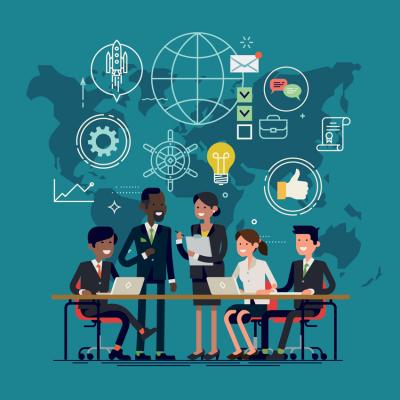 ANNOUNCEMENTS
Mobile app developer Dogtown a top B2B provider
Mobile app developer Dogtown Media was recognized by B2B research firm Clutch as one of the Top 1000 Global Service Providers. Being among the top 1 percent of companies evaluated on Clutch's platform is a testament to Dogtown's ability to deliver quality mobile technology solutions to an array of distinguished clients from VC backed startups to Fortune 500 organizations, Dogtown stated. Clutch's assessment process includes analyzing verified Clutch reviews, selection of clients and portfolio of work, the robustness of the profile including specializations and experience, as well as brand awareness and recognition in the industry.
Four Jack Henry FIs win 2022 WebAwards
Jack Henry reported that four financial institutions leveraging its web hosting and design services received WebAwards: P1FCU was awarded Best Credit Union Website, marking the third consecutive year that a Jack Henry client has won a "Best of" category. Pelican State Credit Union was awarded Outstanding Website, and Peapack-Gladstone Bank and Carver Bank were both awarded Bank Standard of Excellence. The Web Marketing Association's WebAward program is dedicated to setting the standard of excellence for website development. Expert judges from around the world review sites across 86 industries based on design, innovation, content, interactivity, copywriting and ease of use.
Melissa Pancoast named 2022 Inspiring Fintech Female
Melissa Pancoast, founder and CEO of fintech startup The Beans, was named a 2022 Inspiring Fintech Female by NYC FinTech Women. NYC Fintech Women, a volunteer organization serving more than 4,000 members, hosts its annual Inspiring FinTech Females to honor women transforming the fintech ecosystem. This year's honorees include 17 female founders as well as industry leaders in all areas of fintech. Pancoast founded The Beans to combine advances in machine intelligence and psychology to transform the way hard working Americans relate to their finances.
SentBe launches cross-border transfers to US
Korean fintech company SentBe launched its international money transfer service in the United States. Customers, including migrant workers in the United States, can now send U.S. dollars to more than 50 countries with greater ease and at a lower rate than existing remittance options, SentBe stated. The company specializes in foreign exchange services, having launched its personal remittance service in 2016. Traditionally, the global money transfer process is complex, expensive, and slow; however, using the SentBe service via the mobile app or website, users can transfer money in real time or up to one day to 50 countries at a tenth of the cost of traditional methods, SentBe noted, adding that while traditional remittance methods through banks can take place only between other banks, SentBe provides receipt methods depending on user preference.
UPI issues 200 million cards outside Chinese Mainland
With the issuance of UnionPay cards exceeding 200 million outside the Chinese Mainland, UnionPay International (UPI) said it is stepping into a new decade of providing high quality, cost effective and secure cross-border payment services to the world's largest cardholder base. UPI's partners have expanded from 60 initial members since establishment in 2012 to 2,500 institutions internationally with an acceptance network that currently spans 181 countries and regions, 78 of which now issue UnionPay cards, ensuring convenient local services to an ever-growing number of global UnionPay cardholders and merchants, UPI noted, adding that presently, outside the Chinese Mainland, 38 million global merchants accept UnionPay cards, a four-fold increase since 2012, with 4 million new merchants added in 2022 alone.
RESEARCH
Jedox exec lists top FP&A trends for 2023
Financial planning and analysis (FP&A) is evolving into a new area of influence with cross-departmental and cross-dimensional impact, according to Dr. Björn Schmidt, chief finance officer, at Jedox. Accurate, frequent, and integrated business planning is crucial as geopolitical tensions, worldwide inflation and supply chain disruption continue to reshape the global economy, Schmidt noted. This year's trend report reflects changes that have unfolded in the past 12 months, which bring both challenges and opportunities for better business performance. Key points include: adaptability is the new stability; integrated business planning will give rise to more meaningful collaboration; simplified planning enables a culture of decisiveness and confidence; AI is mature and omnipresent in the office of finance; technology is a talent magnet; FP&A professionals are strengthening their roles as business partners; and geopolitics will continue to exert its influence over inputs and planning.
PARTNERSHIPS
Brightwell, Virgin Voyages expand partnership
Brightwell, a global payments technology company, expanded its partnership with Virgin Voyages. With ReadyRemit, powered by Brightwell's international payment partners, Virgin Voyages can now easily pay vendors, workers, and others, and provide customer-facing payouts like rebates, rewards, and refunds with one digital solution, Brightwell stated, adding that in addition to fast, digital payments, ReadyRemit allows Brightwell's customers like Virgin Voyages to provide secure payments to over 120 countries in the world, with no need for Virgin to store customer credit card or banking information.
CLOWD9, Netcetera target global payments fraud
CLOWD9, a cloud native, decentralized payments processing platform, partnered with Netcetera, a global software company for secure, convenient digital payment solutions, as its payment security provider. CLOWD9 will use Netcetera's 3-D secure issuer service for transaction authentication and access control server (ACS). Netcetera said it operates a multi-client-capable 3-D secure issuer service with a state-of-the-art ACS as a core component used by more than 200 banks and card issuers worldwide. The 3-D secure issuer service is EMVCo-approved and compliant with EMV 3DS protocols, the partners stated, noting that it is designed for frictionless, reliable payment processing. From a security perspective, the solution reduces risk for non-authenticated transactions, associated refunds and lost revenue while at the same time enabling a frictionless cardholder experience, they added.
Utimaco, Spencer deploy remote key injection
Utimaco, a global provider of IT security solutions, partnered with Spencer Technologies, a provider of end-to-end IT life cycle solutions for every type of major corporation in the retail market. The duo stated they have combined their technological and market expertise to deliver a highly secure and certified solution that reduces the burden of compliance for the management of millions of cryptographic keys deployed in thousands of POS payment devices. POS devices must be pre-loaded with the cryptographic keys needed to safely process payments, which can only be done in a trusted environment by authorized key custodians in a secure way. Spencer Technologies has integrated Utimaco's secure and certified Keybridge key injection solution into its Remote Digital Services portfolio.
Visa, Welcome.Place, Enfuce, Epassi pilot refugee program
Finnish cloud-native issuing and processing company Enfuce launched a pilot project with social enterprise Welcome.Place, Finnish mobile payments provider for employment benefits Epassi, and Visa to distribute prepaid payment cards to refugees arriving in France. The pilot project will initially focus on Ukrainian refugees who have arrived in France since the February 2022 start of the war in Ukraine. Welcome.Place was established in 2022 as a community-driven neobank to provide simple, inclusive, accessible financial solutions for all newcomers to help them settle quickly. NGOs and companies can now offer newcomers banking and financial solutions provided by Welcome.Place and its partners. As part of a Welcome Package, refugees and immigrants will receive a prepaid Visa card that is pre-loaded with funds to spend on a range of items and services.
ACQUISITION
i3 Verticals completes Accufund acquisition
Effective Jan. 1, 2023, i3 Verticals Inc. completed the acquisition of Accufund Inc., a provider of fund accounting solutions for government entities and nonprofits in the United States. Greg Daily, CEO of i3 Verticals, commented, "The addition of Accufund's accounting software solutions will greatly enhance our go to market strategy in the Public Sector vertical. We have been exploring for some time the acquisition of a strong fund accounting solution to further complement our wide ranging Public Sector product offerings and we believe that Accufund is an ideal fit. While it is a smaller acquisition, Accufund meets a strategic objective and brings its own expansive new customer base to supplement our own Public Sector and Education footprint."
APPOINTMENTS
Winston Fong passes Castles torch to Ben Love
Castles Technology, a global payment solutions provider, reported that Ben Love, its former North American president and chief technology officer, was promoted to chief executive officer for North America Headquarters. Former North American CEO Winston Fong serves on the board of Castles North America as vice chairman and has resumed his chief strategy officer position in the global Castles Technology organization.
Love returned to Castles Technology in July 2022 and brings 25 years of international experience in key roles to deliver foundational industry change in payment acceptance, advancing the state of POS, and building and leading teams to success in fintech startups and large global organizations. Before rejoining Castles, Love had been involved in both sides of the Bank of America and Visa partnership to build and deliver Bank of America's new acquiring platform to market.
Zitcha hires Matt Hinsley
Australian retail media platform Zitcha named Nick Hinsley as its chief revenue officer. Formerly, as senior vice president of sales for customer data platform Lexer, Hinsley was responsible for growing Lexer's customer data platform client base to over 200 brands. His career has spanned 20 years and includes deep experience in sales that equipped him to shepherd revenue growth as Zitcha gears up for North American expansion. Zitcha is an omnichannel platform focused on helping retailers monetize assets such as websites and socials, while also making it easier for suppliers to target shoppers through the path to purchase.
Oliver Manahan joins EMVCo
Global technical body EMVCo has announced the appointment of Oliver Manahan as Director of Engagement and Operations. Manahan comes to the role with extensive payments expertise, joining from Infineon Technologies where he was responsible for business development in North America.
Before Infineon, he held senior positions at Mastercard and Visa, focused on delivering EMV chip and contactless solutions. As EMVCo director of engagement and operations, Manahan will oversee day-to-day business operations and lead EMVCo's engagement and collaboration strategy. This is key to its proven model for creating, evolving and promoting globally adopted specifications that support innovation and address marketplace needs, EMVCo stated.
ETA welcomes Lindsey Queen
The Electronic Transactions Association, a global trade association of the payments technology industry, hired government affairs professional Lindsey Queen as manager of state government affairs. In this position, Queen will be focused on executing the ETA's state legislative and regulatory strategies on behalf of the association's member companies. Before joining the ETA, Queen was a government affairs & development manager for a multi-client firm in Ohio and, among other roles, she served as a legislative aide and clerk in the Ohio House of Representatives. ETA CEO Jodie Kelley welcomed Queen to her team with enthusiasm, stating that her "experience in the Ohio State legislature will strengthen ETA's robust state policy efforts."

The Green Sheet Inc. is now a proud affiliate of Bankcard Life, a premier community that provides industry-leading training and resources for payment professionals. Click here for more information.
Notice to readers: These are archived articles. Contact names or information may be out of date. We regret any inconvenience.
Prev
Next